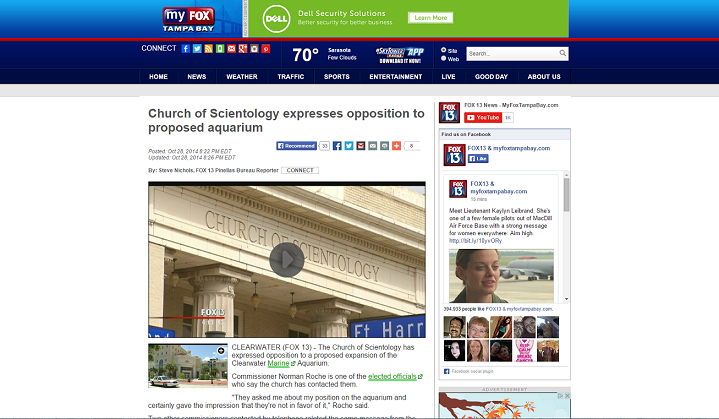 A local Special Correspondent sent this in this morning and I thought it worth reprinting. Pity the media don't REALLY analyze what is going on.
The article is on MyFox Tampa Bay, headlined: "Church of Scientology expresses opposition to proposed aquarium."
Aside from the main message that the Church is opposed to plans to move the Clearwater Marine Aquarium downtown, there is this quote, "The objections to the project were coupled with a recent economic impact study conducted by Florida State University. It says the Church directly provides 4,300 jobs in the Clearwater area, with a direct economic impact of $432 million."
First…can it really be said that 4,300 jobs are provided, when the jobs pay $50/week and the "employees" are unable to sink money back into the economy? The Church insists these employees are actually "volunteers". These employees don't pay rent to any landlords, don't buy homes, have no effect on property values, don't patronize local businesses; they have none of the economic value to the community that "employees" would normally have.
I would love to know how the FSU study concluded the Church had a direct economic impact of $432 million. Clearly the Church has an impact, but aside from buying buildings, and paying taxes, how is the impact quantified? I guess one would have to allow for the financial impact of the Scientologists who are only here because of Flag.
But my main interest in this story has to do with the real reasons the Church does not want the aquarium in Clearwater. The story says, "The Scientologists questioned the accuracy of a feasibility study presented by the CMA, they said the aquarium is not the best use of unique public property, and they objected to the project's impacts on traffic and parking."
But OSA FLB has given briefings to the Tampa Staff and the Clearwater community of Scientologists explaining that the reason to vote NO on the Aquarium is because Flag is not a "Div 6 Org" and it is a security problem to have so many WOGS walking by the Fort Harrison and Super Power building.
The Church has no use for such people. The general American public has no interest in Scientology and almost never walk into orgs these days wanting more information. Usually, new people only go into orgs to cause trouble. So a deluge of new non-Scientology people right next door to Flag provides no upside, and potentially much downside.
The Church wants to make sure that Clearwater continues to be the nice, quiet, "nobody around to bother us" town that it has become. The streets in downtown are vacant all hours of the day and night. You can't keep a business open in downtown Clearwater. Even the Sea Org members have stopped wandering the streets. You hardly ever see the Sea Org members in Starbucks anymore because they no longer eat meals at the "Clearwater Bank" building on Fort Harrison Ave & Cleveland St. All meals are eaten in the Super Power building. So there is almost ZERO body traffic around downtown CW, even among the "employees".
I think the Clearwater non-Scientology community needs to know that the Church of Scientology does not give a damn about the well-being of the town of Clearwater, or the businesses in Clearwater. The Church most certainly does not care about "proper use of public property" or "traffic and parking".
Scientologists don't NEED parking. The Church has private parking lots that are MORE THAN ADEQUATE for all local Scientologists taking services at Flag. The church does not have any care for traffic patterns. The local Scientology staff DO NOT DRIVE, and most public live only minutes from FLAG.
They only thing the Church of Scientology cares about in Clearwater is keeping pesky non-Scientologists away from its buildings. The more body traffic there is in and around the FLAG base, the easier it would be for Sea Org members to slip away unaccounted for (blow), and the more eyeballs there will be to witness any PR flaps.
Right now, if an SO member or public ran out of a building demanding to be left alone, there would be no one but Scientologists to witness it, and such an act would be explained away as "the person went Type 3″. Scientologist would swallow this explanation no questions asked.
But if a bunch of wogs were around, it would be quite a different story.
The more cars that drive around the base, the harder it will be for FLB security to monitor all the license places with the high-res super-zoom security cameras which are mounted on almost every roof corner and other key birds-eye locations.
Basically, the Clearwater community needs to know that the only reason the Church is opposing this measure, which would bring HUGE business and revenue to downtown Clearwater is because the Church doesn't want any more of you DAMN non-Scientologists around!
From the Church's point-of-view, you are just a liability. You're just wogs. You don't get Scientology. You're not with us. You're out-ethics. You do other practices. We don't need you. We don't want you.
You make our staff uncomfortable because they don't know how to talk to you or relate to you. Also, seeing you out-and-about living your happy lives makes our younger staff wonder what their lives might be like if they too could live their lives the way they want to.
We don't want you asking for tours of our buildings. We always say no, and it's awkward, so we'd rather you weren't around to ask. Also, we realize our staff look goofy in their uniforms and the less people around to make them aware of this the better.
So PLEASE stay away from us. Don't come in our buildings. Don't come in our parks. Don't try to eat in our restaurants, or walk into one of our hotels, or park in one of our lots. Go somewhere else, like St. Pete or Tampa.
Clearwater belongs to US.
This opposition is ludicrous — they had to invent some silly reasons like "parking" because they could not say "COB doesn't want this to happen, so we have to do anything we can to stop it." Believe me, nobody makes public statements like this that are going to impact "COB's PR" with the City of Clearwater without express permission of Dear Leader.