There has been some discussion on the blog of late about Day and Foundation Orgs.
It is an interesting topic in the face of scientology's bold statements about their "greatest expansion in history."
I have commented that almost all of the Foundation Orgs have been closed by Miscavige as he rolls forward with his "ideal orgs" real estate investment scheme.
Newcomers to the subject of scientology may not understand what this terminology means, so I thought I would be provide you with some "source" on the subject, taken out of OEC Volume 7 which contains a section about the "Foundation Org" with a series of policy letters.  This (and the other OEC Volumes) is no longer available in scientology organizations — Miscavige has been "working on" getting the OEC to be "standard" since the early 2000's — yes, nearly 20 years now. When you see some of these references you may well understand why. Scientologists who still believe in the writing of Hubbard being the word of God would take issue with the actions of Miscavige vis a vis Hubbard's very clear policy on "Foundation Orgs."
Here is the first page of the first policy on the subject written in 1965 when Ron was at the peak of his development of the scientology "organizational tech." I will not bore you with the entire issue, as usual, he has a lot to say about how the formation of a Foundation is vitally important as is another of his "breakthroughs" that will make planetary clearing a reality with the snap of the fingers.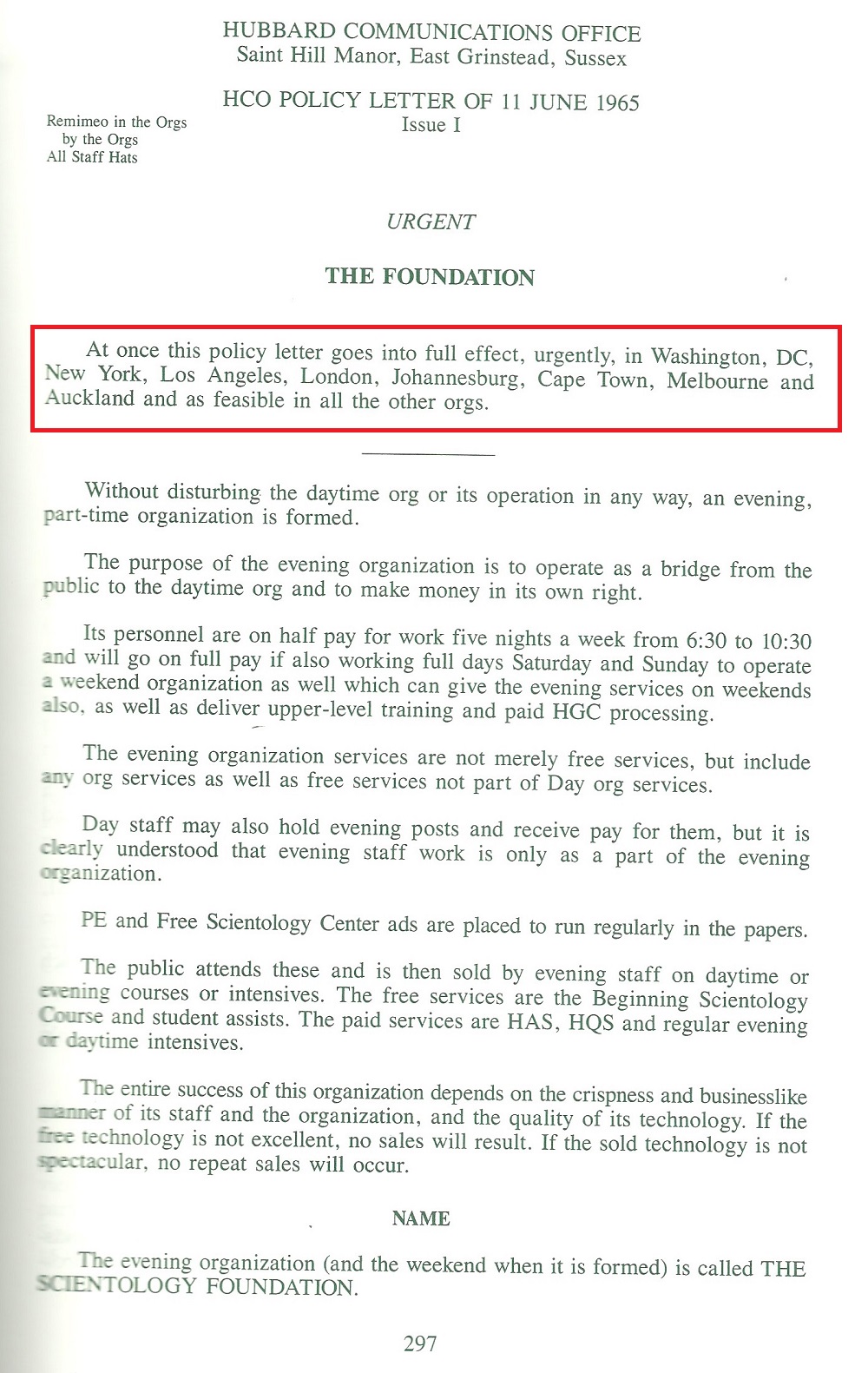 As you can see, at this time there were not a lot of scientology orgs, but these he named (and most others) DID become two organizations.
None of them remain Day and Foundation today. Even though all of them except Capetown have been manned up to be "ideal orgs" (not really, but that is what they tell everyone — can you imagine how difficult it would be if they had to man them to have twice as many staff???).
Here is one of his later policy letters making clear that Day and Foundation are two SEPARATE organizations. They should be able to clear TWICE as many people and make TWICE as many auditors because it means during "production hours" no staff are studying or having to work on "administrative" work, they can "produce" flat out.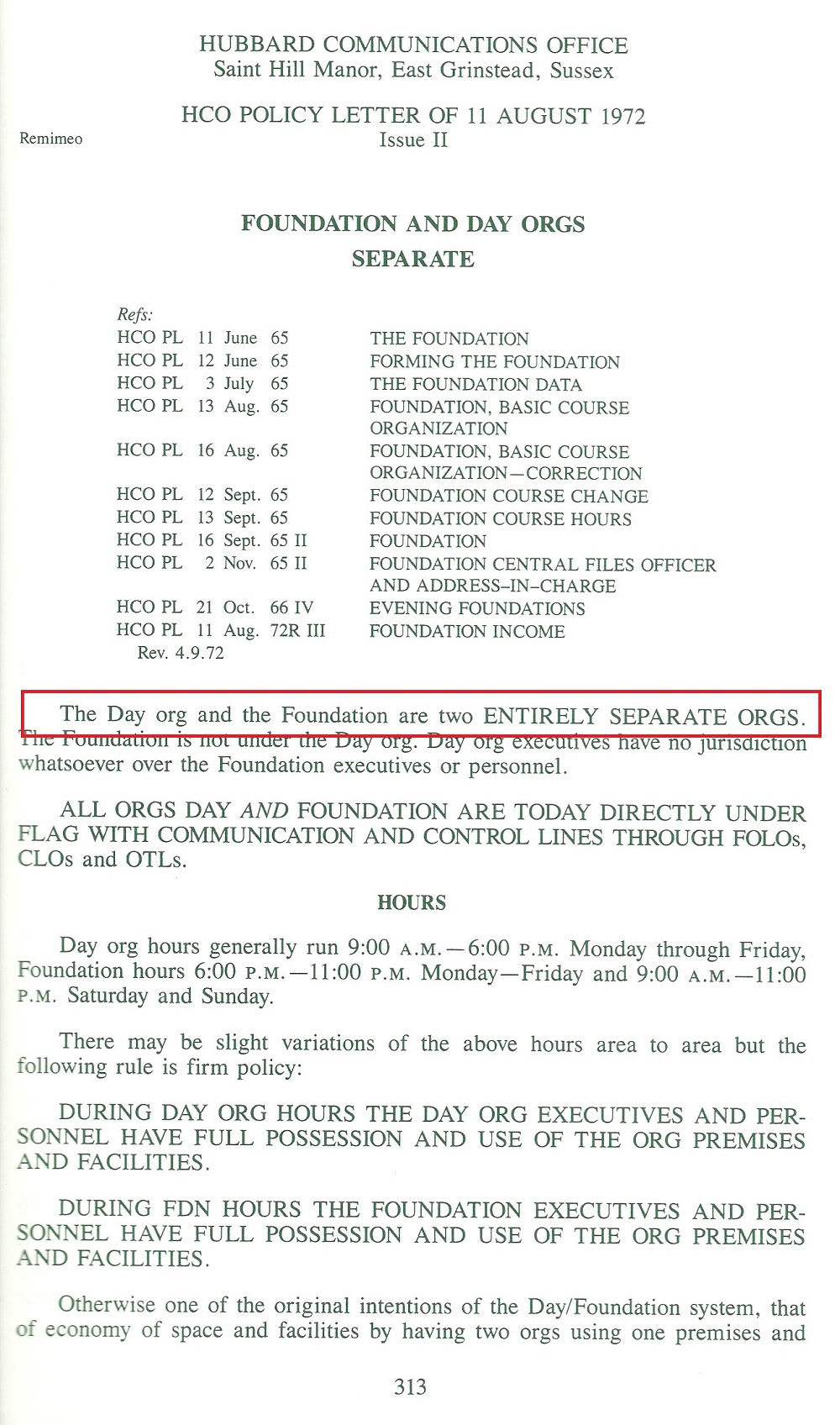 And here is the final kicker.
What "Ron" had to say about the idea of "Closing" or "Combining Orgs with their Foundations."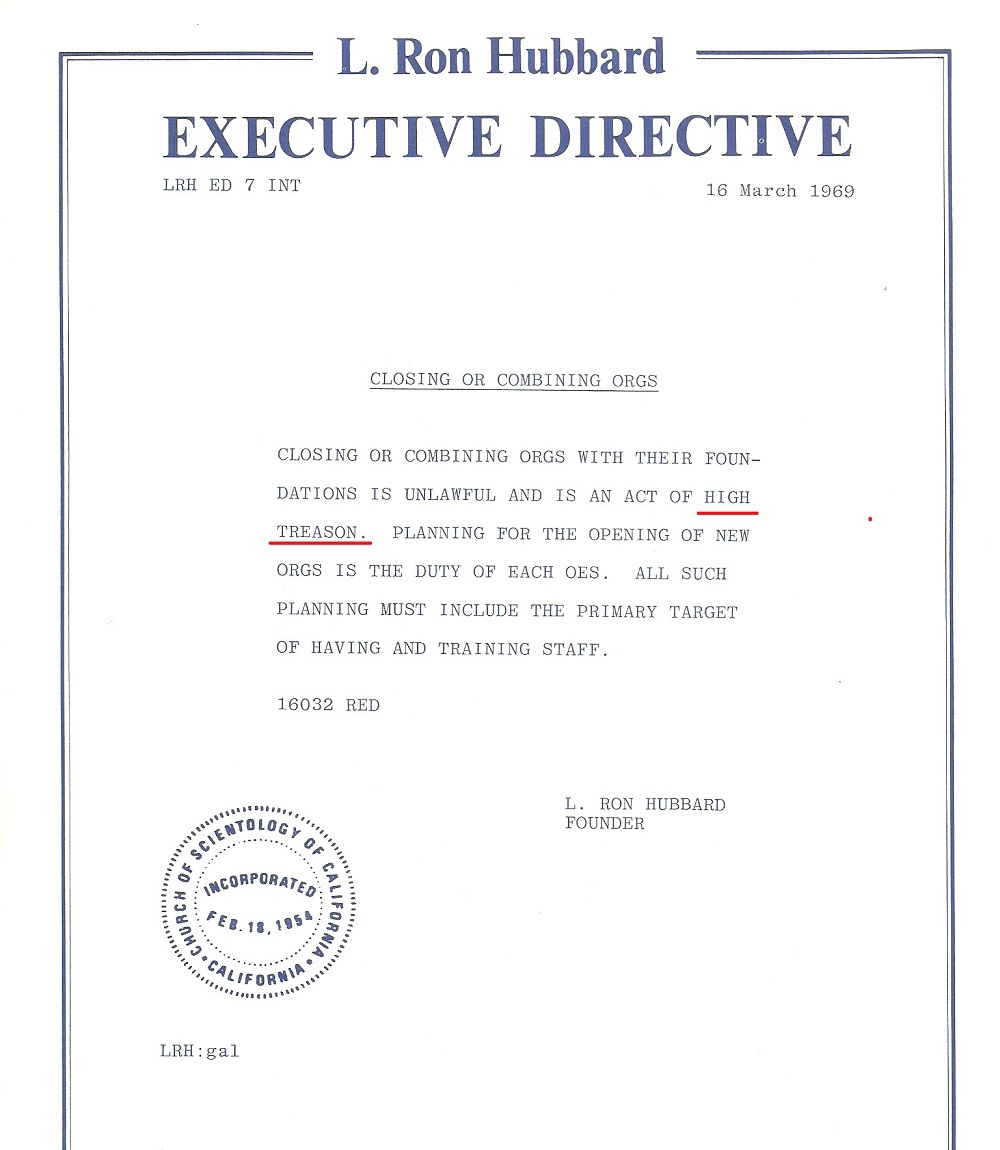 These acts are "unlawful" and "High Treason"…
Off the top of my head, I can think of the following orgs that have been "closed" :
Copenhagen Org
SH Fdn
CC Portland
CC Frankfurt
CC Las Vegas
CC Paris
CC Toronto
CC NY
CC London
And the following orgs that have combined into one from separate Day and Foundation orgs:
ASHO
LA Org
Las Vegas
Portland
Sacramento
San Diego
Seattle
Twin Cities
Boston
Buffalo
Detroit
New York
DC
Montreal
London
Copenhagen
Sydney
Melbourne
Auckland
Joburg
That's a lot of "High Treason"….
No wonder Miscavige doesn't want the issues widely available.