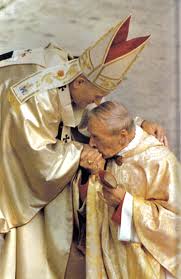 Some people have been aghast that I would suggest that fundamentalist Scientologists believe that Miscavige is the reincarnation of LRH. Perhaps reincarnation was an inartful way of expressing myself. Miscavige is the NEW LRH would probably be more accurate. Whether they believe that LRH has now occupied Miscavige's mortal coil or whether they believe Miscavige has now succeeded LRH as unquestioned source is somewhat immaterial. Today, Miscavige is The One.
Miscavige Himself seems to be trying to position himself as the "voice of LRH" much like the Pope is God's voice on earth. His determination and interpretation of LRH's will is considered infallible by the fundamentalists.  Just as the Pope is infallible. Miscavige even promotes the comparison that he, as the leader of Scientology, is equivalent to the Catholic Pope.
There is plenty of evidence of this, but the latest just arrived in my in box and it is a good gauge of how far down the road to total cultdom Miscavige has managed to lead His followers.
Every organization has its wackjobs. I don't even know who the author of this "success story" is. The issue is not him or her being a wacko, but the fact that such a thing would be disseminated. Edy Lundeen has been around since Jesus wore sandals. 20, or even 10 years ago this sort of "success story" would have resulted in the person being routed to Qual for some sort of handling. Edy Lundeen would have been indignant. It would have been sneered at as "off Source." Today, it is not only acceptable, it is sent out to the masses to promote the new course that COB has given us.
In the bubble of the RCS, Miscavige IS the new LRH. 
On some level you have to give Him His due. It's quite a remarkable feat in light of the repeated admonitions that every Scientologist hold as inviolate — LRH is Source. There is no other Source. KSW. And while He has apparently been the champion of these mottos, He has managed at the same time to convert the fundamentalists into believing that only HE is the vessel through which all of this is to be understood.
The fundamentalists will soon be lining up to kiss his ring. For a long time he has taken great amusement in having Guillaume Lesevre, Marc Yager and others kiss his shoes to demonstrate their unwavering loyalty and abject subservience to Him.  The public do it figuratively now. The day is coming where it will be in public and the brown-nosers will line up for the honor. But that line is getting shorter ever day. Will there be anyone left in it by the time He has reached this new plateau of Popiness?
Date: Sat, 30 Nov 2013
From: Edy Lundeen <fscwus@flag.org>
Reply-To: bbretches@wus.scientology.net
Subject: Golden Age of Knowledge Phase II in the Flag AO

Hello,

The amazing wins just continue to flood out of our AO Course Rooms and HGCs with the delivery of Golden Age of Tech Phase II at the Flag AO.

The new Advanced Solo Auditor Course
This course takes the place of the earlier OT VI Part A Course.
It is for OT Vs who are going onto New OT VI Parts B and C.

The New Golden Age of Tech Phase II, Advanced Solo Auditor Course is two weeks- after you have completed your Basics Books.

Students on this Course are having incredible wins and I wanted to share one of them with you:

"I feel like anyone with an 8th Grade education can be trained now. I can now be trained! There is nothing that doesn't make sense, the glossaries are very concise, it's easy to understand the definitions, they do not lead you to other definitions and the drills are all understandable. You can tell a lot of thought and care went into this by someone intelligent and who understands grammar well.

I now want to study! This is real Scientology and I can do it and not find myself in disagreement with the text. The drills recorder is just bad-ass, no more a slave to the one who is more trained than I, the sup or anyone else. You can have and display your integrity.

COB, you are the best! You have given us the tech now and we have the technology. Let's use it; I want to now! – J.D.

Contact us at (323) 953-3230- we can answer your questions!! Get your Golden Age of Tech Phase II Tech Estimate.

Get you arrived to Flag to be one of the 10,000 on or through Solo NOTs.

LRH stated in 1982:
"It is a never-ending source of wonder to people, going truly on this route, that there could be such QUANTITY of gain available to one being."

I would love to hear from you!!

Love,
Edy Lundeen
Flag Service Consultant AO
323 953-3230