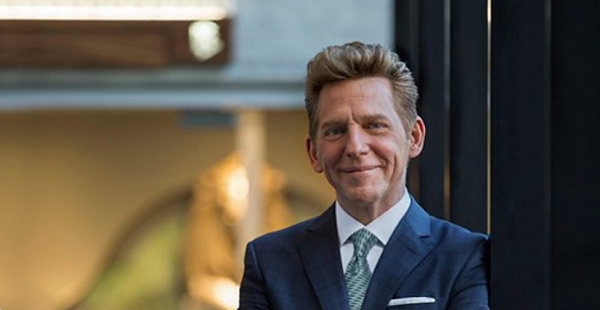 Of course, though the STAAD League blocked me from seeing their tweets (though I am the subject of a lot of them…) people send me some of their drivel every now and then.
This one came in a little while ago.
If you looked up "brown-nosing" in the dictionary you might well find this tweet presented as an example.
"Mr." David Miscavige (nobody DARE refer to him as merely "David Miscavige" or heaven forbid, "David" or perish the thought, "Dave") has apparently marked many wayposts on the path to peace (like a dog peeing on a fire hydrant?) and somehow they "pointed" to a better civilization… it's all so convoluted it is unintelligible. Must have been written by the Shermanator.
I thought Ed Parkin and his STAAD League were against discrimination, not a cheersquad for their favorite cult leader? But then again, everyone, from the dishwasher to the biggest donator is expected to kiss the ring of his highness and offer up gushing praise for his amazing accomplishments.
To give credit where it is due, scientology does have tax exempt status thanks to Miscavige. It also has a lot more real estate and acres of marble, custom carpets and bespoke furniture. And there have been a lot of statuses created for givers of big bucks.
But on the negative side of the ledger, his accomplishments are even more impressive. Hubbard ran scientology for 30 years, give or take. Miscavige has now run the show for longer than the Founder. He has brought scientology to a level of disrepute that it has never experienced in its history. He has overseen the total stagnation of the scientology organizational network – no new states have scientology orgs in his time. Four countries have been added (Russia, Taiwan, Hungary and Greece) compared to 30+ in Hubbard's time. Still no orgs in India, China, Brazil, Africa north of Zimbabwe, South Asia or Eastern Europe. Less Missions that when Hubbard was around. A virtual cessation of new people into scientology. And an adulteration of scientology auditing and the Bridge that has accelerated the demise by driving away dedicated old timers.
I am certain readers and commenters can add to the list of pros and cons (probably more on the cons side of the ledger than the pros I suspect).
No matter how long the list, one thing is clear: The last people on earth who should be singing Miscavige's praises are scientologists. I guess there were still Nazi's proclaiming the brilliance of Hitler bringing the Aryan ideals to the world as the tanks rolled into Berlin and he cowered in his bunker. The analogy is not so far fetched as it may seem. I am not saying Miscavige is Hitler (I engaged in an amusing exchange with Bert Deixler in a deposition once: Deixler: "You compared Mr. Miscavige to Hitler, didn't you" Me: "No, I said he was an anti-social personality, it was Mr. Hubbard who said examples of this sort of person included Hitler and Pretty Boy Floyd, so he in fact made that comparison"), but I am saying he has lorded over the ultimate destruction of the scientology empire, while persuading his followers that he is in fact leading them to world domination.
What a scam. The title should more correctly be "David Miscavige Leader of Sheep to the Slaughter."