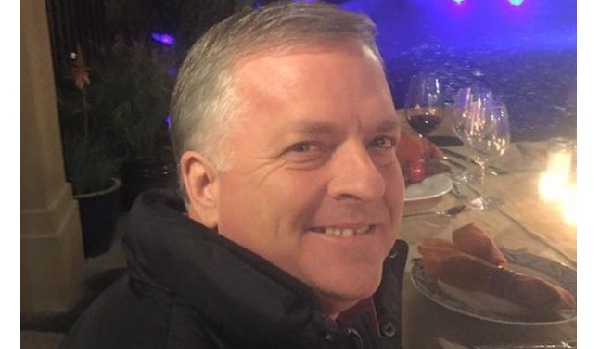 We have another real treat this week, Leah and I talk with Ray Jeffrey.
I will add the episode here as soon as it is available.
As most of you who come here know, Ray was the lawyer who took on representing Debbie Cook and her husband Wayne when they were sued by scientology for allegedly breaching their agreement not to speak out about their experiences in scientology. It was a huge ask as scientology had filed requesting a Temporary Restraining Order on an expedited hearing schedule, and of course they had lined up a small army of lawyers. They were impossible odds.
By happenstance, Ray had recently read Rollling Stone reporter Janet Reitman's book, Inside Scientology, before we connected with him to see if he would be willing to help Debbie. He took on the job and did it like he does everything — thoroughly, carefully and professionally. We could not have asked for a better lawyer.
The suit they filed turned out to be a disaster for scientology when Ray put Debbie on the stand to testify as to her experiences in the Hole and otherwise with David Miscavige and the top of the scientology hierarchy.
There was massive media coverage at the time — not just in the Tampa Bay Times, but on local and national TV, if you Google Debbie Cook you will find a ton of it.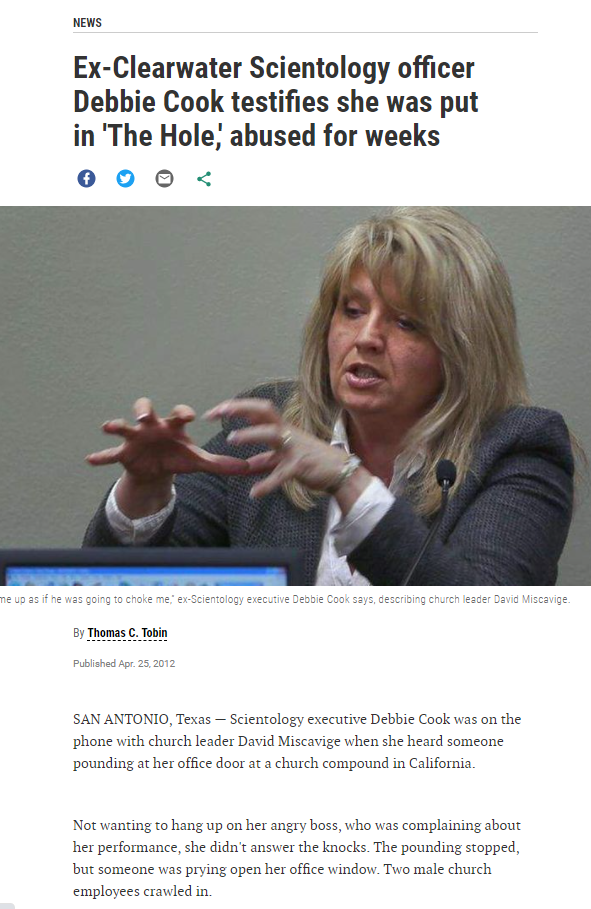 Seeing the writing on the wall, scientology quickly withdrew and the case was settled. It was a huge win.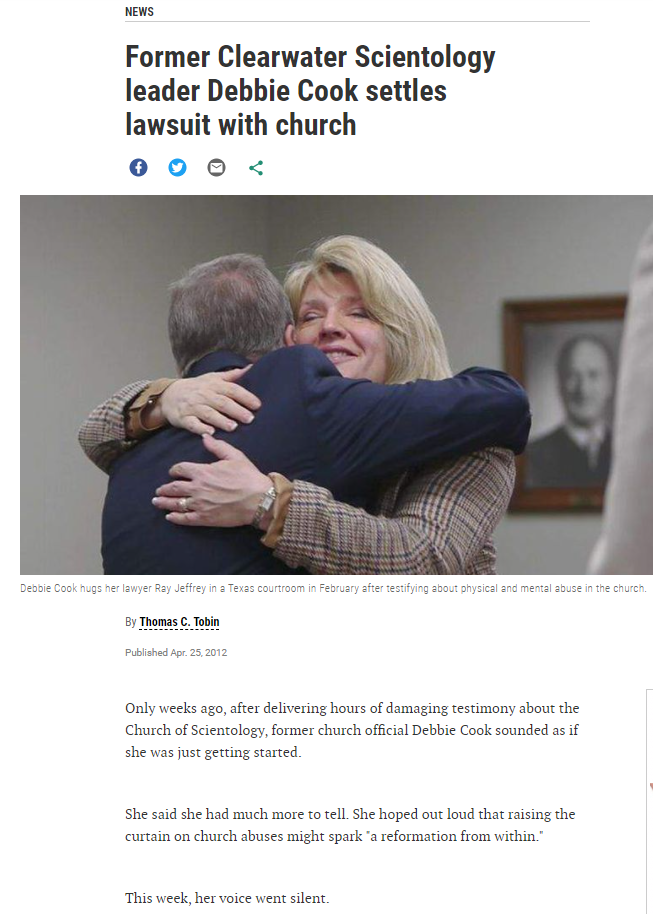 I subsequently wrote on my blog here about the case and its outcome, addressing some of the naysayers and armchair critics who had never been engaged in litigation against scientology.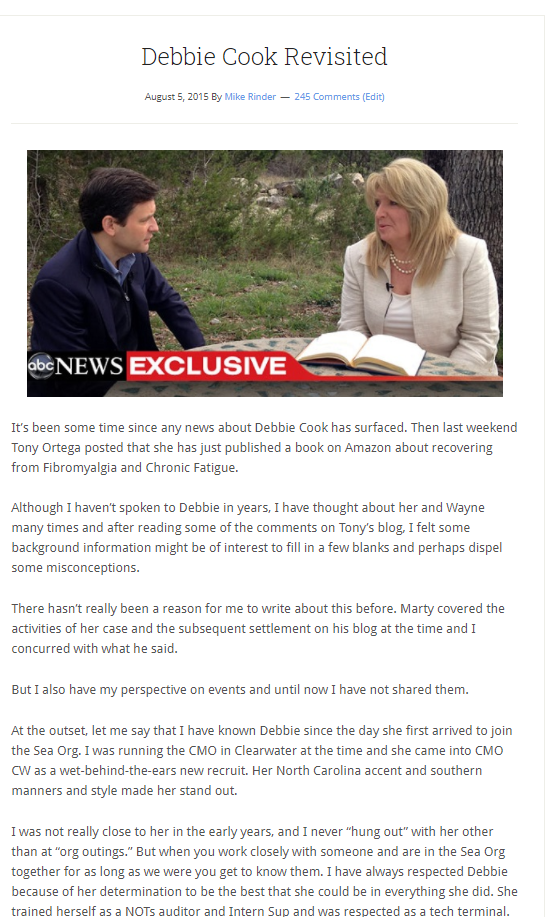 Ray also represented two Private Investigators, Paul Marrick and Greg Arnold who had been employed by scientology for 25 years surveiling Pat Broeker (and subsequently me).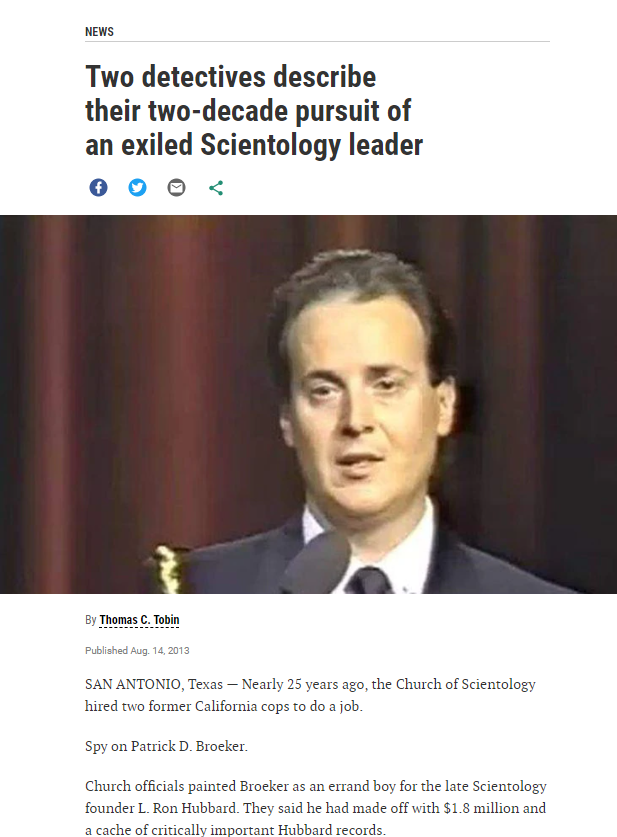 Marty Rathbun had originally hired these PI's, and they visited Marty with Ray before filing their lawsuit. Tony Ortega wrote about this at the time.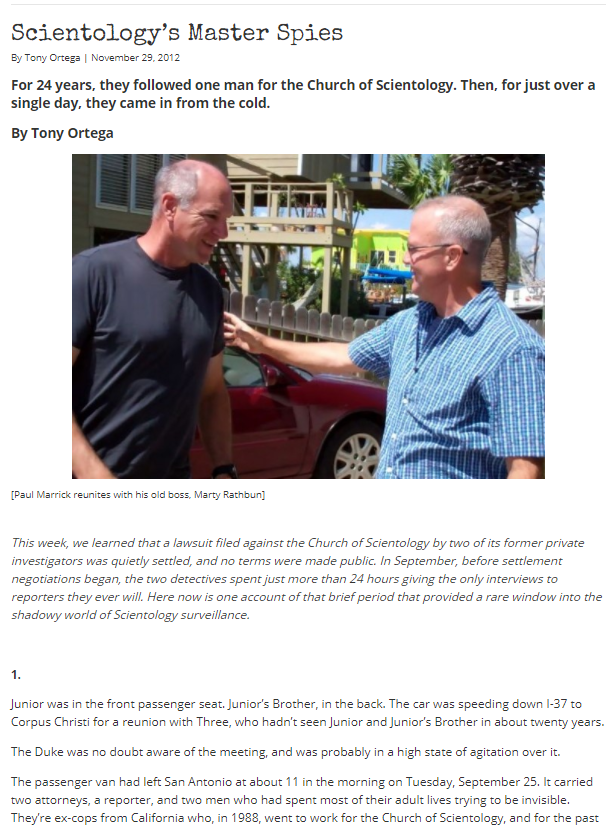 Shortly after the suit was filed, scientology settled it.  This time there was no damaging testimony in the court room.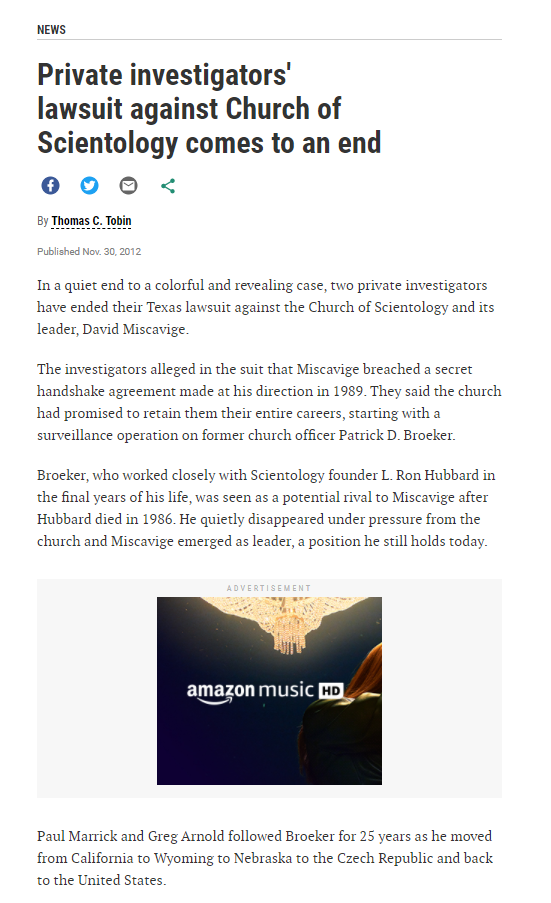 But most famously, Ray also represented Monique Rathbun in her lawsuit against David Miscavige, Religious Technology Center, Church of Scientology International and a number of individuals and Private Investigators following the infamous "Squirrel Busters" Fair Game saga that had played out against the Rathbun's.
The suit was filed on behalf of Monique Rathbun on 16 August 2013: Monique Rathbun Complaint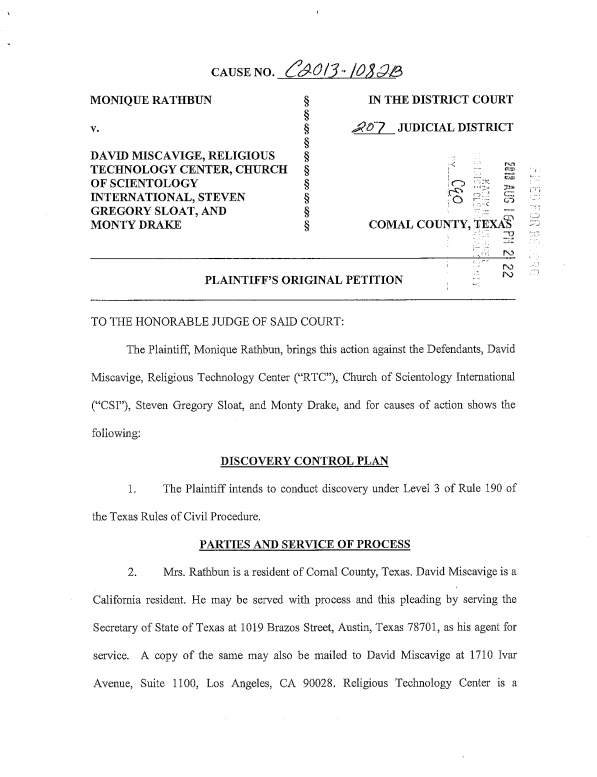 The case was very successful — the Judge granted a Temporary Restraining Order  (ironically what scientology had unsuccessfully sought against Debbie Cook).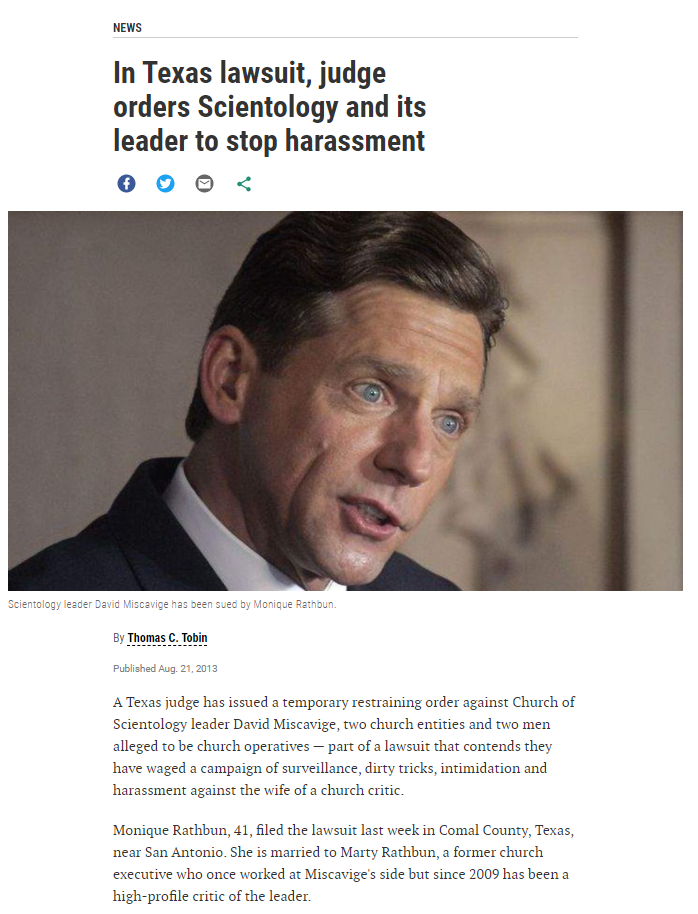 Scientology brought in an army of lawyers and tried every trick in the book, from moving to disqualify the attorneys to claiming David Miscavige had nothing to do with anything. They also filed an "Anti-SLAPP" motion — which is a law enacted in many states to prevent large corporations from squashing individual's constitutionally protected rights through lawsuits. Of course, scientology turned this law on its head and claimed THEY were the victims and had been wrongly sued for conducted their protected "religious" activity of Fair Game.
The court did not see it their way — not at all.
Order and Findings of Fact on Anti-Slapp Mtns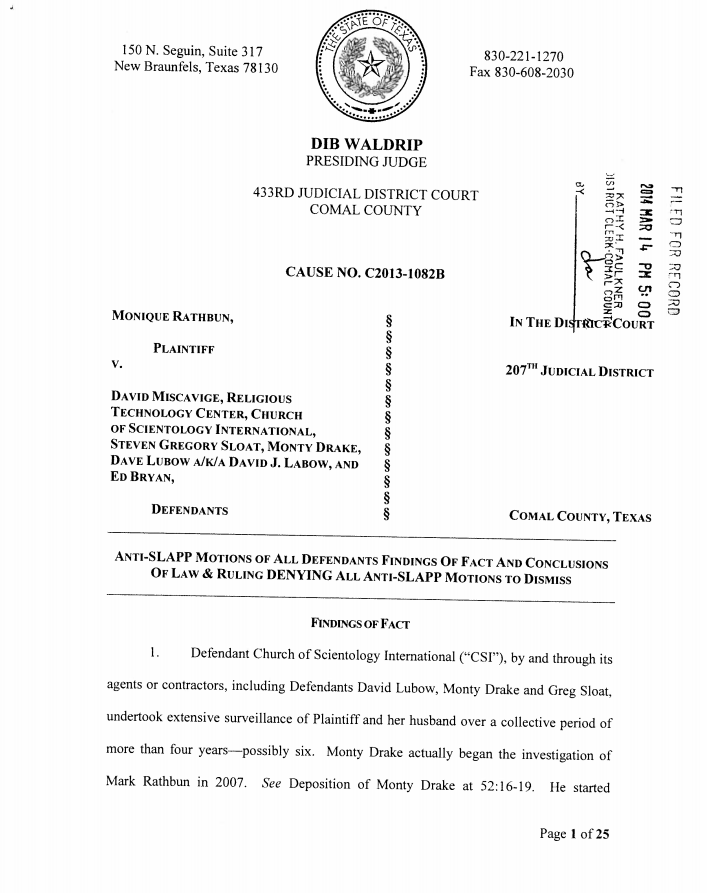 Scientology, of course, appealed that decision and the Texas Court of Appeals also had a different interpretation of the facts and the law than scientology:
Appeals Court Opinion on Anti-Slapp motion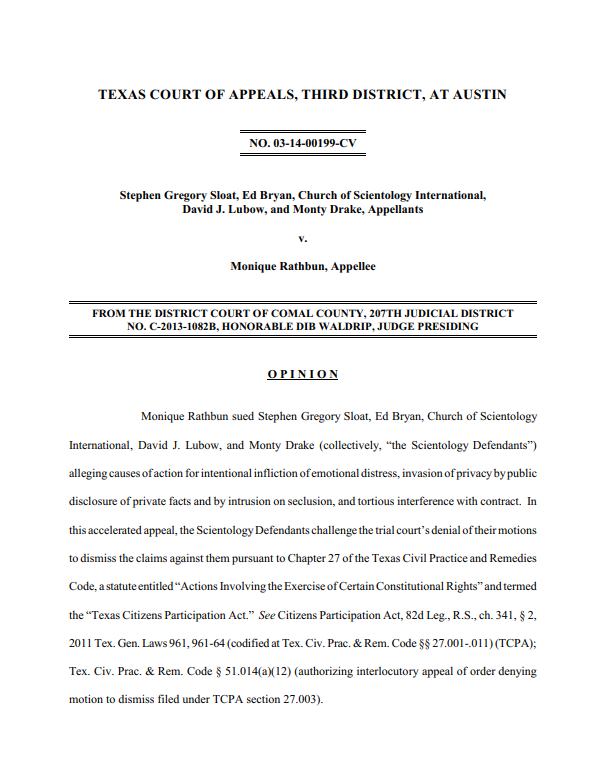 Following the Appeals Court decision, scientology asked the Texas Supreme Court to overturn the two lower court decisions.
While the matter was pending before the Texas Supreme Court, Monique Rathbun fired her lawyers and dismissed the lawsuit, dissolving the protections put in place by the court when the TRO was issued.
It came as a complete surprise to everyone.
Soon thereafter the Rathbun's purchased a new home: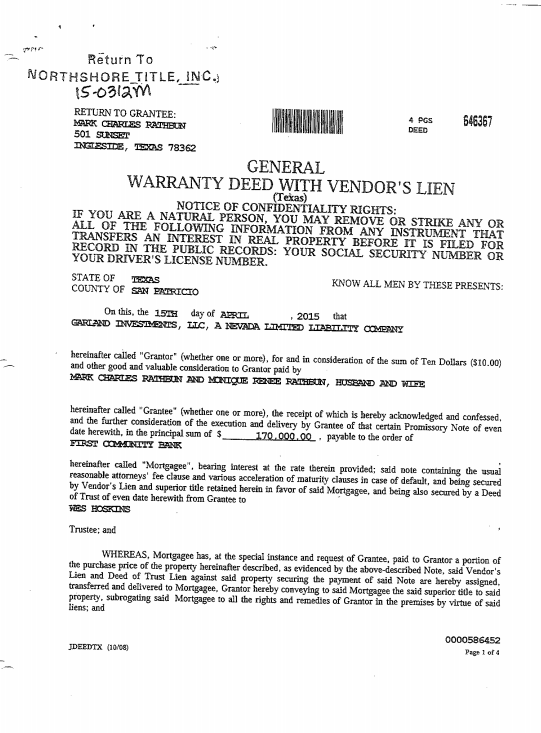 And subsequently Marty Rathbun became scientology's main spokesman against Leah Remini, me and Tony Ortega (with a few other select targets thrown in from time to time).