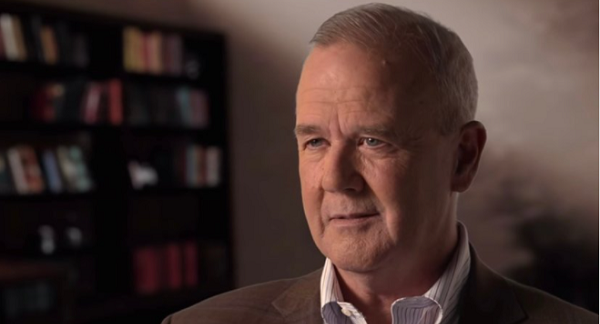 Over the past 2 years, there is only one recognized person who speaks on behalf of scientology: Marty Rathbun.
The two other recognizable "spokespeople" are never heard from — Ed Parkin sends out a stream of tweets and Karin Pouw's name is affixed to the routine letters sent to the media written by others. They are never actually seen speaking. These 3 are the troika of scientology spokespeople today. Monique Yingling seems to have gone into retirement. Tommy Davis blew. Heber Jentzsch is disappeared. Even Bob Adams and Linda Simmons-Hight have vanished. And the other people who speak in videos are random former associates of those who are targeted by scientology. Only Marty Rathbun is a recurring presence with moving lips.
Though you never see any live interviews with Marty, his brown-jacketed videos are featured prominently on scientology sites and he is cited as a great authority. They have taken to referring to him as a guru.
Here is a recent STAND League piece by a Dean Blehert who apparently fancies himself as some sort of expert commentator on things of which he clearly knows nothing. Dean probably didn't even write this — like Karin Pouw, his name was merely added to the planned article.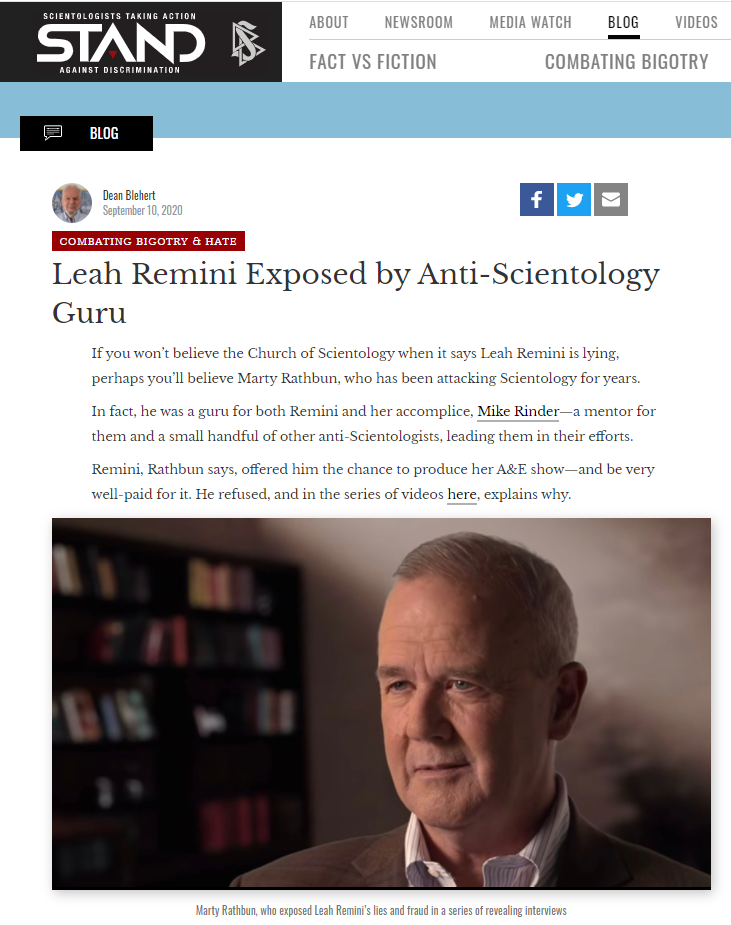 Scientology has lifted Marty Rathbun into the most visible (and according to them, truthful) official spokesperson on all matters relating to Leah Remini, me or any of the endless shitstorm of negative coverage, I thought it would be interesting to sample some of Marty's thoughts about David Miscavige.
I downloaded these from Marty's blog yesterday.
Dean, Fast Eddie and the other STAND stooges apparently place great weight on his words (though nobody else in the world does), so perhaps this will be enlightening for them to hear it from the horse's mouth about their Dear Leader.
He has had a LOT to say (though it seems to have dried up since the lawsuit was dismissed). This is merely a small sampling. I kept the titles of the blog entries the excerpts are from so they are easy to locate — and because in some instances, the titles say it all.
Update From David Miscavige's Bunker
When Miscavige directed Scientology Inc. to counter the truth with wheelbarrows full of ad hominen attacks directed at the four of us who spoke out, the Times followed up on several former Int base staff who had informed them that every word Amy [Pesch], Tom [DeVocht], Mike [Rinder] and I spoke was true.
Though I publicly warned Miscavige that if he continued to lie, that which he lied about would become his future, Miscavige continued to take not one ounce of responsibility and had then spokesperson Tommy Davis appear on several national television broadcasts denying what by then the world could see was patent truth.   Miscavige had Tommy imprisoned and punished for so loyally following his own directions.
In order to continue to protect his lies, Miscavige instituted a policy of paying large sums of money to staff who could further corroborate his crimes and having them sign extremely restrictive non-disclosure agreements.
Imagine being in the skull of David Miscavige.   Not only does he have to compute 24/7/365 his own lies – trying to keep his every lying utterance consistent with every past lying one (and they are legion); he has got to also keep attention units spread across the world attempting to continually dam the truth from emitting from so many others.
David Miscavige Killed Lisa McPherson
 Lisa Mcpherson was fed the Clear cognition (that realization that – given it is accompanied by the UNMISTAKABLE meter phenomena mentioned above – signifies a person has honestly made it to Clear) many years before David Miscavige bypassed the entire international tech hierarchy to personally write a lengthy C/S directly to Lisa.  Anybody knows that when a clear cog feeding occurs (and the pc is extremely obsessed with obtaining the cultural status that comes with being declared Clear), C/Ses and auditors have got to be extremely competent and wise in navigating the individual to the actual accomplishment of the state of Clear. The Miscavige C/S informed Lisa McPherson in essence that every other C/S and every other auditor she'd dealt with for the past ten years was criminal and out tech and only he, David Miscavige the Pope himself, understood that she in fact was Clear.
Not surprisingly, within weeks Lisa had a psychotic break…
David Miscavige imposed a months long onslaught of desperate, out-tech auditing programs.  Those programs were enforced by his unquestioning, and all-powerful, RTC representative at the Flag Land base.  That Lisa McPherson went insane during this ordeal should be no surprise to tech trained people.
Lisa McPherson was killed at the Flag Land Base.
David Miscavige killed Lisa McPherson.
David Miscavige: The Narcissist
Mike Rinder, Dan Koon, Raul, and many other former International Corporate Scientology base staff will attest that David Miscavige would never lift a single finger to advance any such campaign.
Anyone who has worked closely with Miscavige can also attest that he considers Latinos second-class, degraded people. Not only can he not translate Spanish, he cannot even pronounce a single Spanish word properly. I've only ever heard him attempt to use Spanish words to degrade Latinos or Latinas in his environment.
Now, check the following clip from the most recent IAS annual event and tell me, is there a single sincere bone in this cat's body?
David Miscavige and Tom Cruise: Psychopath and his Movie Star Pal
Is David Miscavige a Threat to the Public At Large?
What follows is but one of many stories about how the taxpayer subsidized, mafia-like tactics of David Miscavige pose a danger to society at large.  Ratchet up your confront of evil a couple notches.  David Miscavige with a billion tax free dollars is capable of – and is trying his hardest to achieve – a tremendous amount of chaos and hurt even to those who have never heard of Scientology.
David Miscavige the Coward
A tremendous amount of International Association of Scientologists fees are being expended daily to run a black PR operation against me personally as well as a 110 day operation designed to impede me directly and make the lives of Mosey and I a living hell
If you'd go to the St Petersburg Times video interview of me, and watch the segment titled Reverse Dianetics at http://www.tampabay.com/specials/2009/reports/project/rathbun.shtml, you will learn that Miscavige did not have the courage to confront me man to man before I left (even with whatever security contingent he chose to bring with him, against me alone
David Miscavige the Cheater
The Radical Corporate Scientology view is that of its leader David Miscavige.  Win at any cost; defeat the designated enemy by any means necessary.  Become whatever it is that the leader has you resist.  And above all, NEVER question the enemy status of anyone Botox Dave fingers.
Even on a personal level, there is no "game" Miscavige ever played that he did not cheat in order to "win."    In basketball, he blatantly and violently fouled his opponents and required his "teammates" to do the same (he also always made sure I was on his team, who back in the day could drain 'em from just about anywhere:).  Of course, because of his position no one could argue – and by violent overwhelm, against all rules, Miscavige would invariably "win."
Even in the card game Pinochle, which he required execs to play with him (nobody, and I mean nobody, ever played any game with the habitual cheat on his own determinism), Miscavige overtly grabbed the cards of his opponents to view them whenever he lagged behind on points.
The Psychosis of David Miscavige
For those who have not lived and worked around David Miscavige, it is sometimes hard to believe the magnitude of Miscavige's psychosis. The following Blackberry message threads between Miscavige and "Lou" (Miscavige's Communicator) on one side and Tommy Davis and Mike Rinder on the other end of the line gives a taste of what it's like within the bizarre, insane world of Miscavige.
So, according to Marty Rathbun, David Miscavige is a:
Liar
Criminal
Killer
Narcissist
Psychopath
Coward
Cheater
Quite a complete rundown.
And out of interest, because it came up in the search when I put in "David Miscavige," here is a piece Marty Rathbun wrote about me…
Mike Rinder: The Antithesis of David Miscavige
I've alluded it to it before. But, now I'll make it crystal clear.  Mike Rinder was beat on the order of fifty times by David Miscavige.  The reason is simple.  Mike Rinder was the shock absorber between David Miscavige's psychotic intentions and the public at large.  Pure and simple.
I witnessed many of the beatings.   This is typically how they would play out.
Miscavige:  Rinder, those protest signs are aimed at one person and one person alone, me!  What the f*** is OSA doing about it?
Rinder: (calmly, coolly) Sir, we are re-routing the staff and public so that no one sees them.  We are investigating the instigator to determine if some vested interest is behind this…
Miscavige: (turns to Marty)  Did you hear that SP?!   He couldn't care less.  Totally nonchalant.   He is perfectly fine with ME getting smeared!  (turns to Rinder) You f****** SP!  I don't want the sons of bitches "investigated", I want them destroyed!  Squashed like F****** cockroaches.  Get that fat Nazi bitch Kurt Weiland up here Shelly.  Get f****** OSA to make up signs now about the pig who started this – and get some real public who love me – unlike this SP Rinder – go picket his f****** house.  (turns to me, points at Rinder) Look at him, he's just sitting there…I have to handle everything, even my own defense…f****** pie face.  (Miscavige cups his hand and whacks Rinder full force on the ear, storms out of room cursing up a storm).
(Rinder is his inimitable, diplomatic style quietly interjects himself back into the cycle, editing OSA's signs so that they are not so blatantly unlawfully threatening.  He also sustains another beating or two for reporting directly to Miscavige that the public in front of such-and-so's home are creating a terrible PR situation. Ultimately, after three vicious beatings Mike survives when a PR flap of magnitude intercedes and Mike has got to clean up, dress up and appear on national TV as the public face of Scientology.  Mike somehow regains his equilibrium and comes across as the calm, rational guy he is. Only then does Miscavige stop obsessing on the protesters and Wieland wisely and quietly follows Mike's advice and calls off the dogs)
No exaggeration.  I'll give examples in my book – but this is a distillation of a day in the life of Mike Rinder at the International Headquarters of Radical Corporate Scientology.
Yeah, I got choked up in Germany. And I'm choking up now because fact of the matter is every time (and they were multiple per week) that I served as a sounding board for Miscavige in this wise, I not only perpetuated the destruction of Scientology, I allowed a great man and a good friend to be tortured and denigrated.
But, Mike is the living proof of one truth Nietzsche offered:
What doesn't kill us makes us stronger.
Mike Rinder is perhaps the strongest man I know.
Mike Rinder was and is a better man than I.
This gave me the idea to look up what scientology has to say about Marty Rathbun — when they are not using him as their spokesperson and lauding his opinions. That will be interesting.