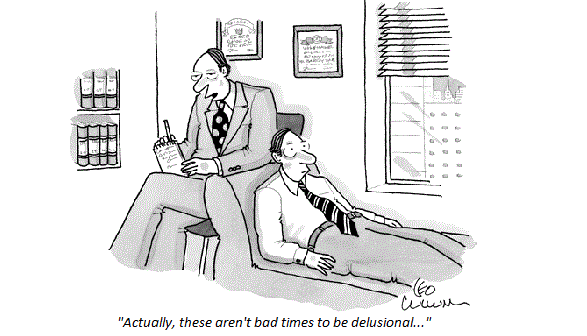 Ken Kramer is at it again.
As usual, he is begging for money, even though the IAS claim THEY are the ones "eradicating psychiatry."  Just like they are the ones bringing "human rights" and "literacy campaigns" (see recent post on GoFundMe page for those campaigns).
Here are a couple of recent emails from Mr. Kramer.
From: PsychSearch <records@PsychSearch.net>
Sent: Sunday, February 21, 2016 3:35 AM
To:
Subject: You say you want a revolution
You say you want a revolution
Well, you know
We all want to change the world… (Beatles – Revolution Lyrics) 
Dear Sir or Madam, 
I really need you to take a hard look at this. 
You've heard us harp on this: States take no action until they receive a complaint on a psychiatrist.  They're just not out on the prowl looking for action! They're just not. Therefore, complaints need to be filed. 
We are having TREMENDOUS success getting complaints filed on psychiatrists. 
TREMENDOUS! 
Why? It's so simple.  Patients fill out this online form http://www.psychsearch.net/complaints, select their state, press "submit" and voila!, the complaint is sent electronically straight to the state licensing agency for that psych.  No Delays.  No Vias. No BS.  Ka-Blam! 
Now, this is why I ask you to take a hard look at this. 
In order to get 100,000 complaints filed on USA psychiatrists this form needs to be blown out to the entire world wide web.  (There are approx. 50,000 USA psychiatrists – 2 complaints each should cause a sizeable effect!) 
You get an idea or two on how to simply blow that complaint form link out on the internet, e.g. your websites, blogs, Facebook, e-mails, Google Ads, Facebook ads, etc. and then watch what happens!  It's so easy!   I see the workability of this approach.  Every day.  So, I know. 
Have fun and enjoy yourself knowing that you are creating a BIG EFFECT. If you don't do it, watch what will happen on complaints – not as much! That's up to you. 
Seriously.  If you have not the time or inclination, you can finance our effort to promote the complaint form broadly.  
Best Regards,
Ken Kramer
PsychSearch.net
Make this psychiatrist complaint form well-known: http://www.psychsearch.net/complaints/
"It is a simple and deadly formula.  Less steps than baking a cake."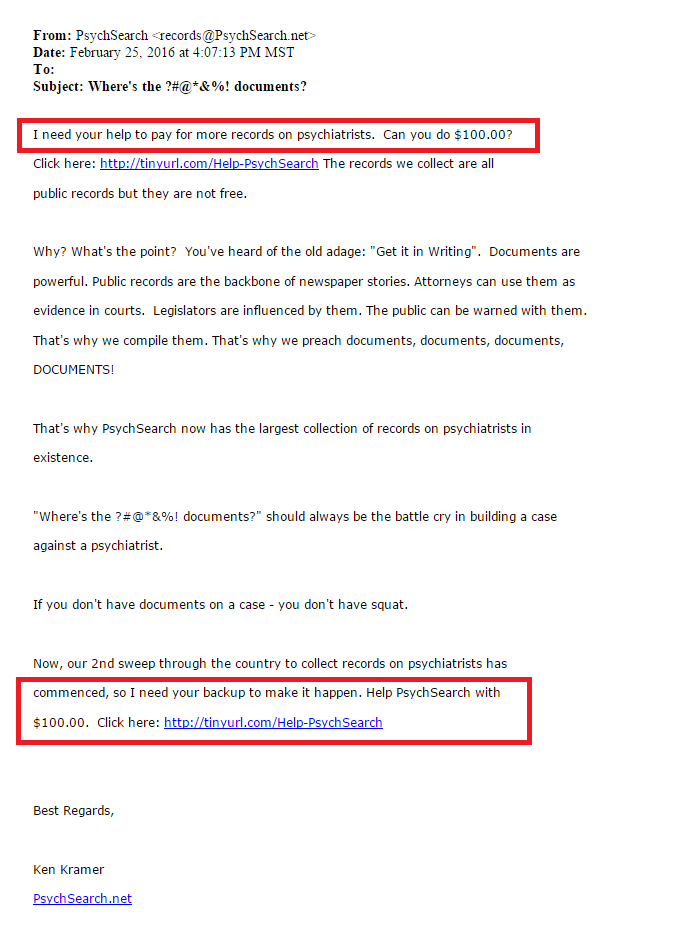 Seriously, if this is scientology's "effective campaign" to "eradicate" psychiatry, it is on a par with their progress in "clearing the planet."
Total delusion.
It is amusing to see in so many public utterances how much the vulture culture of scientology has encompassed every part of the activities of scientologists. Today, NOTHING gets done without "fundraising" and every statement about WHAT is being done is increasingly provably untrue. But they carry on, convincing one another they are "changing the world."