Fortunately, Fast Eddie Parkin, the head of STAAD League and OSA International old-timer (he used to be Heber Jentzsch's assistant back before Heber was "disappeared") cannot block everyone on Twitter.
Fast Eddie makes a habit of sliming people scientology doesn't like with his STAAD League account (@EPStandLeague). But everyone he targets is blocked from seeing his Tweets, and anyone who ever responds to him with anything less than fawning agreement of his assessment of himself as a genius is instantly blocked. This is such a cowardly way of doing things — but is a typical scientology tactic in the era of Miscavige. Miscavige has created an environment in his image — he dispenses with anyone who does not agree to his self-asserted infallibility. He hides behind lawyers and "spokespeople" (who don't actually speak) to deliver his messages. He is a coward.
Fast Eddie is employed as an anti-Aftermath stirrer. The success of his efforts is apparently not a factor, as he keeps rolling out the footbullets. It is always interesting to read his hate-filled drivel, and I find it especially amusing when I see him complain that "scientology's side" is not presented. Fast Eddie is one of the "go-to" guys sent out to deal with camera crews if they find themselves in a circumstance where they cannot just hide inside their buildings being keyboard warriors. It's amazing to watch anyone try to ask him a question face to face. He calls the police or security… so much for "scientology's side."
But Eddie has outdone himself with this new tweet.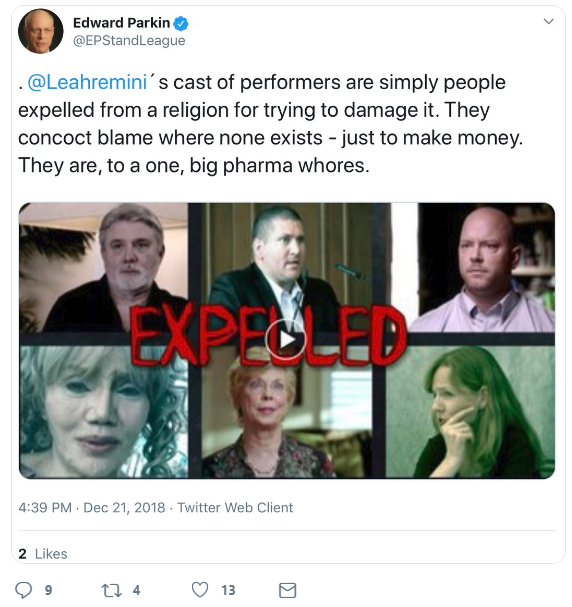 Big Pharma Whores? Wow. Even for Fast Eddie that one is a bit of a stretch…
But there are a couple of other whoppers in these 3 sentences.
"Cast of performers"? No doubt the intended message here is that these people are a "cast" like in a movie? And they are "performers" like actors? It is interesting that the only thing scientology has to respond to the recounting of the lives of real people is to yell "liar" and "actor" but never, ever to address any of the events that took place? And by the way, have you looked at ScientologyTV for even 2 minutes?
Everyone is "simply people expelled from a religion for trying to damage it." Another of scientology's pat (false) responses. Everyone was "kicked out" and "expelled." Actually, these people escaped or "blew" and scientology went crazy trying to get them back. Only after they couldn't get them to come back did they suddenly become "failures who could not live up to the ethical standards of scientology"…
They "concoct blame where none exists" — concoct? Blame? No, they tell their experiences. If by doing so you feel you are to blame, then that is a reflection of your guilt.
And this is all to "make money"? Perhaps you should ask any of these people if they have made ANY money in telling their stories. Not a penny. But the one thing we DO know is that the ONLY things scientology does are to make money. Without exception. It is a Hubbard law. Nothing is given away for free. That is a high crime in scientology.
Now as for Big Pharma – they must be sending my checks to the wrong address. Or your PIs are stealing them from my mailbox. I will be sure to let everyone know if the checks do start arriving. Maybe then I could afford to hire a lawyer to put an end to your defamation…
And just as a note: While there are plenty of things to be critical about Big Pharma, it is undeniable they have developed treatments and cures for an enormous number of diseases and conditions in this world. So there is good with the bad.
Scientology? Not so much.
Personally, I would rather be getting checks from Big Pharma than a full time slave to a cult that controls everything I do, every choice I make and even what food I eat and what time I may eat it. Maybe one day Big Pharma will develop a cure for brainwashing?