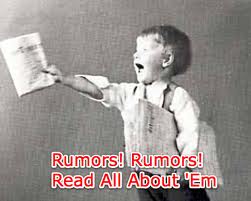 This is a collection of rumors, "news" and "pitches" emanating from Flag…. 
They are trying to sell GAG II HARD. Also throwing in some "Super Power" and even a mention of OT IX to persuade the high rollers to get busy redoing their Basics, Purif and Objectives.
 First off, a pitch to attend Graduation. We are starting a competition for how many euphemisms can be thought up to announce His presence at Graduation.  This has a few new ones:  "you know who" and "the top" and my personal favorite "our main speaker." 
From: [email protected]
To: [email protected]
Sent: 7/5/2013 3:52:44 P.M. Eastern Daylight Time
Subj: Fwd: Tonight…..mind blowing briefing from you know who

FLAG GRADUATION GETS BETTER AND BETTER. GET IT FROM THE TOP
TONIGHT. APPARENTLY OUR MAIN SPEAKER HAS SOMETHING BIG FOR US
TONIGHT. WHERE ELSE WOULD YOU BE.

COME GET 5,000 TONS OF THETA.

WE ARE ALL GOING…DON'T MISS IT.

DOORS OPEN AT 8:00PM

SEATS FILL UP AT 8:10PM

COME EARLY.
And here is one from Dan Sherman, cleverly disguised as "Barbara Dews." 
From: Barbara Dews [mailto:

[email protected]

] 

Sent: Tuesday, July 02, 2013 8:17 PM


Subject: Want to know even more about The Golden Age of Tech Phase II?
 

Here is some data on the briefing that the Chairman of the Board RTC gave to welcome the trainees at Flag on the Golden Age of Tech Phase II.

 

"Let there be no doubt, you are about to embark on a training program the likes of which has never existed," said Chairman of the Board RTC in welcoming the legions of technical delivery staff from every corner of the Scientology world to a confidential, closed-door briefing. What followed was a vast, three- hour overview of everything that comprises the Golden Age of Tech Phase II.

 

The final phase of our Golden Age is all-inclusive, meaning from the bottom of the Bridge to the top, on both sides of the Grade Chart: On the Training side, it includes Student Hat, Pro TRs, Pro Upper Indoc TRs, Pro Metering, Academy, New Era Dianetics and Solo. On the Processing side, it's Purification, Objectives, Expanded Grades and New Era Dianetics and further includes Power, Super Power and Cause Resurgence.

 

So, what is the Golden Age of Tech Phase II? It's the Golden Age of Tech plus the Golden Age of Knowledge. For if the Golden Age of Knowledge was the recovery of our basics and the Routes to Knowledge. Then the Golden Age of Tech Phase II is exactly that for the entire Bridge.

 

As Mr. Miscavige put it, "Golden Age of Tech Phase II is not a 'refinement' of Golden Age of Tech – it's a whole new world. No, it does not change the Gradation or Classification Levels. Yes, it does remove any and all arbitraries—in fact, obliterates them."

 

But even more than that, and just like the initial phase of the Golden Age of Tech, it includes all manner of training aids, which will fuel an exponential acceleration of training.  Throughout the briefing, samples of all materials and training aids were rolled on and off the stage as Mr. Miscavige spoke of each one in detail. The scope of the program further includes new enlightenment films—many of which were previewed—that will escalate Bridge flow like never before. Moreover, the program encompasses all administration so that once it is launched, it can be kept in –forever.  

 

Placed in the perspective of other major ongoing strategies—the Golden Age of Knowledge, Ideal Orgs, the Public Phase and all of our Introductory Routes—the Golden Age of Tech Phase II is the final element to an Ideal Org. But not only that, it is the final element as regards Planetary Clearing—because what rolls out from here will not only move greater numbers than ever onto and up the Bridge, but it will generate a commensurate number of auditors to flow outward, opening new field groups, missions, social betterment activities and all else that bring LRH tech across an org's geographic zone. At which point, the cycle starts anew, generating even more new organizations—which, in turn, flood multitudes up the Bridge who spread LRH tech even farther across their fields.

 

By the end of the briefing, all tech personnel were fully oriented and ready to move through their study in preparation for the launch of delivery in their org.   In that regard, the Golden Age of Tech Phase II also has everything to do with the manner in which it is supervised. For that, too, is a recovery of lost tech—and with the full range of supervisor courses on the lineup, may well be the most significant of any recovery of lost tech ever.

 

In demonstration of its massive scope, Golden Age of Tech II materials lined the walls of the Fort Harrison Auditorium for all present to review for themselves.   Following the briefing, they swarmed the displays—at which point, Chairman of the Board RTC personally demonstrated a new, revolutionary training aid.

 

By nights end, it was abundantly clear that technical staff on this training program would attain total certainty and perfect application of the tech, for the bottom to the top of the Bridge.  

 

What transpired that evening signified the beginning of a new beginning. For the next day, the international assembly of technical staff would step across the threshold into a new universe of Scientology and start their own study in the RTC Special Training Program confidential course rooms.

 

As that training got underway, one thing was abundantly clear: The Golden Age of Tech Phase II will raise every Scientologist's ability to free others, by orders of magnitude. Combine that with the release of Super Power and Cause Resurgence, and this is the LRH blueprint for a self-generating juggernaut—and the certain formula for world clearing.  

 

Once they have completed their training programs, these staff will possess the skills and be equipped to deliver everything comprising Golden Age of Tech Phase II, and so train tens of thousands more. In effect, this training is the very ignition of a perpetual motion engine, designed to accomplish clearing across every org's geographical zone.

 

While as for a glimpse of what they are studying: There's the tech of metering—which, along with TRs, is the back bone of auditing. At the May 31 Flag Graduation, Chairman of the Board RTC described meter training in this way: "A Pro Metering certificate is a hell of an accomplishment. Nevertheless, and let's face it, when a person finally achieves that certificate, it is looked upon as making it to the top of Mount Everest. So, how much is that going to change? I can tell you, there is no cutative. We're talking real pro metering, every E-Meter drill, even including this-lifetime and whole track dating. So what are we looking at in terms of certainty?  Total Certainty."

 

In testament to that certainty, staff on a full-time schedule achieved a Pro Metering pass in just one week—and that was three times through the checksheet, both Theory and Practical. The difference is orders of magnitude.  

 

While as for another vital element of the lineup: Student Hat is the most important course in Scientology for the fact one must apply it to all studies—and it has been brought to a whole new level.

 

As Mr. Miscavige put it: "Is this something spectacular? You bet!" 

 

How much faster is it? With total certainty? The answer is that the average length of time through the LRH Study Tape lectures is one-fifteenth the time it took previously. Or put another way: If a student took 300 hours of study before, they will take 20 hours now. And again with total certainty.

 

Indeed, from the moment Flag supervisors first announced "Start" in the Golden Age of Tech II training course rooms, it was obvious something was different: Students rarely ever raised a hand.

 

"I have trained literally thousands and thousands of students and I never imagined this could happen," said a Flag Supervisor. "The best way to describe it is 'blindingly fast' and F/Ning from start to finish. And students' certainty is out the roof."

 

One glance around the course room confirms that fact, no matter the language, students progress through their materials at startling speed.

 

When they finish their confidential training lineups, they will fire to every corner of the Scientology world—setting in motion the unstoppable momentum to a cleared planet.

 

Now is the time when every single being on this planet can make it. I want to help you make it.   Call me or write anytime for anything.

 

Love,

  

Barbara Dews

Flag Service Consultant

323 872 3585

 
Same old, same old Shermanspeak hype.  But you have to admire the unabashed arrogance. Thanks to "COB" we now have "the certain formula for world clearing" and He is "setting in motion the unstoppable momentum to a cleared planet."
Without His brilliance, can you imagine what Scientology would be like?  Empty orgs. Bad PR. People stuck on the Bridge. No auditors. Shrinking Missions and groups.  OMG it would be just a shambles…. It is so fortunate He is around to straighten everything out!
And here is some new news about the L's — discounts, discounts, discounts!!
From: John Spagnola <

[email protected]

>

To: undisclosed-recipients: ;

Subject: New Flag Price and other Changes

Just wanted to let you know of some recent changes at Flag!

Ls
Just today it was oked that if one is CSed for only one intensive of Ls they
can just pay for 1 intensive!

Prior, you had to buy at least 2 intensives to do any L. That means if CSed
for 1 you need only pay $12,000 for an L!

Objectives
They are required as completed first, for all those who want to do Super
Power. Purif as well if it is needed to be redone.

OT 9
Those planning to do OT 9 will also need a flat Purif and a full set of
Objectives that are completed.

OTVIIIs who recently had to do objectives at professional rates now can buy
the Objectives on a co-audit basis for less then $1,000.

A lot going on at Flag and I wanted to share data I got from my reg and
other staff.

Please feel free to call Flag and reconfirm.

Best,
Johnny

###
In other words, if you are OT VII or OT VIII and thought you could avoid having to REDO your Purif and Objectives yet again if you avoided doing Super Power — we thought of that too. Because if you want OT IX, you are going to have to do it too. Right now. Then each year from here on out….
I highlighted some of the most significant points in the OT Committee minutes — always a good source of "party line."
Flag OT Committee

Meeting Minutes, July 1, 2013

Prelude: 

Sue Moore, Deputy Chairman relayed that Kaye, our Chairman, and some other of our execs were running late due to a special project in the Ballroom.  Sue quickly devised a caper and as Kaye came late into the meeting in the Flag Auditorium, the attendees all stood and cheered for her.

Call to Order:

Kaye Champagne, Chairman thanked us and then welcomed attendees calling the meeting to order.

Statistics:

Sue Moore, Deputy Chairman reported some stats from the past week:
    Number of Active Members – up from 217 to 238
    Total Funds Raised – down slightly
    Volunteer Hours – up from 1127 to 1417
    Total Arrivals – up from 75 to 118 

Lyle Roland, OES added that there was a "Highest Ever" stat to report: 
    Number of OTC Members Service Starts – 30

Announcements:
Kaye Champagne, Chairman cautioned us not to miss Flag Graduation. She said that this week there are many OT VII completions and also, "he's in town."

Kaye let us know that there had been a Confidential Briefing by COB to Cornerstone Members in the Crystal Ballroom.  She said it is all very exciting, and the she and Jim Bridgeforth and Tom Cummins had been there, along with other Cornerstone Members.

Naomi Davis, 10,000 on Solo NOTs Officer, spoke about Tuesday's Keys to OT Event. She said that this week (July 2) Michael Chan will be giving a new seminar he has not done before, his "Be, Do, Have Seminar" which will last an hour and a half, and will include drilling. The Keys to OT Event is weekly on Tuesdays at 7:15 PM at the Sandcastle Restaurant.  Ali Osborn, Tours I/C added that Michael Chan is a power speaker who gives great seminars that are "on source" using LRH, and that each time he gives an event the stats go way up on success stories, recoveries, and services starts.

Anna Paddock, Ideal Field Project I/C briefed us about the new monthly potluck meeting she is launching for members of this project. Also, there is a new form available to use when doing home visits, that includes a "calling card" that can be left for the person if no one is home.  Lyle added that the purpose of this project is to get people on lines and getting onto their Purif and Objectives, and getting ready for their next steps.

Debbie Sharp, Public Exec Sec, introduced a new volunteer for the Tours Project, Duncan Pringle.  Duncan said that he is Ali's dad, and is now the Debrief I/C for Tours: He takes all the data that gets reported about their events and seminars by Tours Members each week, and compiles them into a format that is usable and for our archives.  He said it is his 3rd week on post and he loves it. Duncan referenced "Axiom 4" about theta creating space, and related a huge win:  "This is the largest OTC in the largest Org, and as I have debriefed members from all over the planet, I can see that this OT Committee really knows how to create space!" 

Emmett Osborn, OTC Dir IAS Field Dissemination gave us a nice briefing about progress in the Far East: wins from the Kaohsiung Org and also a reach for Study Tech for the country of Korea.  He also briefed us that at this year's "Psych Convention" the members couldn't come to agreements on the DSM. Emmett announced two OT VIII's in our OTC who recently achieved Silver Meritorious Status in the IAS:  Stephen and Weibke Koenig.  Stephen said that before he made the decision, he didn't have the money, but when he made the decision to do it, it all came together. He said, "There is so much going on here and now" that he wanted to back it up with this donation and, "There is so much future."

Debbie Sharp, PES announced that on Sunday evening, July 21 there will be a special IAS Briefing by invitation only for some OTC Members.  She said that it is very important for those who receive the invitations to arrive, and that the speaker will be an IAS Freedom Medal winner from Germany.  She said to "save the date."

Dusti Woodbury announced Source Night on July 15th, two weeks from tonight.  She encouraged members to bring friends and acquaintances, and emphasized it is not just for OTC members. This will be at our regular OTC meeting time and place: Monday July 15 at 6:15 PM, and refreshments will be served.  A Sea Org member will share stories of what it was like to work with Ron. RSVP to Dusti Woodbury: 727-515-2378 or email [email protected] 

Tom Cummins, Deputy Chairman for Production reminded us that he has taken over the Ideal Org Fundraising project for the Southeast Alliance, which is an expanded area for Flag and the Captain FSO.  He said that the expansion at Flag is exploding, and that we need to create the safe environment and Ideal Orgs that will support and contribute to that expansion.  Tom said that a group of volunteers is being formed to be the "Captain's 300" who will work on this, from all over the planet.  To volunteer, contact Tom. There will be a meeting with Tom after the meeting. Kaye added that we need to enlighten a lot of people regarding Ideal Orgs and what we are doing.

Kaye reminded us to bring a lot of people to next week's OTC Meeting.

Scott Superville, Dir Success FSO reminded us all to attend this week's graduation, and hinted that it may start earlier this week so to watch our emails.

Adjournment:

Kaye read an LRH quote about "time" from the 6th ACC, and then adjourned the meeting, with standing applause for LRH.
Love that "Ideal Field" — and that requires getting everyone onto Purif and Objectives! Remember, this is the FLAG OT COMMITTEE!! What an Ideal Flag Field that would be, all public on the Purif and Objectives. Wowee zowee — that is really blowing open the top of the Bridge!! 
One final oddity — obviously He has known that he planned to have everyone re-do their Purif and Objectives for a LONG time. Years, if not decades. So, why wait until now to do this? So He can hype the stats at Graduation?