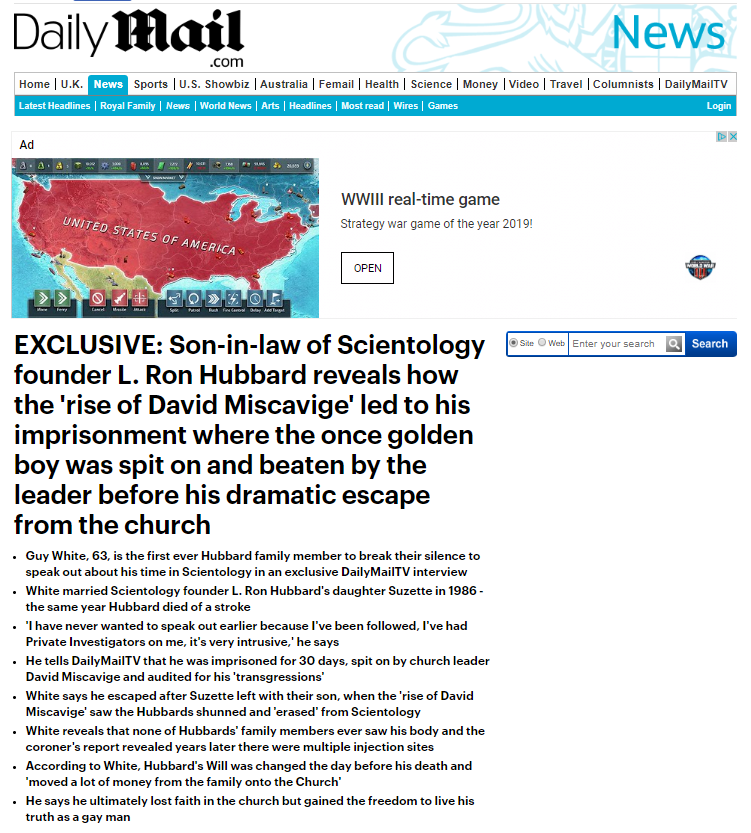 In a new article in the Daily Mail, L. Ron Hubbard's former son-in-law speaks out for the first time.
This is a bombshell.  Knowing as much as I do about the circumstances surrounding Guy, Miscavige, L. Ron Hubbard and scientology, you can be assured he is not making anything up.
You can read the article in the link above. It contains a lot of information that many may not have heard about the Hubbard family.
What I found most revealing though is the cookie-cutter response from scientology. These days they apparently can't muster much of a defense. It's very standard stuff. ANd completely unconvincing and does absolutely NOTHING to respond to or refute what Guy says.
Here is their response in summary:
The claims are false. They are old. Guy White "briefly" held an unimportant position until we removed him for malfeasance. He is trying to exploit the "good name" of Hubbard, scientology and Miscavige. Miscavige is holier than the Dalai Lama and the proof of this is the "70 new and expanding" churches he has opened, including two in the last week. Watch scientologyTV. Check out Dave's website.
Same stuff they churn out about everyone. Just replace Guy's name with mine or any number of others who have recounted similar events.
It is VERY lame. Basically an admission that everything in the article is TRUE.
Here is the response in full:
DENIAL OF GUY WHITE'S CLAIMS 
Guy White's claims are false. He is reaching back 40 years to manufacture lies about Scientology to capitalize on the popularity of the religion and its leader.
L. Ron Hubbard always intended for his life's work to benefit Scientology. While he provided generously for his family, Mr. Hubbard bequeathed the bulk of his estate to the Church to carry out its religious mission. Unlike some religions that have experienced periods of turmoil when their founders pass on, this was not the case for the Church of Scientology. The Church has gone on to flourish and prosper, in accordance with Mr. Hubbard's vision and plans.
Guy White briefly held a middle management position with the Church in the early 1980s but was removed for repeated ecclesiastical violations. He was given several opportunities to redeem himself, but failed and ultimately departed the Church's religious order in 1989.
His life became shambles and he involved himself in matters that distanced him from the Hubbard family and the Church. Even though he was no longer a practicing member of the Church, Scientologists helped him on more than one occasion to get his life in order.
White's current attempt to exploit, through his lies, the Scientology religion, its Founder and its ecclesiastical leader is absurd and shameful.
Mr. David Miscavige was L. Ron Hubbard's trusted friend. Under his leadership and guidance, Churches of Scientology around the world are growing at an unprecedented rate.
For the past decade, Mr. Miscavige has directed an international program toestablish new Churches of Scientology in major citie sand cultural centers around the world to bring our religion and social programs to greater numbers. The scope of this undertaking is unmatched in modern religious history. 
These new Churches reflect the fulfillment of Mr.Hubbard's vision for the religion he founded. In just the past two weeks, we opened two new Churches,one in Kansas City, Missouri,and this weekend, one in Columbus, Ohio. See www.scientology.org.
In all, we have established more than 70 of these new, expanded Churches. The Church also inaugurated the new cathedral for its spiritual headquarters. Watch Inside Scientology Flag at Scientology.tv to see for yourself.
Mr. Miscavige's far-reaching vision and unrelenting dedication have brought the Church of Scientology to where it is today. Mr. Miscavige works tirelessly on behalf of the religion. Further information pertaining to his accomplishments is available at www.davidmiscavige.org. For the real view,there are interviews you can watch of individuals from many walks of life who have actually worked with Mr. Miscavige recently and over the past 40 years.
I hope this story spawns multiple other stories.
The abuses of scientology know no end.