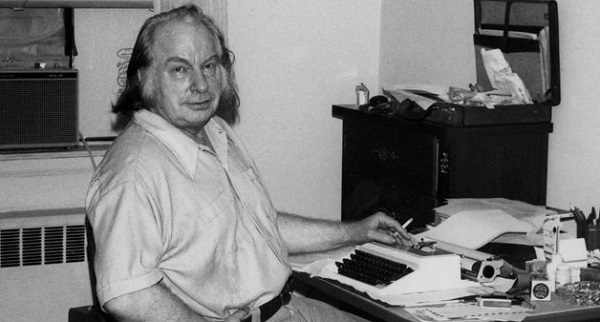 I came across one of L. Ron Hubbard's gems again recently, and it's worthy of noting newly.
As you read this, remember, scientologists are not supposed to think about, interpret or alter the words of L. Ron Hubbard. They are to be read, understood and applied. There is a common refrain in scientology: "What do your materials state?" which is the response to any question or confusion about anything Hubbard said or spoke. (The even more common precursor is "What would LRH do?")
If you cannot repeat what the materials state verbatim (or close to it), you are required to find the word you did not understand, and if that doesn't solve it, then define every word in the sentence. The steps don't stop til you have achieved "full duplication" which means you CAN now parrot it back.
"Does this literally mean I should have no concern about running over an enemy with a Mack truck" — the answer in scientology is "What do your materials state."
P.A.B. No. 53
PROFESSIONAL AUDITOR'S BULLETIN
From L. RON HUBBARD
Via Hubbard Communications Office
163 Holland Park Avenue, London W.11
_____________________________________________________________________
27 May 1955
OWNERSHIP
Personally, if I were an auditor and found my area being muddied up to that extent, I would have a definite feeling, if I permitted it to go on, that I was not doing all I could do to spread Scientology in my area. I would have taken such a screwball out of the running so fast he would have thought he had been hit by a Mack truck, and I don't mean thought-wise. But then the difference between me and an apathetic auditor is that I fight, and I get things done.
For those who think this might be simply allegorical, I can assure you, this EXACT quote was used to justify the actions of the ORIGINAL "Squirrel Busters." Dennis Clark and a few friends were sent to "bust up" meetings of David Mayo's AAC and physically intimidate David Mayo, his staff and public.
It was the justification for use of physical intimidation. Especially when Hubbard specifically states "and I don't mean thought wise."
There are many more quotes from Hubbard that direct "handling" of "enemies." They are not vague meanderings, they are highly detailed directives.
This is the mindset of "good" scientologists that make them dangerous, though they are otherwise decent, normal people. They have been indoctrinated into believing that L. Ron Hubbard's words are always right, always say exactly what they mean and that following them will lead to a better world, no matter how insane they may seem. They truly believe L. Ron Hubbard had a grander view of the universe and understood things beyond the ability of mere earthlings to understand.
One paragraph from his infamous screed "Keeping Scientology Working" — which is like the 10 Commandments in scientology — says:
We will not speculate here on why this was so [that he came to develop the only workable technology for freeing man] or how I came to rise above the bank [reactive mind]. We are dealing only in facts and the above is a fact—the group left to its own devices would not have evolved Scientology but with wild dramatization of the bank called "new ideas" would have wiped it out. Supporting this is the fact that Man has never before evolved workable mental technology and emphasizing it is the vicious technology he did evolve—psychiatry, psychology, surgery, shock treatment, whips, duress, punishment, etc, ad infinitum.
Lots of "facts" here that are simply assertions, but that was Hubbard's stock in trade.
But he DID explain a couple of years later in Ron's Journal 67 (among other places) how it was that he "rose above the bank". He literally said: "Please remember, I am not from this planet." And such was his power to have people hang on every word he uttered, they believed this without hesitation or reservation. "Ron" came to earth from some galaxy far, far away to save mankind. He was not like the poor, foolish and hopeless inhabitants of earth. He was homo novis, a superior being in every sense of the word. And while Hubbard (and scientologists to this day) claim "he was just a man" they do NOT think of him this way. It is an "acceptable truth" for the "wogs". To a scientologists, the word of Hubbard IS the word of God. Ignore it, alter it or fail to understand it at your own peril — fail to buy what he is selling and you may well be doomed to an eternity of cold, shivering blackness. Literally.
Scientologists will deny this (just like they deny you cannot be a scientologist and another religion) and cite Hubbard's words "I am just a man" but anyone who has ever been a real, dedicated scientologist will confirm that this is true — but only once they are very sure their eternity is NOT doomed by failing to follow what L. Ron Hubbard said.
As a final word, if you have not yet begun watching Wild, Wild Country on Netflix, I recommend it.  I have only watched the first 3 episodes. It is a fascinating account of Bhagwan Shree Rajneesh and his movement. And I find looking at other groups to be informative with regard to the experiences I had with scientology and helpful in gaining perspective. It is also enlightening to note the similarities in groups with infallible spiritual leaders who are treated as demi-gods by their followers.