Today is Shelly Miscavige's 62nd birthday.
She has been disappeared for the last 15 years — one confirmed sighting at her father's funeral (with a handler) in 2007 and nothing certain since.
Once a fixture of the scientology world, at her husband's side virtually everywhere he went, she suddenly vanished in 2005. I write about her and her vanishing from the Int Base in my book A Billion Years. Shelly is not the only person at the senior echelons of scientology who has been erased from public view (so too the President of scientology Heber Jentzsch, Executive Director International Guillaume Lesevre, CO CMO International Marc Yager, head of CST Russ Bellin, Senior C/S International Ray Mithoff, Executor of Hubbard's Estate Norman Starkey to name just a few) but she is the most well known and perhaps the most concerning because of her unique situation.
I met Shelly in 1973 when I arrived on Hubbard's ship Apollo. She was 12.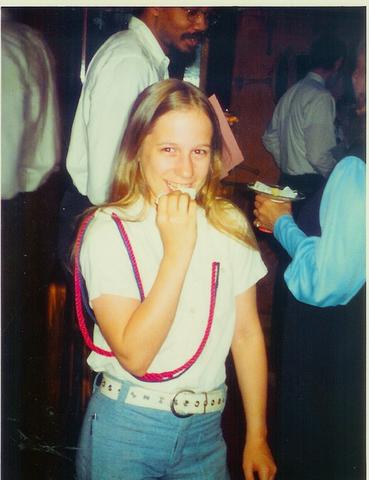 Like the other young people on the ship (she was younger than most of us who were in our later teens), we hung out and became friends. It was a very small world. Shelly has an older sister, Clarisse who was also on the Apollo and was part of the "gang." Clarisse is on the right below, along with two other friends (Doreen Smith/Gillham and Gale Reisdorf/Irwin):
Shelly grew up as a "Messenger" — one of the young people who worked directly for L. Ron Hubbard. Her mother and father were not on the Apollo, Hubbard and his wife Mary Sue were her de facto parents.
In December 1982 Shelly married David Miscavige. Not long thereafter she became his "Assistant" (A title that had not existed in scientology previously) and joined her husband in Los Angeles when he was the head of Hubbard's "literary agency," Author Services Inc.
Over the next 20+ years, Shelly was with "COB" (he transferred his title of COB ASI to COB RTC when he took over that organization in 1986) pretty much 24 hours a day:  when he was working inside scientology buildings and when he was out in public attending movie premieres or other events.
Ultimately, Shelly met the same fate as Hubbard's wife, Mary Sue. Hubbard believed Mary Sue had betrayed him and saw her as a threat to his well-being. David Miscavige came to believe Shelly was not operating in his best interests when she questioned his judgment, and like he had with everyone else he considered to be a threat to his power, he removed her from the equation. He was right to be concerned about Shelly, she was perhaps the only person who could have led any sort of effort to remove him from power. Many of the senior officials of scientology had known her for longer than they had known Dave and they trusted her judgment as someone who had been hand-picked and trained by Hubbard.
Shelly's absence from the "Wedding of the Century" between Tom Cruise and Katie Holmes was so out of the ordinary, it prompted Leah Remini to ask where she was and why she wasn't present. This set off a chain of events that ultimately saw Leah leave scientology and subsequently file a missing person report with the LAPD. The hashtag #WheresShelly has been used by many for years, and was recently given global prominence by Jerrod Carmichael at the Golden Globes.
I hope that the pressure to produce Shelly continues to build such that her husband is forced to produce her to prove that she is alive and well and able to act of her own free will.
Don't let the memory of Shelly Miscavige fade into insignificance.