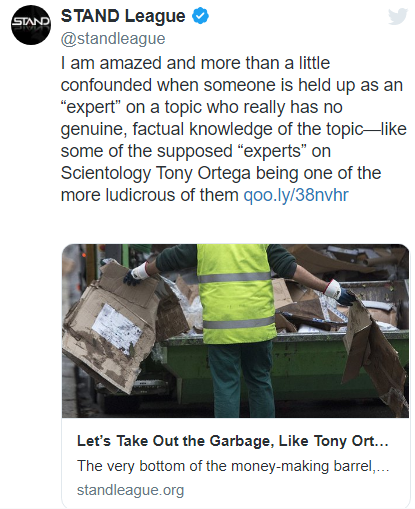 Scientology recently tweeted this attack on Tony Ortega. Not sure why, they didn't write a new article. They just regurgitate the same old stuff. But they felt the need to "Dead Agent" him newly, probably because he has put out all the Black Ops videos…
What is interesting about this is that they claim Tony Ortega is not an expert on scientology and thus is unqualified to comment on the subject. A couple of points to note.
First, for supposed champions of "free speech," this is very hypocritical. One can only speak if you are an "expert"? Then how does Ed Parkin comment on a journalist when he is not a journalist?
Second, I would pit Tony Ortega's encyclopedic knowledge of scientology against Fast Eddie or whoever wrote this. Because Tony has not had any auditing does not mean he knows nothing. After all, it is Hubbard himself who says study of the "technology" is 50% of the "gains" of scientology. Ed Parkin has had virtually no auditing in his 30 years in the Sea Org, and has studied less of Hubbard than Ortega, so Ortega is ahead on expertise according to Hubbard. And one thing I am absolutely certain Tony Ortega would crush Ed Parkin on — the history of L. Ron Hubbard and scientology. Scientologists only have the sanitized version of history — on the true story they remain woefully ignorant.
Though scientology claims the only people who have the qualifications to offer an opinion about scientology are those who have "experienced" the tech, that is also not true. It's just a convenient position when trying to discredit Ortega.
When it comes to someone like me — who grew up a scientologist, studied the entire OEC, reached the level of OT VII, read virtually everything Hubbard ever wrote and audited hundreds of hours — and thus I should, according to their criteria, be eminently qualified to speak — I am also "unqualified," because I am a "bitter defrocked apostate" who was "never a real scientologist" and "experienced no gains".
Nobody who doesn't forward scientology's party lines is "qualified" to speak on the subject according to the organization.  Everything else is "fake news."
The contradictions in scientology are legion. The true believers are conditioned to ignore them.