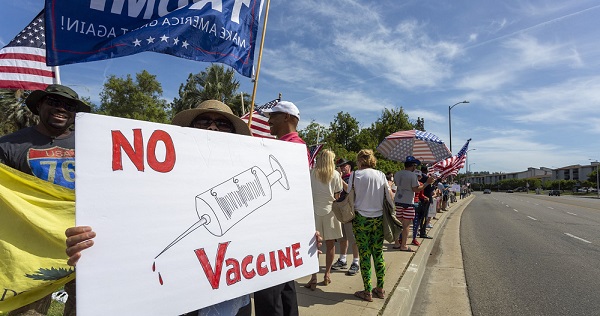 Tony Ortega has run a number of articles detailing the activities of scientology "Anti-Vaxxers." This is his most recent.
One of the prominent scientology "conspiracy theory" purveyors is a guy named Jim Rego. He sends out emails almost every day to his scientology friends outlining rumors about vast government conspiracies, the "Deep State", George Soros, vaccinations, the World Bank etc. etc.
This time, he sent out, without comment, a quote from Hubbard I had never seen before. If this is known within the scientology world, then it explains why scientologists would be against vaccinations. Hubbard himself proclaims they don't work and are a hoax, based on his vast experience and knowledge about the first 100 soldiers admitted into military hospitals in WW II. This is certainly a made up "fact" but that never stopped Hubbard.
What is especially interesting to me about this quote is his second paragraph where he described EXACTLY what he just did, and did thousands of times. By stating this, he implies this is NOT what he is doing. It's a clever technique. It's a trick he employed often, "I'm no ivory tower philosopher", "I'm just a man," "money is the lowest motivation,"  or the best of all "What is Greatness?" where he proclaims: "Never use what is done to one as a basis for hatred. Never desire revenge." There are hundreds of examples.
Here is Rego's recent email:
From: Jim Rego
Sent: May 29, 2020 8:18 AM
Subject: LRH: (On vaccinations…)


"They go around scratching people for smallpox and they've cut the smallpox down in the world most amazingly. I am very sure they've cut it down to the degree they've made people believe they wouldn't get smallpox or something of the sort. But do you know that the first 100 soldiers admitted into military hospitals with smallpox in World War II had each one of them been vaccinated properly and in the proper period of time to be immune?
The first 100 soldiers admitted into military hospitals all been properly vaccinated and they all had smallpox. You see science has a habit of saying "that is the answer!" And after that instead of being reasonable about it, to point their professional pens, to point their lecture guns, their grades systems, straight at the individual and say now don't think about it anymore, don't examine it again, don't look it over because we've said so. Get the idea?
And all you have to do is go around and take some of the favorite theories held by these people, like vaccination, just take this favorite theory, and now go out and actually look. And know and deduce and have intuitions about it and finally come up with an answer everybody can agree with and the answer that everybody can agree with is that vaccination has very little to do with the situation.
Now it's very true that those American soldiers who had had typhus shots when they were put in prison camps in Europe did not in any large proportion, get typhus. And with great glee we see all medical science making a great deal out of this saying "look look look! Look how effective our typhus shots are." Let me point out something else to you. There's very little typhus in the United States. These soldiers just happened to be, possibly, a strain of people that don't get typhus easily, see? You see how smelly the scientific logic is if you once hold it up? So cover it up quickly and put it away if it begins to smell like Limburger and go on your own ability to know thereafter. You got it?"
–LRH, From The Detection of Engrams, The Search to Know, 5 November 1958 5th London Advanced Clinical Course