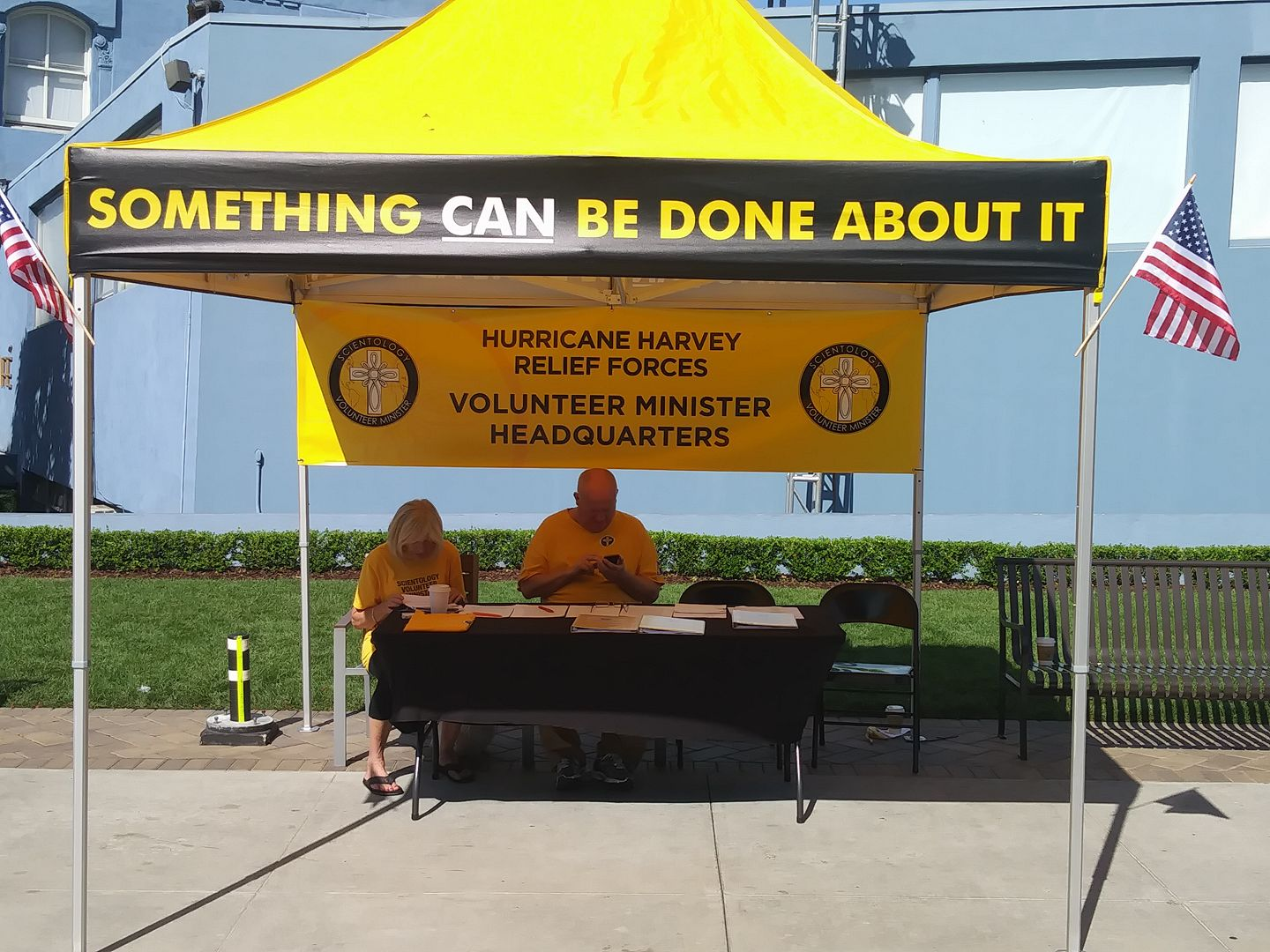 We have been tracking the progress of the Largest Private Relief Force on Earth response to Hurricane Harvey.
This is a new update from the "CEO" of WISE International — I have highlighted a few things of interest.
I've been moved to put out another update on my email from last night concerning the ongoing scene in Texas today, based on what I've just witnessed.
And I'm widening our list to not just the Southern United States, but our entire North American list of comm lines due to the urgency.
Here's the deal:
William B. "Brock" Long, the FEMA administrator, announced in an early-morning news conference today in Washington an expression of grave concern and a plea for the public's help.
"Right now, here's what I need you to know. Helping Texas overcome this disaster is going to be far greater than FEMA coordinating the mission of the entire federal government. We need citizens to be involved," he said. "This is a landmark event. We have not seen an event like this. You could not draw this forecast up. You could not dream this forecast up.
"I'm asking for all citizens to get involved here. Donate your money. Figure out how you can get involved as we help Texas find a new normal going forward after this devastating disaster."
That expression cannot go unanswered.
By anyone.
And certainly not by us.
Thankfully, many of our WISE members and Scientology Volunteer Ministers have already acted as a force, and are rapidly converging on the hardest-hit areas of Houston and all along the southern coast of Texas. There's already dozens on the ground. Another 26 are coming in from Clearwater tonight. A flight is leaving Los Angeles in a couple hours with another large group.
But frankly, given the magnitude, we are nowhere near enough.
We need a battalion of Volunteer Ministers.
As in, at least a thousand – on the ground. Right now.
If you've watched even a tenth of the news being put out on this hourly, you will see what I am seeing – an event being described as epic and catastrophic. And even worse than Katrina.
The Red Cross has set up Houston's George R. Brown Convention Center and other venues as shelters, and we are getting our VM's in there as fast as humanly possible. That center can accommodate roughly 5,000 people. This morning it was already half full. Over 30,000 are expected to be sheltered just in Houston alone. There are many, many other cities and communities that were disastrously affected. They can't even estimate the magnitude of those yet.
The shelters are thankfully taking every volunteer we can send in.
The requests on our lines are heartbreaking – those on the ground are saying yes, we need food and water, but frankly we need hygiene supplies – diapers, baby clothes, baby powder, soap – even baby cribs for the shelters.
I've laid out the most urgent priorities in my email last night, copy below.
But it's now even more urgent than last night. There's still literally hundreds of people stranded in their homes and the water – thought to be receding at one point, is now rising again due to the constant inundation of rain. Entire flotillas of citizen boats are going out in whatever they have that floats – dinghy's, kayaks, rowboats and fishing boats. Anything to get to those that even the rescue crews can't get to yet.
Remember, Houston is the fourth most-populated city in America. This is an overwhelming task, as you can tell from the FEMA Administrator's comm, above.
If you can, just get up and go to our orgs in Austin or Dallas and get dispatched out from there. And plan on staying as long as possible.
If you can't physically go yourself, send whoever and whatever you can. Call in or write in to the below contact information.
If everyone receiving this email were to take some kind of action right now, we would start to make a dent in the magnitude of what's needed.
How about this:
If everyone on this list just went right now to their local store and loaded up a shopping cart full of everything on our list (below), and then drove it down to their local org, that would be phenomenal (it will be forwarded to Austin and Dallas orgs for distribution immediately).
The requests we have are for:
non-perishable food,
baby formula
bottled water,
diapers,
hand-sanitizer,
baby-wipes,
soap,
shampoo
TP
spoons, plates, utensils
napkins
towels,
blankets,
bedding,
cribs,
pillows,
socks,
sweatshirts
children's clothing, etc.
So we need everything.
If you are in Texas and local, we also need places for people to shelter in. Many lost everything they own, and until the authorities get them relocated, they need a place to stay.
There's no way to measure the impact of this yet. All we know is we've got real live people fully displaced and they need every kind of help.
I'm sure there's ways people can be imaginative about this, as to what they could possibly help with, based on the need.
In case you were thinking that it's all under control and handling, and it's going to pass, it's not. Not for a while.
Your help is absolutely needed.
Let me know. I'll keep you updated on our progress.
Best,
Scott Waldroff
CEO WISE International
By no means do I criticize a genuine effort to do something to help. And this is a genuine effort to do the right thing. It's not asking for money to buy WTH booklets or send people to give touch assists, it is asking for people to assist with real help. That is something I want to acknowledge. More power to you and anyone else who genuinely helps — whether it be providing diapers or helping rescue people in boats. I applaud those efforts truly.
But the other side of this is how this is exposing the lies routinely told by scientology about how they are "saving the world" and represent "man's only hope" (let alone Tom Cruise and his insane ramblings about how only a scientologist can help with a car accident).
The "largest private relief force on earth", with "over 200,000 active" members has managed to get dozens of people on the ground and 26 more are coming from Clearwater. We are 3 days into this crisis and there is an IDEAL ORG in Dallas! And a "soon to be Ideal Org" in Austin. No more than 50 people? Out of the supposed 100,000 that stand ready at any time to spring into action and prove that "Something Can Be Done About It"? How are all the staff from Dallas and Austin not out contributing to the relief efforts? Or does it mean that between these two orgs they have less than two dozen staff (let alone public)?
What about the charter flights on Saturday, Sunday and Monday from Los Angeles? Did they charter a single engine Cessna?
And while this is "IAS sponsored" why are they asking people to go a local store with a shopping cart? Come on. Why hasn't the IAS sent trailer-trucks full of hygiene supplies if this is what's needed? Couldn't cost more than $100,000 per truck load? The IAS makes that much from a single Patron Meritorious? The Mormons sent truckloads of relief supplies from Salt Lake City two days ago? And they are NOT the largest private relief force on earth…
Interesting that to make this seem very important they focus on Houston being the "fourth most populated city in the US." But this never gets mentioned when they talk about "org expansion"? This city as NO scientology org. Not a single one. So much for the massive international expansion and overwhelming demand for scientology….
Hurricane Harvey is proving to be a real test for the claims of scientology. No doubt we are soon going to see photo ops of "VM's in action" but they will only ever show one or two or a handful of VM's at most in staged photos. At a time when scientology is desperately trying to use this disaster as a means of getting some good PR, and when there are no barriers to their being able to demonstrate their effectiveness — it's right in the US which makes it easy to get to, the IAS is supposedly paying, they have a huge, booming ideal org right there in Dallas and even bigger booming ideal orgs in Tampa and LA let alone 75% of all SO members on earth and the "Mecca" and 4 SO Service orgs in LA…
Show us your stuff scientology. The world is watching.
But so far your army of VM's have not shown up for the fight.
The Aftermath Tonight
Tune in to A&E tonight for another powerful story from a brave woman, Liz Gale. Her perfect scientology family is a perfect example of the havoc and destruction that can be wreaked based on the toxic policies that are part and parcel of life in the scientology bubble.