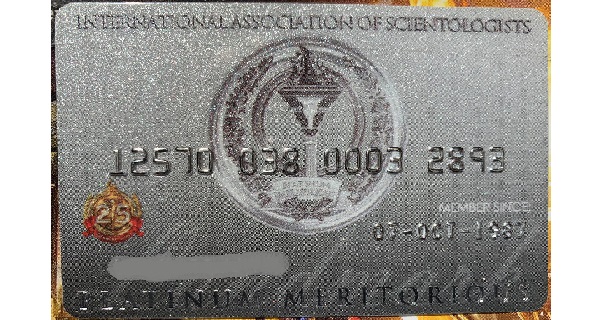 Every year since 1985 David Miscavige has handed out "IAS Freedom Medals" to 3 (there were a couple of early years with 4) lucky winners.
These people supposedly represent the elite of the elite of the scientology world — those who are doing the most to forward the aims of scientology. Of course, as with everything else in scientology, what you see is not exactly reality.
I recently came across this photo of "COB" with a collection of IAS Freedom Medal winners.
This was for the great event that was held at Flag in 2013 to coincide with the opening of the Super Power building and release of "Golden Age of Tech II" in November 2013.
This of course was the most important event EVER, so you can imagine that this collection of IAS medal winners (the largest ever at 55) was the result of an enormous amount of arm twisting.
And here they are in all their glory…
But, hold on a second. The first IAS medals were presented in 1985 to Franklin Littell, Rev Edgar Koons, Jeff Pomerantz, Michel Raoust and Barbara Ayash. That was 5 (never to be repeated) and the first two were NOT scientologists. There would only be one more of them (the following year, Rev Jim Nicholls) as they didn't give good speeches.
So, 1985 to 2013 is 28 years. at 3 per year that would be 84 — some years were more so round it off to 90.
Why only 55 showing up?
A few have died — Dennis Dubin, Andrik Schapers, Dennis Clark, Nicky Hopkins, Isaac Hayes, Lawrence Anthony and the saddest of all — Barbara Ayash, winner of the FIRST award and someone who truly unselfishly gave her life to the Way to Happiness and died destitute and abandoned (so too Dennis Clark).There may be others.
A few are Sea Org members who ended up in the Hole: Peter Schless,  Rena Weinberg.
Celebrities are big time no-shows these days: Tom Cruise, John Travolta. Kirstie Alley and Ann Archer where are you? Julia Migenes too? What is the problem with them? Afraid to be associated with this the most ethical group on earth?
Some have fallen into complete disfavor: Debbie Mace now living openly as a lesbian. Wendy Honnor got tired of the fundraising and lies and just quit. Rick Pendery was trying to get back into good standing by being a plant in the ex-community here in Clearwater.
Of course, Augie Pinto is not there — the first and only person to be awarded an IAS Freedom Medal (in Lausanne) and have it taken away later that night by David Miscavige. No Lynn Irons either who was all set to get one of the Flavor Flav medals and a problem with prostitutes in Russia popped up so the award was given to Boris Levitsky (who had done almost nothing and nobody really knew).
I am sure it is getting harder and harder to find these IAS medal winners. Even back in the early 2000's it was becoming a nightmare each year. There were people in the IAS who ONLY worked on trying to create "medal winners" that could be shown at the event in October. Back then, many stories from the Gold Shoot Crews who were sent out to shoot the footage used for the "medal winner videos" told of "nobody there" and "no activity as had been promised" and them having to round up random people off the street to sit in empty courserooms and pretend to be students or fill out the crowds.
You could actually track back these videos and the claims they have made — "taken over the entire prison system of Israel", "brought LRH tech to the entire nation of Ukraine with an LRH Org Board being used by the government", "LRH tech now part of the Education Department of Ghana" etc etc etc and I can guarantee that what you "saw" is NOT what exists in ANY of these places. Even the almighty Tom Cruise and his "HELP Program" disappeared. Isaac Hayes Memphis Mission closed down. So did Ann Archer's Santa Monica Mission.
More IAS smoke and mirros.