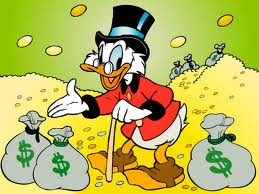 More tidbits from inside the bubble.
This is an interesting preview of GAG II and gives an indication about how He plans to spin it.
1. We collected "everything LRH ever said or wrote" — for about the fourth time. Same line that was used when the "LRH originals project" was done so it could all be put on titanium plates. Then it was stated for the first set of Tech Vols. Again for the second set of tech vols. For the "new" OEC. For the Basics. For GAT. For the "Golden Age of Knowledge." etc etc etc This is pretty much expected — after all, He has positioned Himself as D/Source For Lost Tech.
2. It's NOT about the money, it's all about Bridge progress. We want you to go up the Bridge (except when we want you to "support" the IAS, Ideal Orgs, CCHR, Narconon, Books to Libraries, the PAC Event Hall etc etc). So, everything is going to be FASTER (but NOT quickie). We have been doing it all wrong but now I am going to make it all right "just for you."  Funny, does anyone recall the frantic emails BEFORE the release that the prices were all going up "because you get more gain in a shorter amount of time."  It will be fascinating to see whether there are "rate changes" for the "new Miscavige bridge."
Of course, everyone should go to hear it from "COB" — after all He IS D/Source For Lost Tech (working on moving up to Source For Lost Tech which He is hoping to achieve with this, the most important event in the history of any universe).
Next, and somewhat ironically, one smart cookie sees the writing on the wall.
The brand new 9 year old Mark VIII Warehouse Edition(tm) is coming. The value of her Limited Edition Bronze Age Mark VII Quantum is going to become what any meter from the Bronze Age of technology would be worth. Great artifact, but can't audit with it. Not when you are forbidden to audit unless you have a brand new Warehouse VIII.
Good luck Paula. I just think that maybe there are some others who have figured out that the big ticket "it's not about the money" item for this weekend is the Warehouse VIII. 
Do some sort of "buy now" as you have less than 48 hours left….