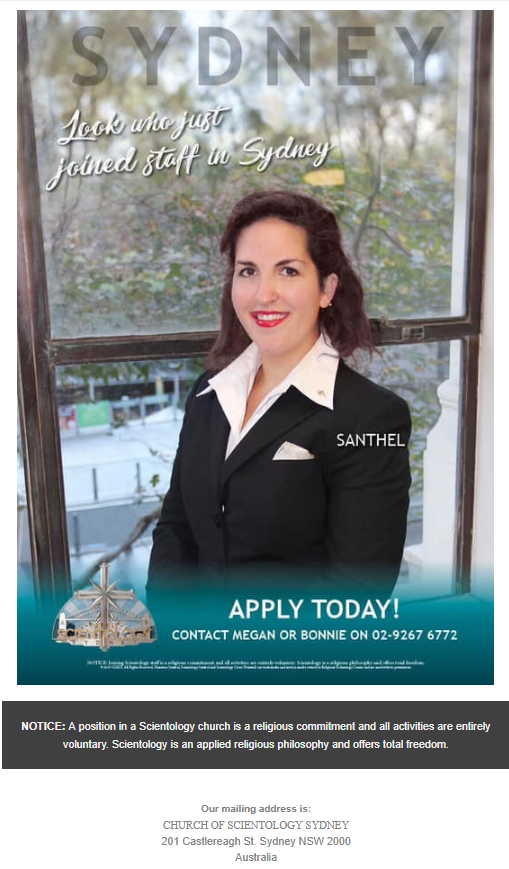 This poster has few words but says an awful lot.
The "notice" at the bottom is clearly a legal disclaimer put there by lawyers to protect scientology.
Scientology in Australia got into trouble with the government for not paying staff and providing inadequate health care and other benefits afforded all workers in Australia. They asserted that everyone on staff is a "volunteer" and pretty much got away with it.
Can you imagine a "volunteer" of any other organization signing a 5 year contract of employment (maybe it's designated a "Volunteer Agreement" – but in spite of its name that is exactly what it is) where you are required to work at LEAST 8 hours every day, even having to show up for musters, are required to study during your "off hours" and if you don't fulfill your "agreement" you will not only be billed for the services you had to take (designated a "freeloader") but depending on how drastic your departure from staff may be, you could be declared an SP and tricked, lied to or destroyed. Some "volunteer."
Note also, it does not say this is a church. It is designated an "applied religious philosophy". Not sure why this is…
But it does "offer total freedom" — a strange inclusion. Seems like a bit of an outrageous claim for a lawyer to insist on — though it's pretty nebulous. They may believe it helps explain why anyone would be willing to give up being paid while being treated as an indentured servant. Hell, it would be understandable to give up almost anything in exchange for "total freedom."
But the truth is that scientology may offer total freedom, but it does not deliver it. People in scientology become increasingly LESS free as they become more deeply embroiled in the bubble-think and restrictions of movement and action that are required of all "good scientologists." Don't read the media. Don't be a dilettante. Don't waste time on education other than in scientology. Do what Ron says. Don't associate with "SPs". Don't waste time on vacations or money on nice "MEST" when it should all be devoted to scientology. The list is a very long one.
It is funny that in LRH ED 339R the big incentive Hubbard offered staff was a) earning a decent wage and b) getting to OT for free. The living wage has NEVER been a reality for staff in scientology. You would think that selling auditing at $500 per hour would be a pretty profitable activity. Deliver 100 hours a week and you have $50,000. According to Hubbard, an auditor is not supposed to ever deliver less than 25 hours a week. That is just 4 auditors. How could the small number of staff in most orgs not be well paid? Two answers.
The majority of them do not deliver anywhere close to 100 hours of auditing in a week.
Massive percentages of the income of any scientology organization are siphoned off… for "management payments", film payments, royalties, FSM Commissions and other things, all of which comes before even allocating what is left over, with mandatory allocations to "promotion" and other things. Most orgs cannot afford to pay their utilities, let alone pay their "volunteers" (staff). Miscavige doubled down on this when he opened the first "ideal orgs" — he gave a lengthy briefing to the staff in Joburg when he opened that ideal org in 2003. That briefing was played to all staff all over the world. Repeatedly. In it he claimed HE had solved the problems of staff pay and was implementing a new system that "removes all the suppressive arbitraries that have prevented staff from being paid." Absolutely nothing changed.
The truth is, being on staff is a miserable existence for most. High stress. No real accomplishments. Impoverishment. What's not to like?