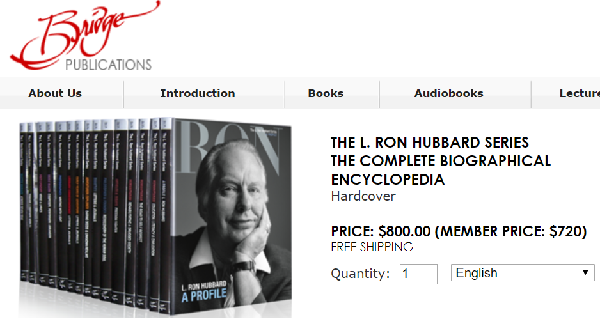 Though there has been an "official L. Ron Hubbard biographer" since I first hired him in 1991, there is still no L. Ron Hubbard biography.
"LRH biographer" or more often now "The Biographer", Dan Sherman spends his days penning prolix fluffery for David Miscavige to read from a teleprompter at his "international events" and Ideal Org ribbon yankings.
Over the span of 25 years, the silver mullet and his team of biographical "researchers", headed by Andy Lenarcic, have gathered an enormous amount of information, photographs and artifacts about the life of L. Ron Hubbard. They have literally scoured the world and have amassed a great deal of information. They have spent enormous amounts of time and effort seeking to prove L. Ron Hubbard's version of his life to be true.
And therein lies the rub.
What do you say in an "official biography" about Sarah and her daughter Alexis? Hubbard claimed he didn't have a second wife in one of his only TV interviews. She exists nowhere in scientology's literature and certainly not in the volume of the L. Ron Hubbard Series about his family (how odd, here isn't one…). The LRH biography people have tried for years to come up with any proof that Sarah was in fact a Russian spy as Hubbard claimed. Or that Alexis was not his daughter (even though he kidnapped her and took her to Cuba and dedicated the first edition of Science of Survival to her) though one glance at a photo of Alexis and there is NO DOUBT she is one of Hubbard's 7 children.
Or his infamous incident of letting off depth charges when he alone found a "Japanese submarine" off the coast of Oregon. Scientology hired, at enormous expense, sophisticated underwater equipment and boats to find the evidence to prove Hubbard's tale was right. No luck there either.
And then there are the rest of his war records and his numerous statements about the combat he saw which have no substantiation. Or the bankruptcy of his Foundations or stealing Jack Parson's yacht. Or what really happened in Rhodesia. And his heart attacks and other physical ailments in the later years of his life after he had claimed to have the cure for all illness.
And there is much, much more.
So much was covered by Russell Miller in his excellent and carefully researched unauthorized biography Bare-Face Messiah, now supplemented by internet researchers, most notably Chris Owen, There are just too many holes that an official biography could not credibly paper over. And of course, scientology would NEVER publish a biography that even hinted that the life of L. Ron Hubbard was not perfect.
So, Miscavige has done a bait and switch. While still introducing Dan Sherman each March 13 as "The Biographer" he has in fact abandoned any biography and instead taken selective events in the life of L. Ron Hubbard and then published into a series of glossy "coffee table" books that they try to sell for $800 (nothing comes cheap in scientology, even after Miscavige announced they have the largest in-house digital printing plant in the world).
This is now "the epic saga of a life like no other" — but it is not actually a saga. There is no accounting of his early life other than a few embellished anecdotes about him being with Blackfeet indians and "America's Youngest Eagle Scout." No information about what his life was really like with interviews of those who knew him at the time (like Miller has), delving into his proclivity to tell tall tales from a young age. There is nothing about the court cases filed over the failure of Dianetics in Wichita etc etc etc.
So, there is a "series" of small, carefully selected snippets parading as a saga of his life. Even those are not accurate. Photos of Hubbard with Sarah have her photoshopped out. Same with Mary Sue and his children.  The "saga" of a life includes not even a MENTION of his 3 wives and 7 children? Really?
Miscavige knows nobody has "the fucking rank" to ask where the long-promised biography is. Because everyone knows in scientology you NEVER ask a question that might even be interpreted as "critical."
So, I will answer the question: The L. Ron Hubbard biography is going to be released when OT XV is released.

THE EPIC SAGA OF A
LIFE LIKE NO OTHER
TOLD IN SIXTEEN MAGNIFICENT VOLUMES
Here is the Complete Biographical Encyclopedia: a monumental and highly personalized 16-volume set, chronicling the extraordinary life and vast magnitude of L. Ron Hubbard's journeys.
This captivating presentation details his research, discoveries, travels, letters, essays, music, poetry, photography, articles, a multitude of personal documents and exclusive never-before-published manuscripts—all in one magnificent collection.
The L. Ron Hubbard Series is the quintessential biographical collection and unequaled connection to LRH through the story of his life as he lived it and as he himself told it.
Page by page, this collection illuminates his accomplishments in well over a dozen professions and brings new clarity to the entirety of his greater saga—the saga of a man who indeed lived at least twenty lives in the span of one.

The Life. The Legacy. The Man.
Get to Know Ron—the life, the legacy, the man, with the most in-depth, comprehensive and personal accounts of his extraordinary life ever assembled.
What's Inside…
16 Volumes
3,653 Pages
1,039 Photographs of and by LRH—220 never before published
265 Personal Letters, Articles, Journal Entries and Essays
488 LRH Artifacts
241 Illustrations, Map and Diagrams
75 LRH Poems and Songs
Complete Glossaries, including Hard-to-Find Terms and Phrases

Images of a Lifetime
THIS STUNNING PHOTOGRAPHIC chronology presents the intimate story of Ron's life through meticulously restored IMAGES and detailed anecdotal captions. The newly updated and expanded Images of a Lifetime contains over 500 photos of Ron—many of which are rare and never previously published.
Exclusive Highlights:
Large 10 1/2″ X 14 1/4″ coffee-table size
Over 500 restored photos of and by LRH
Hand-picked images selected from Ron's personal photo archive
FREE with purchase of the L. Ron Hubbard Series biographical encyclopedia set