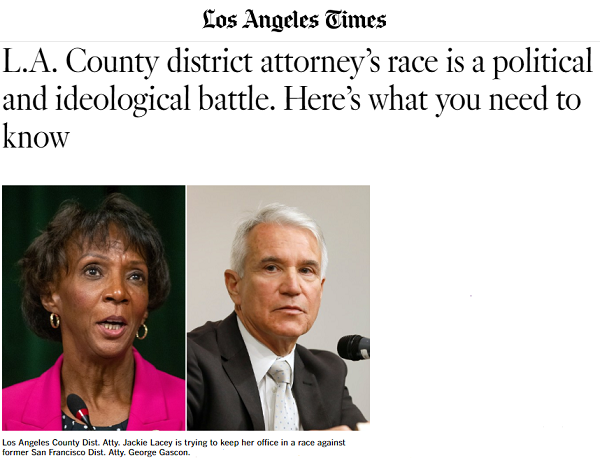 The election for the District Attorney of LA County is on "Super Tuesday" (tomorrow, 3 March).
This is not something I would normally write about, but the actions of Jackie Lacey have concerned me for some time — since I was first contacted by the victims of Danny Masterson.
Leah and I have been personally involved trying to help these women get justice and have witnessed the frustration of Jackie Lacey sitting on the proposed prosecution of the crimes without rejecting or filing charges. She has left the case and Masterson's victims in limbo. It is the coward's way out — if a prosecutor does not believe there is evidence to file charges, they should make their position known and refuse to file. If they do believe there is evidence they should do the right thing regardless of the perceived consequences. Doing nothing at all and saying nothing is a way of avoiding the consequences of a decision and leaving the door open to being able to take the politically expedient course of action at a later date. If political fortunes or public outcry becomes too great, "I am filing the charges, I wanted to make sure all the evidence is in" and if no outcry quietly dismiss, or if there is outcry on the other side "you are keeping an innocent person under a cloud of suspicion" then "I have been ensuring all the facts were collected and I can no confirm no evidence of a crime exists."
Jackie Lacey's track record indicates the Masterson matter is not an outlier.
A prosecutor who puts their politics and cronyism above the law should never pretend to hold the position.
Some facts.
During her term, Lacey — the first African American woman to hold the office — has been heavily criticized by Black Lives Matter, the ACLU and others for her hesitancy to prosecute members of Los Angeles County law enforcement for murder.
The L.A. County district attorney's office has reviewed more than 500 officer-involved shootings during Lacey's seven years in office. Lacey's office has filed criminal charges against police in just TWO cases.
In 2015 off-duty LAPD Officer Henry Solis was charged with murder after he shot a man after a fight outside a Pomona bar, and in May, sheriff's Deputy Luke Liu was charged with manslaughter after he shot a fleeing motorist.
Yet Los Angeles still leads the country in law enforcement shooting deaths after Phoenix at 21.
Black residents are disproportionately victims—24 percent of the deaths but only 9 percent of the county's population.
Lacey opposed Proposition 47, which shifted more incarcerated people away from jails. Lacey opposed ending cash bail and has taken no steps toward reducing the city's high incarceration rate and racial disparity in incarceration.
Lacey also opposed Proposition 57 and marijuana legalization, measures that easily passed with Los Angeles voters.
Lacey opposed changes to the felony murder law passed last year, filing motions in court arguing that the statute was unconstitutional. In contrast, California Attorney General Xavier Becerra filed a brief that the statute was constitutional.
According to a recently released ACLU report, Lacey has sent 22 people to death row since she became DA in 2012, the highest in absolute numbers of any jurisdiction. All are people of color.
Lacey's office didn't charge billionaire Ed Buck for two fatal overdoses that occurred in his West Hollywood apartment. Lacey's office ultimately charged Buck for a third, non-fatal overdose in September arguing recently that the Los Angeles sheriff's department bungled the investigation.
Lacey didn't prosecute a California Highway Patrol officer who repeatedly punched a homeless woman in July 2014. The highway patrol settled with the family for $1.5 million.
Lacey has been criticized for not charging Bikram Choudhury criminally
Lacey's office failed to act in the Weinstein case, despite creating a task force two years earlier. Lacey only acted when Weinstein was behind the defendant's table on the other side of the country, being prosecuted in New York.  She announced her decision to prosecute Weinstein only as her battle for reelection got underway.
And finally, there is this incident this morning which speaks volumes about her and is now a national news story (click on the link above to see the video):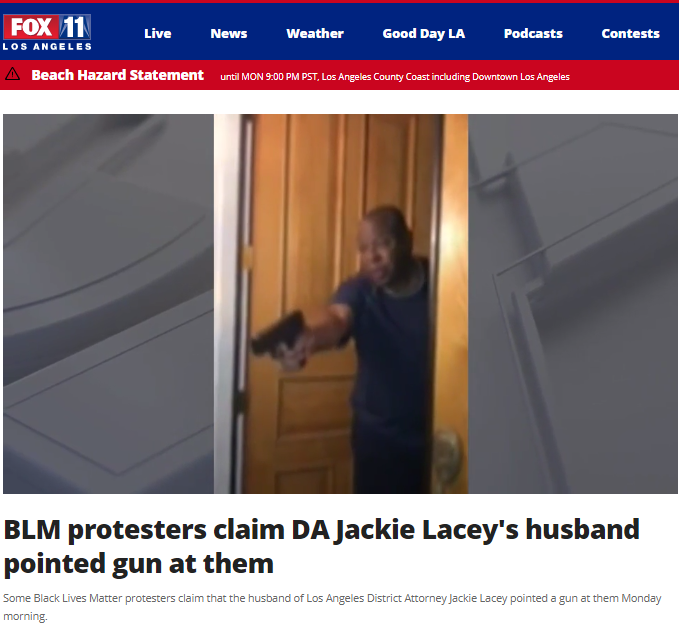 I cannot vote in Los Angeles.
But if I could, I would certainly be voting for George Gascon.
I believe he is the only hope the Masterson victims have for justice. And the only hope every resident or victim in Los Angeles has.