The LAPD has a long history of "partnering" with scientology.
Remember the "kiosk" in the LAPD Hollywood Division promoting scientology front groups.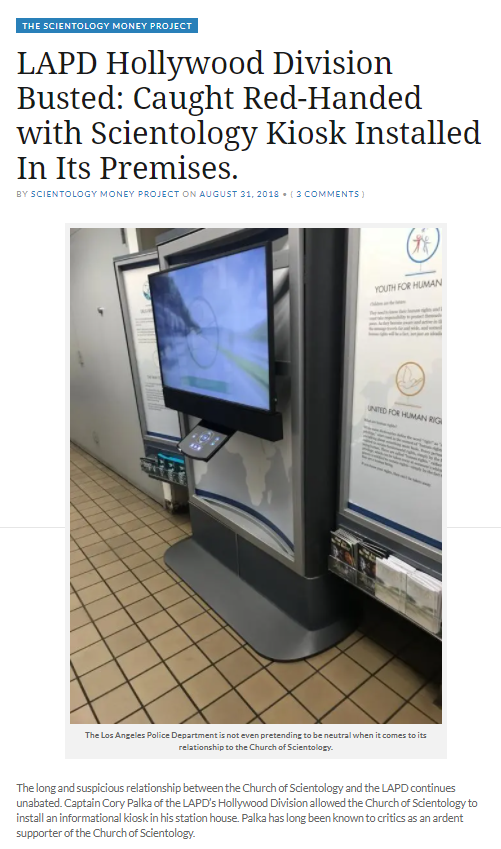 And the glad-handing at Celebrity Center as LAPD accepted checks from scientology.
It's a great insurance policy for scientology and has served them well over the years.
Of course, a community event like this is not the same as appearing on stage at CC for a photo op or putting up a kiosk in the police station. But it is a step towards that. Who knows what Gil Cedillo or the Northeast Community Police Station even knows about scientology promoting this as if they were actually involved…
Why are they trying to encourage their people to attend this event?  It's following Hubbard's policy on the Safe Point and PRO Area Control and the "Special Zone Plan":
See this: A housewife, already successfully employing Scientology in her own home, trained to professional level, takes over a woman's club as secretary or some key position. She straightens up the club affairs by applying comm practice and making peace and then, incidental to the club's main function, pushes Scientology into a zone of special interest in the club-children, straightening up marriages, whatever comes to hand and even taking fees for it meanwhile, of course, going on being a successful and contributing wife.
Or this: A Scientologist, a lesser executive or even a clerk in a company, trains as a professional auditor and, seeing where the company is heading, begins to pick up its loose ends by strengthening its comm lines or its personnel abilities. Without "selling" anybody Scientology, just studies out the bogs and remedies them. If only as "an able person" he would rapidly  expand a zone of control, to say nothing of his personal standing in the company. This has been and is being done steadily across the world. Now that we have presessioning, it's easy to straighten up other people. Our unreleased technology on handling third dynamic business situations is staggeringly large. You'd be surprised how easy it is to audit seniors. They and their families have so many troubles. Or how easy it is to spot the emergency-maker and audit him.
And see this: A race is staggering along making difficulties for itself. Locate its leaders. Get a paid post as a secretary or officer of the staff of the leaders of that race. And by any means, audit them into ability and handle their affairs to bring cooperation not trouble. Every race that is in turmoil in a nation has quasi-social groups around its leaders.
And this: A nation or a state runs on the ability of its department heads, its governors or any other leaders. It is easy to get posts in such areas unless one has delusions of grandeur or fear of it. Don't bother to get elected. Get a job on the secretarial staff or the bodyguard, use any talent one has to get a place close in, go to work on the environment and make it function better. Occasionally one might lose, but in the large majority, doing a good job and making the environment function will result in promotion, better contacts, a widening zone.
The cue in all this is don't seek the cooperation of groups. Don't ask for permission. Just enter them and start functioning to make the group win through effectiveness and sanity.