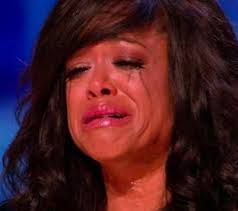 The Dark Side of the Radical Church of Scientology is revealing itself piece by piece.
Today, sort-of-celebrity Stacy Francis took a cheap shot at Nicole Remini after she spoke up in support of her sister.
And with that the sliming of Nicole has begun. In a non-sequitur, offensive tweet, Francis put on display the level of hatred the church of Miscavige expects from those seeking to prove themselves "on the team."  One is supposed to "take off the gloves" when someone has been labeled "fair game" (meaning "connected to someone who is no longer toeing the party line).
Francis decided that throwing a sucker punch of alleging someone has an eating disorder would somehow impugn Nicole's credibility and enhance her own. But, if this is an untrue allegation, it's disgusting. If it's true, its equally disgusting. Either way she showed herself to be ready to stoop to the lowest levels. Of course, after proclaiming her fearlessness, she quickly erased her offensive tweet, but not before it was caught by Radar Online.
"Stacy deleted the tweets, but in messages recovered by RadarOnline.com, she writes, "People are so shady!! Say it if you got the nerve! Say it! don't be cryptic!! Get the balls to say it to me! AND!ONLY IF YOU KNOW THE TRUTH!…DON'T BE A SHIT STARTER @nicoleremini YOU BETTER NOT BE TWEETIN ABOUT ME! Oh and nice you are friends again with your OWN SISTER Don't do it…DEAR SELF>>>>>>GO TO BED! Dealing with bulimic crazy people won't help you tonight."
With her ill-advised tweet Stacy Francis did get some buzz – perhaps she is trying to get some attention for the purported reality series she is going to be in — but it seems what she really stirred up was more the buzz of angry wasps. As they say, people in glass houses should not throw stones.
Stacy has apparently pissed off a lot of people as a number of them were outraged enough to send in information they thought should be known that DID have relevance to her reliability. We are not even going into her repeated and well-known emotional meltdowns on The X Factor.   
One source who knows Stacy Francis quite well said: "Stacy is an opportunist, if you can help her or her career, she turns up the charm, but Stacy is for Stacy.  If you can't or won't help her, she will get street and turn her back on you".  The source went on to explain that Francis had asked Leah Remini to be the godmother of her second baby (as a result of a widely reported affair with Bishop Noel Jones). Remini was the only one at the hospital for Stacy when she had her baby. Some friend Stacy turned out to be….
Stacy Francis first appeared on anyone's radar screen when she serenaded Tom Cruise in a private party aboard the Freewinds arranged by David Miscavige. Francis later reported to friends that "Jessica Feshbach/Rodriguez/Davis had kept her away from "Tom's camp" because she was suspected of not having pure intentions towards Cruise."
Francis is walking the plank.  She is trying to curry favor by showing her "loyalty" but she will find the end of the plank as soon as she is no longer considered valuable. She has no real status of her own. She should be very careful as she will soon become an easy scapegoat, to be thrown under the next bus.
Others have told us she has had a rocky history with the church.  At one point she was getting special attention because of her friendship with Brandy Norwood. Then Brandy got frightened by the church, Francis became superfluous and Jessica F/R/D took over the "handling" – attending basketball games to "accidentally run into Brandy" and inviting her to Tom Cruise's house (but NOT inviting Francis). Reportedly Francis flew into a rage and called Jessica a bitch as a result. 
Insiders who were at Celebrity Center say they basically dumped Francis and she had her get services at Flag because "she was always fighting with someone at CC. Then she would call Leah if she got into trouble with CC staff and Leah would come to her defense. So they didn't want Francis there anymore. Stacy is known for her outbursts, but now they will use her for their own needs. Stacy will probably now be back in Tom's good graces, and 'enemies of Leah' (her former friends in the church) will now befriend Stacy and claim that Leah had 'third partied' Stacy."  Francis likely considers dissing Nicole and Leah a small price to pay for being back in the spotlight and part of the "in crowd" once again.
I hope Leah had all her former "friends" and employees sign non-disclosure agreements (like virtually every celebrity in the world does). She seems like she is smart enough to have done so. In that case, to paraphrase Kirstie Alley – revenge is a dish best served cold…
Francis should be concerned that her "good guy" status isn't going to last long. She will be dumped as soon as she is no longer useful again and will probably be "dead-agented" quickly as a "squirrel" because she still attends a Christian church. For PR purposes this is "acceptable" but anyone who is in the church knows this is considered to be "mixing practices" and a complete failure to "Keep Scientology Working."  She will be labeled a squirrel in a New York minute.
The glass house Francis is currently walking through has VERY thin glass and a very unstable frame. If she sneezes wrong, it will instantly collapse on her. When it does, where is she going to turn?
This is the pattern of dead-agenting, disconnection and control preached and practiced by the church of Miscavige. It bears no resemblance to the fundamental principles of Scientology — the mutant monster of a church is crushing all the good contained in the subject beneath a relentless avalanche of crap.
Champions of human rights? Only in their PR statements…