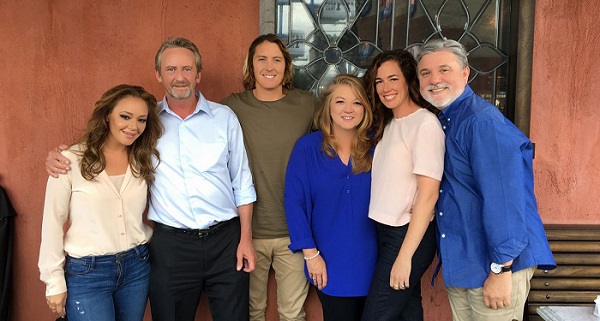 REISDORF FAMILY AFTERMATH – Disconnection
This is the story of the last 4-5 years of the subtle coercion and lengths the church will go to, to enforce disconnection of families and friends. I will say it felt like mental torture and being put in a situation of making a Sophie's Choice between your children. I will also liken it to the term "gaslighting" which perfectly explains how I felt during this time period. (Gaslighting is a form of mental abuse in which information is twisted or spun, selectively omitted to favor the abuser, or false information is presented with the intent of making victims doubt their own memory, perception, and sanity).
It also shows that the church absolutely lies that disconnection is not enforced. This was reinforced by the lawyer Monique Yingling, a spokesperson for the church who was on the 20/20 episode which just aired on ABC last Friday night – she stated that a person is ONLY declared if they speak out against the church. This is an ABSOLUTE LIE. My story will show you that it is a lie.
If you are coming here for the first time, you may want to read my prior postings on this blog.
The Lois Reisdorf Story: Part 1
Lois Reisdorf – Part 2 LRH on the Apollo 
Lois Reisdorf – Part 3 LRH Moves to the US
Lois Reisdorf Part 6 – Rise of David Miscavige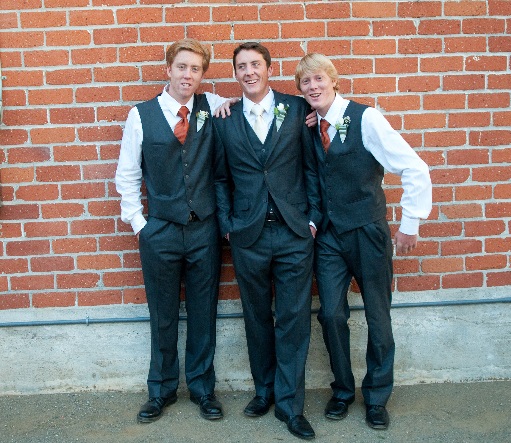 CRAIG
Craig is my youngest son, he is now 26. He is a very affectionate person and was especially to me. As a child he was attached to my skirt. He was part of a very loving family.
Being the youngest of 3 boys, he always had to keep up with his two older brothers, but he was in there with them. He is an artist, he loves music and had that connection to Gary (my husband), he loved the old 60's and 70's music and knew all the words. I have videos of him singing with Gary. He is an exceptional surfer, just like his two older brothers, and a great soccer player. He is an exceptional human being. Anyone who knows him knows this. As an example – In January of 2014 our beloved dog Jonty was 14 years old and he was very ill and we made the decision to put him down. Craig was working at his restaurant job and got to our house at 11PM, he laid outside on the cold concrete with Jonty (who was wrapped up) and stayed with him for 3 hours. The next morning we put Jonty down. This is the type of person Craig is. A few months later we got our lovely puppy Misty, and Craig was the one who named him. It is so heartbreaking to experience the change in him and how he now hates us. I am crying just writing this……….the loss is just unimaginable. This is the story of how I tried to save my family.
Craig wrote two beautiful letters to Gary and I in 2012. He was a very affectionate child and it shows through these letters, here are some excerpts. This is in such sharp contrast to the final email we got from him in 2015. How does someone lose their love for their parents so quickly?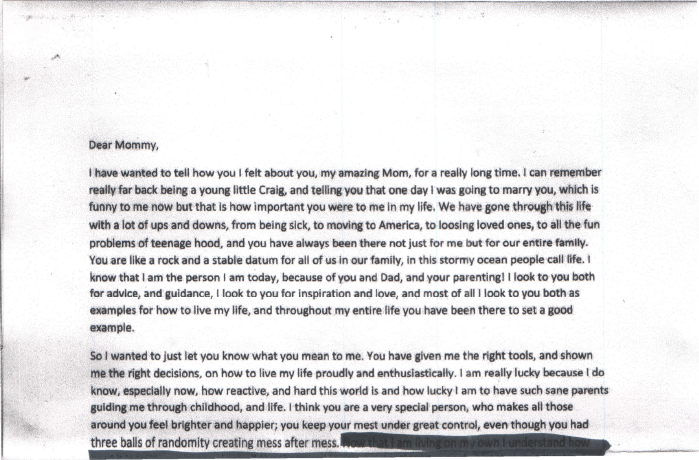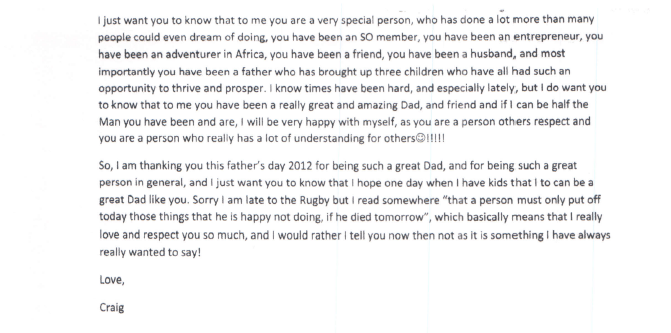 DISCONNECTION
In 2010 when my youngest returned from his 6 months in South Africa, he had become a scientologist by living with my sisters (explained in Part 7). One of the things he had to immediately do while still in South Africa was send this letter of disconnection to my sister-in-law Dede Reisdorf due to her having being declared a suppressive person in 1982.
We lived from this time onwards in a state of precariousness. When he returned Craig started going to the local scientology organization but we were still seeing our declared family members (including Dede). Even though we had family gatherings where suppressive person (SP) "evil" family members were present, even though Craig was there he would not communicate with them. It was awkward and weird. I felt as though I was walking on egg shells.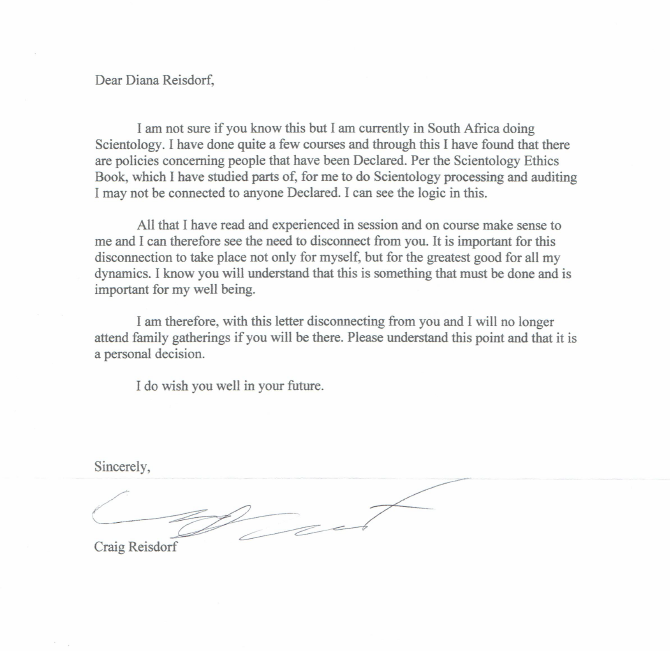 Then things changed in 2012 as described in Part 7 – we got called into the local San Diego org and told to disconnect from the Reisdorf family members or lose our son and my family in South Africa.
It took us about 4 weeks to get up our courage to figure out how we were going to handle this. We had to write disconnection letters to Dede and Gale (Gary's sisters) but we did not send them, instead we met them privately and told them the situation. We made a pact between Gary & I that we would continue to see them secretly and told them so. Our family relationship between us and them deteriorated due to this. No more Thanksgivings together. No more family Christmas. No more celebration of birthdays together for any of us, which included our kids and their cousins.
Please note: Our oldest son Brett was NOT a scientologist nor was his wife Jessie. Jessie's parents had been scientologists but were not active and they were in touch with current scientologists and people who were declared – same boat as us, but they were off-the-radar so to speak.
We thought that that would be the end of it. We had our kids in our life and secretly still saw our SP family members.
But oh no, that was not good enough. In Aug 2012 someone in my family forwarded me (by mistake) the following email from my sister who is in the Sea Org at GOLD (near Hemet, CA). It was sent to all my other siblings. There are 6 children total in my family.
> Date: Thu, 16 Aug 2012 17:19:31 -0700
> > Subject: Lois and Gary
> > Dearest Lou,
> > You probably received the signed document form Lois and Gary.
> > I have alerted Dione about this and now need to alert you and Dor.
> > It is still not completely okay as there are still bad connections. Including Brett as he is still connected to the other family members in addition to others!
> > The MAA at Int is working with me on this and it is being addressed as we speak – but the R Factor is that there cannot be any connections until word has been gotten from me or from OSA.
> > You should know that Cathy True from OSA Flag plans to get with you and D to give you all the data and the exact plan and handling. She is the Clearances IC at OSA FLAG. You could try and reach her if she hasn't gotten a hold of you already. The person working with me is Marion Pouw and Cathy will know about this.
> > Please let me know that you are all tracking on this.
> > Love you, Geray
> > PS. Just so you know, if Lois and Gary fully cooperate, their lives will change forever – so there is an exact handling – I was just briefed on it. And Craig will be used to help get the remainder of the connections handled as he is obviously really trying to push this through and this is pretty obvious by all terminals at my end.
As you can see in this email, it is not "good enough" that we had disconnected from Dede and Gale but our oldest son Brett (not a scientologist) and his wife Jessie also have "connections" and these all need to be "handled."
An interesting note at the bottom is how Craig is "helping" them. I confronted Craig about this and he denied he knew anything about this. I believe he was unwittingly giving them info and data about us after being told that "this will really help your parents". This will become even more evident later.
I was then called and told that my son Brett and daughter-in-law Jessie had too many connections on Facebook. I was to tell them to unfriend these people. I did not even know who these people were! It was ridiculous. Jessie refused to do so. How can you tell a non-scientologist that it is not okay to be friends with someone who is deemed an SP? This is where the policy letter I described in Part 7 that exists but is not in any library available to the average scientologist. "Once you have an SP identified, you then get rid of all of their connections" My son Brett actually closed down his Facebook page and only in the last few weeks has he restarted it. Rather than "unfriend" these people it was easier for him to just close it down.
Gary and I were then ordered to report to the Advanced Organization Los Angeles. We were told that the local org in SD was too low for our "handling" and therefore had to go to LA. This is something we were now going to do on a regular basis for the next 2 years. Anyone who knows LA traffic understands what a pain in the ass it is to drive from SD to LA. We hated it for that reason alone, but of course there were many other reasons.
It was the first time we had set foot in a Sea Org church in 30 years. The MAA (police) started interrogating us, separately, as to who and what our connections were. It was a real mind f….k. They call this type of interrogation a "roll back". I had never experienced this in my entire life in scientology, nor had Gary.
We did not even know what the acronym C.O.B stood for; Gary would ask "What is COB?" (Saying it like you would say corn-on-the cob). It means Chairman of the Board for RTC (Religious Technology Corp) and is how everyone refers to David Miscavige or DM. We of course knew who he was, but did not know this new "title".
After these interrogations we were then told that we had a choice, either get a comm-ev (committee of evidence, like a trial) or receive sec-checking which we must pay for. Sec-checking is another form of interrogation and more intense. If we opted for the comm-ev, she tells us, we would most probably be declared SP, there was pretty much 100% chance that was going to happen. We freaked out and opted for the sec-checking instead because to be declared a Suppressive Person (S.P.) we would for sure lose Craig and Brandon to SCN's disconnection policies. We thought we could squeak thru the sec-checks.
Gary and I HAD NEVER bad-mouthed scientology to my scientology family OR anyone who was still in scientology; we had never even gone on the internet to read about the anti-stuff; we had never read an anti-book; we had not spoken out publicly; we had done nothing. In fact, scientology was so far removed from our minds that in the beginning of all of this drama, we did not remember things from 30 years ago. We believed that we could be uninvolved with the church and still keep the peace with all of our family.
We then went to LA and had the dreaded sec-checks and got through them. Maybe about 25 hours each.
It seems as though everything we did took forever to get approval on things. This was another thing I had never experienced in the church prior. Ethics actions were always done fast, but this just took months and months and I got to the point that things must be going up to the highest levels of the church. There were no other explanations. The MAA at AOLA could never tell me either. It was so frustrating.
So now all of my family in South Africa were STILL not allowed to talk to me or any of us, on this end, they did not even talk to our two sons who were now working for the local San Diego church! Even though Gary and I were going regularly to LA and chatting with other Scientologists or staff in the SO. I had one email exchange with one of my sister's about this, which follows below, because she did not understand it either. I constantly brought this up to the MAA but she never had an answer. This was her last answer to me:
"Dear Lowie,
I am going to lay out one more time all the facts.
 Lou was told when she was routing onto OT 7 by OSA Flag that she should not re-establish communication with you just yet, as OSA checks were still being done.
She was re-told this at her last refresher by both her MAA and OSA Flag. I should have repeated this in my last email to you which I see is causing much misduplication.
Geray has been told by her MAA and her OSA terminal that the comm line still has to remain disconnected for all of us. By not saying this in my last email I here too caused a misduplication. Geray is not a 3rd Party.
Continue with your ethics handling and do the sec check as this is very good. You will now have the opportunity to handle this completely. I know this as I have been through this exact same route. I see you forward your information to Dor so I hope you can correct her misconceptions too.
Please just do what is needed and we will be in comm with you soon, but for now please do not respond to my email and let's leave it at that as I am finding your emails too enturbulating."
In mid-2014, our son Craig was now going to be put in a position over HCO (Hubbard Communications Office) in the local SD Org. At the time I thought this was very bizarre as he was "new" to Scn and one does not just get a job this high in an Org so quickly. In order for him to be on this post, he needed to go to LA for training and sec-checking for about a month. The local Org could not pay for his accommodation, so we paid for it with the promise from the Org that they would pay me back – never happened!
This was Craig's first sec-check and he just spilled his guts on things we had told him through his life as a little boy, and who we were really connected with – not sure who but we think he told them he thought that maybe we were still in communication with Gale & Dede and possibly others. Oh boy, so now this was all coming out and Craig ended up not being qualified for the job. But I thought at the time, I wonder if that was done on purpose – to get him sec checked, to find out what was "really" going on with us??
I believe he had to write up knowledge reports on us and then it happened: we were now being comm-eved. Even though we were told this would not happen. This is like being prosecuted except you are not represented and pretty much have no say. We were charged with heinous high crimes in the world of scientology.
This also took forever… like a year to get this done!
In the middle of this comm-ev, in August of 2014, our niece was getting married. This is a daughter of Gale, Gary's sister. She is a non-scientologist. We decided we were going despite everything. Our son Brandon who was on staff at the org also decided to go! We kept it a secret from Craig to avoid putting him in a difficult situation. But lo and behold, someone in the wedding posted a photo on Facebook with Brandon in it and the cat was out of the bag. I was pretty sure the comm-ev would declare us SP's. At the wedding were not only Dede and Gale and the entire Reisdorf family but also Janis & Paul Grady and Terri and Fernando Gamboa (declared SP's). Boy, now we were in real trouble.
When we had our last meeting with the comm-ev, we were told that Ron and Lisa Boyd (Jessie's parents) had been declared SP's – these are our daughter-in-law's parents! They were declared because they had refused to disconnect from some of their friends who were declared and also because Lisa had sent a PERSONAL letter to a few of her friends, back in 1986, that she was no longer going to do any Scn. This letter was obviously found in her old ethics file. At this point I honestly thought and felt that there was a concerted effort to actually intentionally destroy my family. Now Brett & Jessie were connected to her parents who were declared SP. BTW – The Boyd's were NEVER contacted by the church, not one attempt, they were just declared like that.
I begged the com-ev committee members' not to declare us. And surprisingly they did not.
One of the recommendations was more sec-checking!! Ugghhhhh…. We had just spent months doing this and now more. We paid for more.  I know, I know. Ridiculous and we should have just walked away, we wanted to, believe me. BUT, our sons were at stake. I wanted to show my sons and my family that we were doing EVERYTHING we could to keep the family together and to not lose them.
My family was still not talking to me through all of this.
Craig had found a lady at the local church in San Diego and they fell in love. They got engaged and she ALSO had parents who were in scientology. It was just getting more and more complicated. Because Craig had donated so much money to scientology on his credit cards, mainly for books/tapes/courses AND donations for the building in San Diego he had trouble putting down a deposit for a rental apartment etc. We helped him with the deposit twice. He then had problems paying for food – I put him on one of my smaller credit cards which I never used and he used it for food and gas, he would make the monthly payments. He worked at the local Org and worked in a high-end restaurant to make ends meet. His fiancé did not seem to have any steady job and he was getting himself into more and more debt and financial strain.
Gary and I then started going back to LA for more sec-checking. It was brutal. The stupid e-meter would read on things that were crazy and it got to the point that I was getting more and more upset in session, then the auditor would have to handle my upset on the fact that things are reading when they shouldn't and I was getting more and more worried I would lose my sons, so that had to be handled. I started making things up. I had never done that in all my years of previous auditing. When I went to the examiner after a session, I would force myself to have a floating needle by thinking of nice things in my life or some odd thing. Meanwhile, we would have to pay for more hours, as hours were wasted handling my "upsets" – it was like a never ending problem. I then began worrying about the amount of money I was paying. At one point we finished the session, all was good, had an F/N (floating needle on the e-meter) at the examiner and we were ready to go back to San Diego late one night, and then NO, the C/S determined that something had read on the list of questions and I was told that NO WAY CAN I LEAVE  Oh god, I thought I was in hell. It meant they had to take me in again, and I had to pay more. I thought I was going mad. I actually had to stay overnight in LA. Because I was by myself this time, Gary wanted me in a more safe place, (as the part of LA that the complex is in is kind of a dodgy area) so the org organized for me to go to the Manor Hotel which they run, but they were supposedly fully booked and ONLY had the big suite available – boy did that cost me a lot of money just in itself.
We also did not know that the church actually video records all auditing sessions, including sec-checks.
The biggest thing the MAA and the comm-ev pushed on me was the fact that I was "reasonable" – In the 30 years I had stayed away from the church, I did NOT report things to the church that were not okay – i.e. someone gossiping about something that was going on in Scn whether in SA or San Diego. I constantly had to reread policies about "reasonableness" and how suppressive that was. I was told I should have written up knowledge reports and the fact that I didn't made me just as culpable as the person who said or did it, whatever it was. I had NEVER written a Knowledge Report in my life while in the SO. Not once! I had never endured such BS in that time. Keeping Scientology Working (KSW) was another policy letter pushed down my throat. But again, maybe I had read KSW once while I was in the Sea Org. I just could not believe what the church had become. I was becoming more and more agitated and pissed off.
By March 2015, Gary and I had done ALL the steps on the comm-ev recommendations. A stupid amends project at the local San Diego church where we worked on their Central Files for 100 hours. We now put our whole package together for approval by whoever the person was that gave final approval to proclaim we had completed all the steps required by the comm-ev and could be cleared to live a normal life again.  We waited and waited for MONTHS, no word….
By this time Craig and his fiancé had moved to Burbank, near LA and no longer lived in San Diego. Once again we helped them with their deposit and he was still using and paying our credit card we let him use, but he still had huge credit card debt. He started working for a scientology company David Morse and Associates (a claims adjuster company). This worried me even worse – now he was working for ex-GO (Guardian Office) people – Duke Snider and Henning Heldt who were part of the Snow White group who went to jail for the FBI raid in 1977. I knew of them very well. I actually could not believe they were still in scientology. But yes they were, very much so.
In early 2015 Craig went to the MAA at AOLA and wanted to read the findings and recommendations of our committee of evidence. He obviously was not happy with what was found and wrote up 4-5 pages of knowledge report on Gary and me. The MAA called us and told us about this. I asked her to send me the KR's; she had Craig send them to us. I reminded her there is a policy letter that exists that the accused should be provided with a copy. At this point we did not even know Craig was the one who wrote us up. But I received the KR's and was horrified. He gave accounts of how I told him AS A LITTLE BOY – stories of LRH – how he had a heart attack – true; Quentin committed suicide….true etc. etc  Gary and I wrote up "rebuttals" to his KR's as he did get things wrong in them, obviously he did not remember things correctly told to him as a child.
The last time I saw Craig was on my birthday in April 2015. He did not stay long. I kept emailing him and left voicemails afterwards as I knew something was up, proposing that Gary and I would like to meet him in a neutral place in Orange County so we can talk and clear things up. I used scientology terms and LRH quotes to tell him we need to sort this out — that communication will handle everything… It was heartbreaking. He then after quite a while sent us the following email:
Hi Mom and Dad,
You've asked me a few times why I haven't been in communication with you. To be honest, it is because I am not in agreement with how you have treated me or my Fiancée.
I have my goals and ambitions which I have made clear to both of you, which you have been discouraging of. There are also some viewpoints you have expressed about my group that I don't agree with; I have asked you to resolve these, but you have not. I have my goals that I am pursuing and I don't see that our intentions are aligned right now.
I hope you continue to work with the terminals you are working with, so you can fully resolve things for yourself.
Love,
Craig
All we have ever done is support Craig and we even went over the top to do that.
Shortly thereafter Brett (my non-scientology son), made a trip up to Glendale where Craig and his fiancé were living. He showed up unannounced in the hopes to change Craig's mind – here is his story about that:
"I drove up to LA early one morning. The idea was to surprise Craig with some coffee and donuts really early on a Sunday morning knowing he and his girlfriend would be sleeping in. I prepared myself with a few focused breaths in my car and headed for his door having no idea how he or his girlfriend would react. Finally, Craig came to the door and let me in and almost immediately, his girlfriend left with some excuse. No doubt she bailed to save her own ass from having to tell her ethics officer she spoke to a Potential Trouble Source. I could care less and was elated to be in the presence of my dear brother Craig. Once we made eye contact and connected it was like nothing had ever happened between us. I really enjoyed the next two hours with Craig. We caught up on each other's surfing stories mostly and all the news from the surf world. Anyway, my point here is that we are two brothers who obviously love each other more than anything in the world and here he is about to disconnect from me and my family with not even a blink of an eye. This more than anything shows how powerful of a force mind-control is. I mean, we grew up in South Africa as wild boys in an equally wild terrain where once we even chased a troop of Vervet monkeys who stole some food and around the corner they went running away from us… where my brother Brandon and I stopped,  and Craig kept chasing the monkeys around the corner by himself. Not before long the monkeys realized that the littlest human was all that was left chasing them so they turned a fast 180 and came back for Craig. Well that was something… seeing this terrified little freckle faced boy about to be murdered by a troop of monkeys! He survived and somehow all 3 of us survived our upbringing in SA which is something that made us who we were when we all arrived in California with nothing but our brothers to back us up.
The final 45 min. of this visit at his home was spent talking about Scientology. I purposefully came across as a more naive person to the inner workings of Scientology than what I actually was (by then I had read Going Clear, Combatting Cult Mind Control and Beyond Belief) I kept saying how confused I was with how my wife's family is a connection to him when neither I nor Jessie were ever even a Scientologist. It made no sense to be throwing away a wonderful relationship over something so easily fixed. I would say to him that there must be an error with how they are coming up with this and if he talked to the right person I'm sure they'll see that this isn't really a connection issue in the first place. Of course I knew how the church are and I could tell that his ignorance was literally making him deaf to any truth I would have to say.
 He even told me that I can't believe everything I read on the internet but I countered with why would people waste their time lying about a church continuously year after year, person after person? I finally understood that no matter what I said he would nod and smile but his mind was made up. Funny enough he even claimed of a Mike Rinder (but was then confused on which SP exactly and changed his answer to a Marty Rathbun) who was known to have been coercing with Nazis? This was all incredibly sad to hear including the inflated numbers of Scientologists in the world he believed in and the growth of the fastest growing religion in the world.  He was on a mission to free himself of life's sufferings and to him there was only one path that led to that salvation and it was Scientology. I closed the visitation with comparing my life so far to his. We talked about marriage, about our education and about our business goals. This gave me an opportunity to show off some of my more exciting design projects with other portfolio material allowing him to see what living an honest, creative life in the real world could be. He walked me to my car and we looked at each other's surfboards for a few minutes and had a final goodbye hug. He even felt the need to clear up an upset we had from years prior to perhaps allow for there to be no regrets with his decision to disconnect. I drove away hoping that one day even if it's in a decade from now, that some of the seeds I planted that day would start to grow and allow for his true self to see the corrupt belief he's involved with."
The final meeting we had with the MAA was in about August of 2015. I asked her what she thought of the KR's and our rebuttals, her response was disgust that it was all just enturbulating (upsetting) and BAD PR. I also brought up the subject of Craig disconnecting from us, her reply was simply, he has the right to make that determination. She knew Brett had visited Craig and thought the whole thing was disgusting, that we need to "handle" Brett.
I then had a planned trip to South Africa for 2 weeks to see my non-scientology biological father who was about to turn 80. I wanted to also see my brother who had somewhat stayed in communication with me through WhatsApp (he is not on staff at any org or my sister's mission). He was going through a divorce and an ongoing battle for custody of his small kids. As the oldest child in the family I wanted to see him and help him in this difficult time. I asked permission to do this. By the time I got to SA I still had not heard from the MAA and planned to see my bro at the end of the trip, I waited and waited. I then received this email from the MAA.
Lois,
You do not have okay to see your brother, Scott. I want to ensure you know this. You need to complete your handlings that you and Gary are mid before this is to occur.
ML,
L
But as I waited at the airport in Johannesburg, I sent my brother a WhatsApp anyway and said, I am here at the airport about to go home, I have hours to wait. I will be at a certain coffee shop, please come by (he lives close to the airport)… He never came.
We had one last phone conversation with the MAA shortly after I got home. Someone had not approved our comm-ev recommendation completion package (which had been sent 8 months prior) because "Step 1 was incomplete."
I asked her what she meant? We had disconnected from the declared SP's in our life. NO, she responded, your oldest son Brett and daughter-in-law Jessie are still connected to SP's and they need to be "handled". Now what were we supposed to do? Tell these non-scientologists that they had to disconnect from Jessie's parents; disconnect from the Reisdorf side of the family; that they had to disconnect from Jessie's god father who was declared? It went on and on. I kept bringing up "How can we do this, it is BAD PR for the church?" She then said in a very condescending voice "If you knew your neighbor was looking at child pornography on his computer what would you do?" Of course we said we would turn him into the police and have nothing to ever do with the person again. She was trying to tell us that the crime of a person being connected to a suppressive persons is as bad as being involved in child pornography. That was when I knew it was really over for us. I as a parent, was NOT going to disconnect from one of my children.
The whole charade of the last few years really came down to the fact that Brett & Jessie were connected to too many SP's and that THEY had to disconnect or else we would be declared.
We now had no connection to my scientology family in SA; we had "somewhat" of a relationship with the Reisdorf family, but believe me, the non-scientologists in that family were getting pissed off and rightly so. And now we were being told we also had to sever any relationship with the Boyd's. Our family was dwindling to nothing.
The last nail in our coffin, at the end of 2015 was when we went to a dinner at Jessie's parents (the Boyd's) who had invited Ronnie Miscavige Jr., Bitty and their daughter Jenna Miscavige & her husband Dallas (they knew Ronnie back in the early 70's). We had never met Jenna and had just recently finished reading her book – yes by this time we had started going on the internet and reading books. We had had enough and knew that we were going to be declared. The Boyd's live in a quiet neighborhood in a cul-de-sac. We got there, parked and as we got out of the car, two large vehicles did a fast circle in the cul-de-sac.  We knew they were PI's, obviously following Ron Jr and Jenna. They then knew we were seeing all of these SP's.
SCRAMBLE TO SAVE BRANDON
We knew that out of our 2 sons that were now in scientology, Brandon was the one we could get out.
He kept telling us that there was no way he would disconnect from us. But he was still working at the local org, living at home, working on a new business he was trying to get started and he was on the "Survival Rundown." This involved hours and hours of objective auditing which one does with a twin (partner) as opposed to an auditor. It does not involve the e-meter. This was "new" (re-released) "technology" and right from the beginning I knew this was bogus, altered tech. EVERY scientologist, even if they were at the top of the bridge, had to redo this. Prior to this, objective auditing was maybe a maximum of 50 hours for each side – giving and receiving, but Brandon was on this for going on 2 years, every single day. He figures it was about 1000 hours in total. Sometimes he would tell me about the processes and boy did it sound fishy to me. I was already thinking that the whole book redo's and the new "Golden Age of Tech II" was also a bunch of BS. I was completely in doubt about everything.
We had tried to be very good from a scientology point-of-view and not tell Brandon about all the bs we went through in our efforts to keep the family together. He obviously knew we were being sec checked and had had a comm-ev etc. But he always felt that we could go higher, to RTC (Religious Technology Center) and it would all be corrected. He knew it was wrong what was being done to us and every time he asked someone in the org, he was told to write it up to RTC. But I knew it was fruitless.
He found a non-scientology girlfriend, who was great and we knew this would also help get him out. He was moving further and further away from scientology.
On January 5th 2016 we received an email from the Continental Justice Chief that we had been declared suppressive persons.
Brandon got called into the local San Diego org and was basically told that he had to disconnect from us and that the family in South Africa and Craig were ready to help him and be there for him and will be his family. He told them to F….. Off and walked out of the org.
To put it lightly, I was relieved to have him. The thought of losing two of my sons was too much for me to take.
However, he was in quite a state himself. He still believed in the tech and unbeknownst to us, he had been pressured to give money to build an "LRH Hall" in Clearwater, Fl. He had no money and his credit cards were maxed out. A scheme was worked out whereby two rich scientologists would donate $60,000 in his name, but then he would have to make the payments back to them. He was now being pressured by these 2 people to pay them the money back, and he was becoming frantic. We had no clue.
All of his scientology friends unfriended him from Facebook, he lost 50 friends overnight.
Most important of all, he had lost his brother, Craig.
By April, he was in a spin – the debt and pressure to pay; his business falling apart; he just lost his religion and his brother.
On top of this we were now freely talking about our anti-scientology stance to him and I was about to appear on the ABC 20/20 show which aired on April 29th – Ruthless.
He had a mental breakdown and he left the house at midnight (we did not know, we were sleeping) and returned around 430am.
He needed psychiatric help and has since received this and is now doing great. He still sees his Dr. and is now off any meds.
That was seriously the worst day of my life. I was in a literal panic. As many people who know me, I am usually a calm and collected person, but this was just the worst situation we had experienced in my life. Even though I was now firmly anti scientology and especially against the current organization, I was still against psychiatry and I suppose that was the last thing about scientology I lost. As a scientologist or anyone associated with scientology, going to a mental hospital is the absolutely worst thing ever. It was so ingrained in me from birth.
The church has cameras and security guards around their properties, so they immediately had the license plate # (registered to me) and had him on camera throwing a hammer through the window of the LA Org. They acted swiftly. The church knew I was going to be on 20/20 so this was just the perfect thing landed in their lap. Lois Reisdorf' s son just threw a hammer through our window. Boy I am sure they were cheering.
ABC 20/20 were very good to us as the church called them immediately. ABC were worried about us, but I decided to go through with my appearance despite what had just happened with Brandon.
We followed through with the psychiatric handling of Brandon. But on the day he was to be released from the hospital, he walked out and was immediately arrested by the LAPD. They drove him to LA in handcuffs. We were once again devastated. He spent 3 nights in the LA jail which was horrific for him, and was WAY worse than the psych hospital. We got him out on bail.
Now he was being prosecuted in LA and the detectives who came to see Gary & I as part of their investigation, told us point blank that the church were going for blood on Brandon. The church pressured the prosecutor to go for the full extent of the law, including calling it a hate crime.
We spent most of 2016 trying to deal with Brandon's prosecution – paying to get him out on bail which was set at $50,000; he had no job; paying for lawyers;  paying for his fines. Going back up to LA for his various court hearings……on and on it went. It has been a nightmare. Kendrick Moxon was the lawyer from the church side and it was hard to sit across from him waiting to go into the courtroom.
At one hearing, the church showed up with 7 witnesses, the judge had a fit and the next time there were only 2. Another hearing the church tried to say that Brandon had gone to the Orange County Church (after this incident) and then asked for a Temporary Restraining Order against Brandon, but it was a blatant lie, he never went close to another church. He does have TROs on him to this day.
Gary and I have never allowed violence and all 3 of our sons have been good guys and not done anything like this, but Brandon was not mentally stable. He did it in the middle of the night, there was no-one around when he did it.
Of course the church put out a nasty website on me and Brandon. The website makes it out as though I have produced a violent child. It is a horrible nasty site.
He was finally charged with a felony vandalism charge which the judge (who had so much sympathy for him) wants him to work down to a misdemeanor within 18 months. He currently is having the probation and community service transferred down to San Diego, this takes time and will be done by February 2017. So by Feb he will no longer have to report to probation in LA, but in SD and then he can do his 100 hours of community service in SD.
He is working on a new business now, he has learned his lesson and is in a much better place mentally and is in fact better than he has been for a number years.
He has had his family at his side throughout this, we are helping him get on his feet and the good thing is he is firmly out of the church and completely out of the mindset of scientology.
CLOSING
As a family we are doing much better after the trauma of the last 5 years. Even though we are under financial stress, we are all even closer than we were before. We are close to our Reisdorf & Boyd families and all the families and people we know who now know our full story and have been so supportive. We have great friends and family and we are eternally grateful to them.
Gary and I have a lot of regrets; we should have instilled in our kids way earlier that we were not and did not want to be involved in scientology. It should have been made clear from the beginning. We should have sought out help for our son Brandon way sooner. But I cannot undo the past and all I can do is rejoice in the fact that I have the most amazing family, friends and my life.
I am very sad for my son Craig, who now has NO family in the US. He is on his own with his fiancé. BUT, he knows our door is always open and we hope to see him in the near future. We love him dearly.
We have a lot to look forward to. Our son Brett and his wife Jessie are in the process of adopting a very special grandson and the possibility of the child's sibling who is newborn. We have that to look forward to.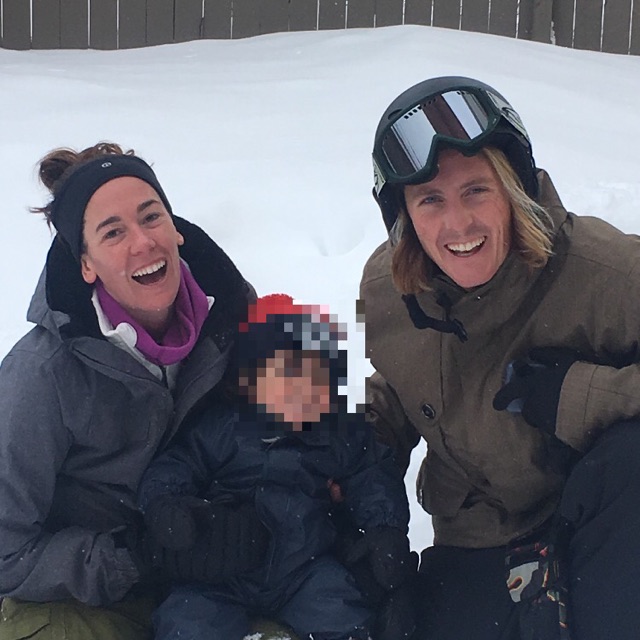 Brett has started a Facebook page called "Surfing Against Scientology" and we are now setting up a lovely website to our missing son called www.CraigReisdorfWithLove.com – we will post letters to him with love and post some of his great artwork and photos of him surfing. My wish is that one day he will read our letters to him on this website.
Also, we are now able to have a great relationship with Gary's family and Jessie's family (Boyd's) and celebrate Christmas and birthdays together again.
Special thanks go to Mike Rinder who has been stalwart in his support of us and a great friend and of course allowing me to tell my stories, then and of course to the great Leah Remini who is such a lovely person and has such big balls, we love her for what she is doing, she is a force to be reckoned with. Thanks to A&E for doing the series, I hope they get an Emmy for their hard work and continue on with the series. Thanks Alex Weresow, you did a great job on this series (Producer of the series).
Cheers to a drama-free 2017 for us!