Some hype to help get you started in the morning.

And just a taste of the understated, dignified words of Dear Leader before the clubbed seals on Saturday:
In testament to Mr. Hubbard's triumphant and eternal technological splendor, the anniversary of his birth (March 13) was marked with a raucous observance attended by a capacity crowd and presided over by Mr. David Miscavige, Chairman of the Board, Religious Technology Center and the religion's ecclesiastical leader. He opened the proceedings by placing the eternal power of LRH's creation into a palpable context.
"Never has he been more prominent," Mr. Miscavige told the gathering of Scientologists. "Never more manifestly evident. Never closer to the consciousness of seven billion people on Earth. So not to overstate it, not to stretch the point, but, the fact is, LRH is everywhere this evening."
Palpable context?  Manifestly evident? LRH is everywhere? Shermanspeak has achieved milestone, monumental and straight up and vertical levels of complete gibberish.
Now let's take a look at reality.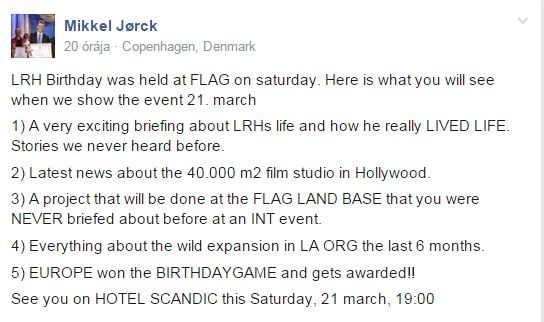 Now that is underwhelming….
What is NOT included in the March 13 celebration?
NOT A SINGLE "Ideal Org" opening. The biggest, most important, all encompassing, you gotta do it now, urgent priority "strategy" for scientology that is going to "clear the planet." And not a SINGLE new ideal org. Let alone a single NEW ORG.  At the event to celebrate "org expansion"?
Of course, he couldn't ignore the subject completely, so he mentioned "the planned opening of new Ideal Orgs in North America, South America, Asia, Africa and Europe…."
Instead, there is a rehash, yet again, of the SuMP — the bottomless money pit of extravagant excess that is KCET. The superfluous media production facility to replace the underutilized Golden Era Studios and Mad Hatter Studios. They will be able to churn out more of their Freedom magazine videos 90 miles closer to Hollywood than ever before!
And, hold on to your hats — the project to be done at the Flag Land Base is the L. Ron Hubbard Hall with "digital designs."  This is announcement number 7 of the Hall that is going to make planetary clearing a reality. Full steam ahead on the fundraising.
More big expansion news. The astonishing results when you send TWO HUNDRED Sea Org members to take over a Class V org. The new pattern of "Model Ideal SH Size Orgs." (He announced LA Org was "twice the size of old St Hill" — ha ha). Only problem with this plan is that is requires 150 x 200 SO members to make it a reality in all local orgs. Even the church that claims 10, 11 or 12 million members doesn't claim they have 30,000 SO Members. So, this "successful action" isn't going to work for long.
More brilliant planning and management skill from Dear Leader.
Of course, there were the much anticipated and totally manipulated Birthday Game winners for 2015:
Missions — the "ideal" Mission of Belleair
Orgs — the "ideal" org of Sydney
Advanced Orgs — the "ideal" AOLA
Continents — the "ideal" CLO EU even though EU has the lowest percentage of "ideal orgs"….)
By sheer coincidence, every one of them "ideal" — even the "mission" (no wonder they had to have a "grand opening" of their old premises….)
Finally, I wonder if any of the information about the life of LRH that is contained in Going Clear (or in the recent postings on Tony Ortega's blog) was included in the Sherminator's speech?  That was declared to be a "spirited and inspiring biographical presentation honoring the man of the hour in his own words, featuring captivating tales from a dashing life spent crisscrossing the globe and accruing wisdom."
Or did he show some more shots with Sara Northrup photoshopped out? Or Mary Sue Hubbard "disappeared"?  Maybe some mention of his first 3 children? Funny, the Sherminator has never once mentioned any of these people. Even funnier, while the church has been ranting about the "sources" in Going Clear they have somehow omitted to make ANY mention of the most devastating material of all. The writings of Sara Northrup. The documents about their marriage and treatment of their daughter he later disowned (after kidnapping her to begin with and taking her to Cuba).  Why is NOTHING being said about this? Or about the footage of Tom Cruise that is perhaps the worst indictment of scientology in the movie?  None of those things came from "detractors."
This March 13 event is more proof that the end is near.
They cannot even prop themselves up on their elbows any longer. They lie, face down, glazed eyes staring off into the distance, no longer able to fend off the inevitable.