From the latest edition of Source magazine, the official magazine of the "international spiritual headquarters" of scientology.
You can see they are making a big deal about their new "7.5 foot diameter world map" with "12-sided polygon locator pinpoints." As always, scientology seem to impress themselves by talking about the size of their maps or details of their toys. It's as gauche as someone telling you "I have 7,000 square feet of hand-made silk rugs in the entrance hall of my 40,000 square foot home — and you paid for it."
This magnificent new map is apparently adjacent to "Embassy Row" which would appear to be a reference to the Potemkin Village of empty storefronts representing scientology's front groups. "Embassy Row"? Seriously
They tout it as a "veritable" view of the "exponential expansion" of scientology.
Not so fast there buckaroos…
You gotta love those quotes. Mark Rush is always someone I look to for proclamations about scientology expansion. And what a profound thought — the map actually shows how much EMPTY space there is with NO scientology at all.
As you can see, the "veritable" exponential expansion is ONLY identified with one number., 11,000 churches, mission and "affiliated groups"… (just for the hell of it, the Jehovah's Witnesses claim more than 10 times this number of congregations — actual "churches" as opposed to "affiliated groups").
We have broken down this crazy false figure previously. There are about 150 orgs and 400 missions. The rest is 10,550 "affiliated groups" that nobody can identify. If you take the list of EVERY "affiliated groups" that scientology includes on its website, you come up 10,000 or more short of this 11,000 figure.
It's a lie. It's like an airline claiming 1,000,000 passengers, bags and individual peanuts flown in the last year. Except they DID actually have peanuts on their 3 planes.
But even more damning in this Golden Shower of Ideal Orgs Era: Every ideal org is supposed to be opening groups, missions and other orgs around it. Remember the famous Miscavige graphic he touted: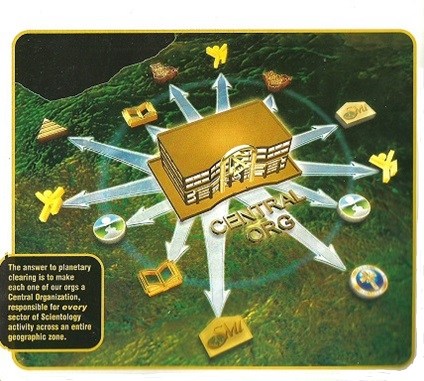 Well, despite this claim, they have been using this number of 11,000 for YEARS.
In fact, here is posting from this blog dated December 27, 2013 noting they have increased the false number of churches, missions and affliated groups from 10,000 to 11,000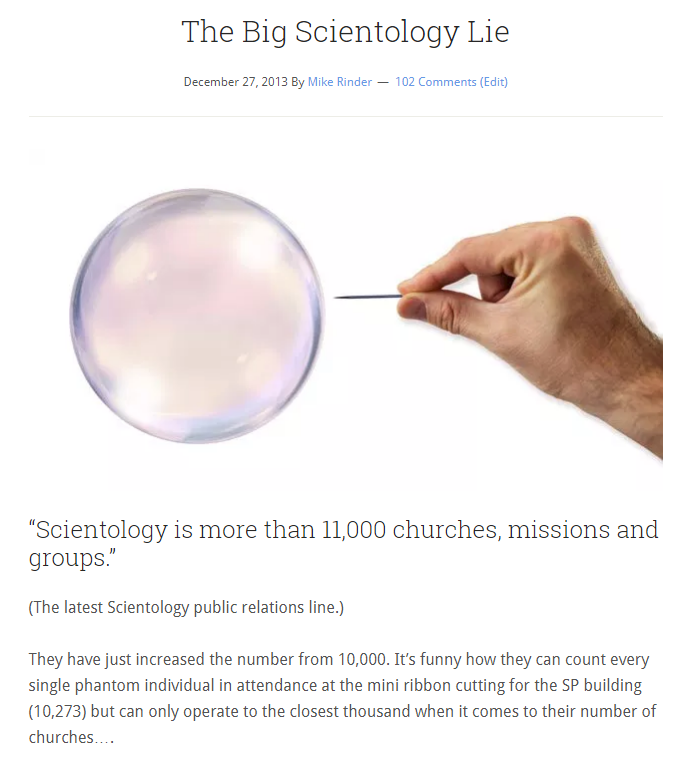 Apparently NO expansion has occurred since December 2013 — coming up on 5 years.
But all these "ideal orgs" should be generating new groups and missions every week. At least every month. Even if they only did 1 per month each, that is 600 a year or nearly 3000 since they first announced. Why then isn't the number 14,000 by now? A few thousand additional non-existant groups would not make much difference. But it's a symptom of lying that it becomes increasingly difficult to keep the stories straight….
And the BIG lie they keep telling is that they are experiencing "unprecedented" expansion.
UPDATE:
A new announcement has just come through, once again highlighting the brilliance of Hubbard organizational tech. They announced the ribbon yanking would occur on 28 April. They didn't make that date, so then announced it would be 19 May. Now on 9 May they announce it will be on 12 May. Bet this is going to be populate primarily by staff and SO members from Tampa. And you can bet the blue-plate dignitaries for this one are absolute nobodies as you cannot get real people who have real work to reshuffle their schedules like this. It's hard enough to get the sheeple within the bubble to do so…
Dear All,

The official date for the Grand Opening of Ideal Org Orlando has just been set for this Saturday, 12 May 2018. Everyone needs to be there by 1:00 pm as the event begins at 2:00 pm. There is a lot of traffic at that time with everyone driving to Disney World and the other them parks, so please plan accordingly. 

Again, the Grand Opening is NOT on May 19th, but this weekend – May 12th! 
This is only 4 days from now so spread the word immediately and get everyone confirmed!!

Ideal Org Orlando
6770 Lake Ellenor Drive
Orlando, FL 32809

ML,
Anna Nicola
Int'l OT Committee Office
And this — they're busing them in. How come Orlando doesn't have it's own crowd?
Thanks so much to those of you who responded last time to my email about who's going to Orlando.
 Now we have the date – this 

Saturday, May 12th

 – so I need to reconfirm all of you.
Please respond to this email with the following data:
1. You are planning on attending or not
2. Who is going with you.
3. Are you driving and do you need a parking pass.  
4. Do you want to take the bus from Flag.
Thanks much – gonna be fun!!!
ML,
Sue Moore
Dep Chair, Flag OTC