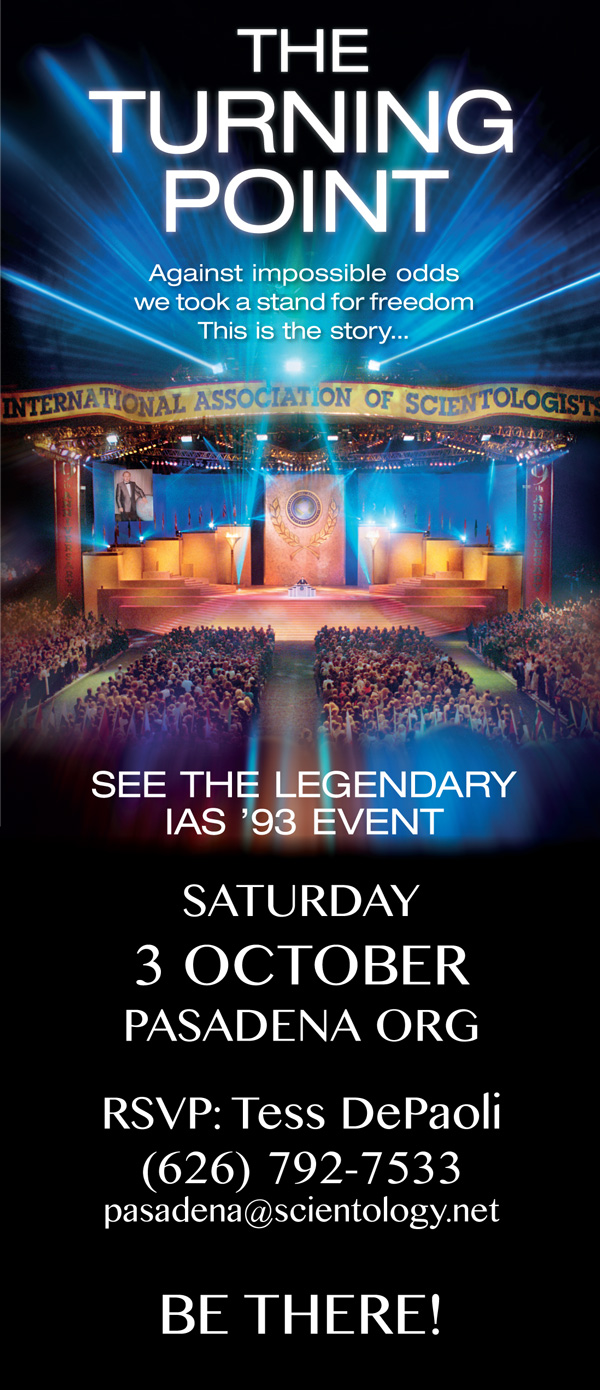 Well, I supposed this is the best he's got, even though it's more than 20 years old.
A desperate attempt to try to burnish Dear Leader's sagging image…
It's the annus horribilis. Going Clear, Going Clear Emmys. Let Him Die following his own father media blitz.  Tony Ortega's book and Paulette Cooper.  The Saldarriaga hacking scandal. Jim Jackson. Leah Remini's new book. Narconon's implosion. Louis Theroux. And things are not looking any better beyond next month.
His recent go to image boost has been the "ideal orgs."  But that is a failure — cannot even get any new ones open when he pays for them and the ones that have been opened are so clearly dismal failures that the silk purse has revealed itself to be a sow's ear. Did he really think that the "model" that everyone would follow was importing 200 SO members? And nobody would notice the outpoint.
So, to steady the ship and reassure the troops that all is well, Miscavige pulls this old, flea bitten rabbit out of his hat. His claim to fame. The tour de force that proved to all scientologists he was "the man" and cemented his place at the top of the heap. The 93 IAS event.
Miscavige considers this his best performance ever. He has said so many times.
So when it all looks bleak, order a re-showing. And this one is being pushed harder than ever before. Apparently every org in the US is being required to air this on the same day. It is getting as much airplay and push as the Auditor's Day events.
Now one might ask, if everything has been expanding so much SINCE then, and everyone knows already scientology has complete tax exemption from the IRS — what's the point? Why drag out an almost archival video? Because there is NOTHING ELSE TO SHOW. And because Miscavige considers this to be his greatest moment.  It HAS all been downhill from here. This was a significant accomplishment. Everything since has been small by comparison and many just outright fake.
The fact that THIS is what is being shown everywhere is yet more proof that the oft repeated "fastest growing religion in the 21st century" and "straight up and vertical expansion" and "greater growth in the last 5 years than the 50 years previously" are flowery lies intended to placate the sheeple. They are clearly wearing thin — so he trots out the old standby.
Funny, everywhere is showing it on 3 or 10 October except one place.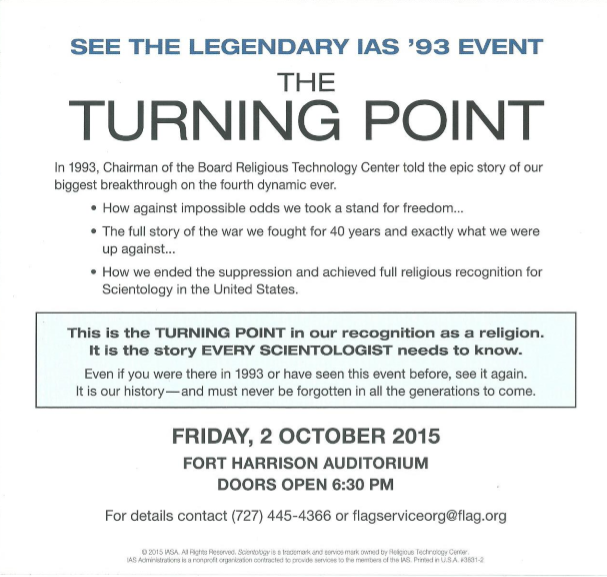 Would it be a coincidence perchance that this is 30 minutes before the 7pm airing of Going Clear with the Q and A following it just down the road a bit?
I wonder….
Here are just a few of the announcements of this monumental event that have been flooding in from all areas of the country: