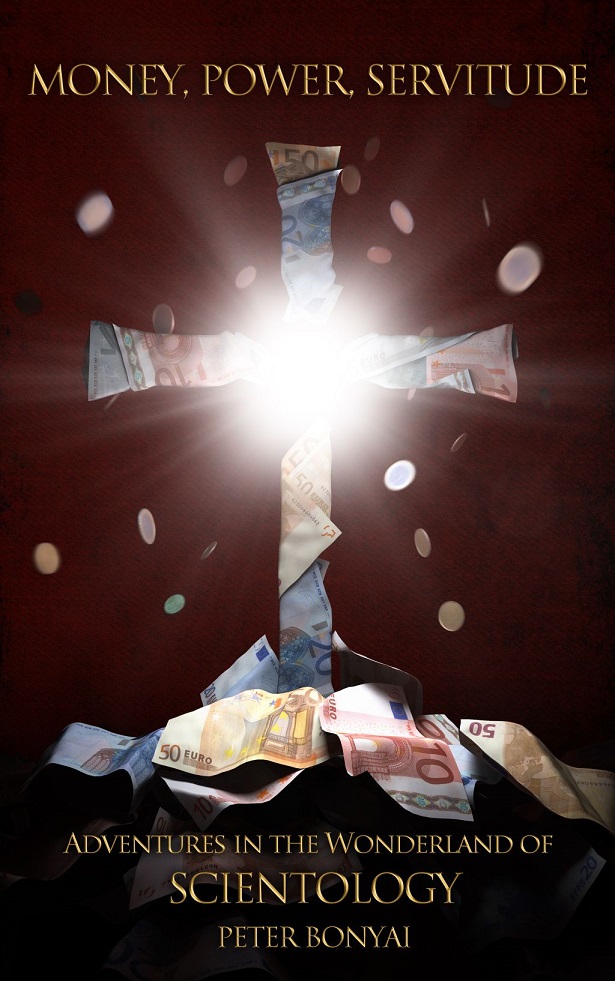 This new book is a must read for anyone interested in scientology and what goes on inside the church.
Peter Bonyai recounts his experiences from the day he first walked into a mission in Pecs, Hungary through his life in the Sea Org and ultimately to his departure 10 years later.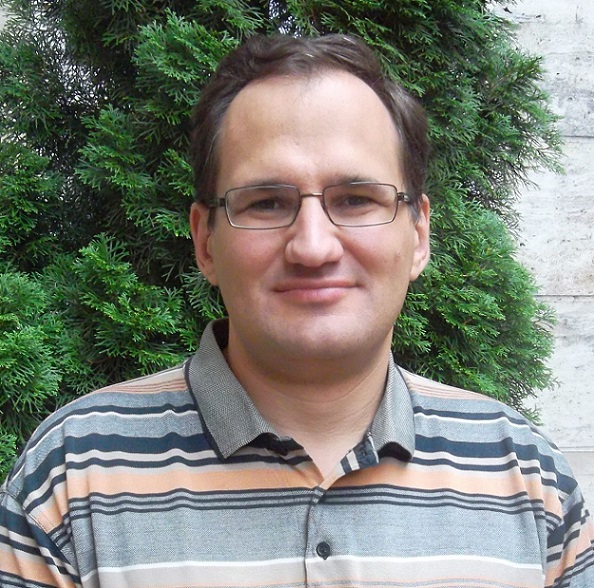 I helped Peter by editing the english translation (he wrote it in his native tongue and translated it himself).
I found the book fascinating and compelling. Peter has a wonderful sense of humor and an amazing ability to analyze both the insanity of what he experienced and his internal responses and thoughts, chronicling his descent from naive teenager into the "go-to" reg for Hungary following the Sea Org motto "the money justifies the means." His story recounts a wide spectrum of experiences — from brand new public in a mission and auditor trainee at Munich Org to recruiter and chief fundraiser for the Budapest Org, the IAS and OSA Human Rights campaigns in Hungary. Along the way he was targeted as a scapegoat, accused of being a spy and embezzler, went to Flag as a recruit but was turned away as well as a number of eventful and rather harrowing trips to Copenhagen under the rule of Walter Kotric and the watchful eye of RTC.
His detailed recollections of his experiences are correlated to his thoughts about what he was seeing, hearing and experiencing, and how it was effecting him and changing his outlook on life, attitude towards others and his personal sanity. It is an amazing journey.
I highly recommend this book, and it is now available on Amazon.
I include here the Foreword and the first section of the first chapter, along with the final pages of the book to give you a taste of his story:
Foreword

I was a Scientologist for more than 10 years, spending the majority of this time as a church staff member. I started out as a lowly bookseller and personality test evaluator (of the infamous "free" tests) in one of the small Scientology organizations (called missions) in Hungary. I then joined the so-called elite of the movement, the Sea Organization and rose through the ranks, eventually becoming the second-in-command of the Central European branch of the Church (located in Budapest, Hungary), where I served the movement for the majority of my Scientology career.

I also spent a few months at the "Continental Liaison Office Europe", located in Copenhagen, Denmark and one month in Clearwater, Florida at the church's so-called "international spiritual headquarters" (the Flag Service Organization). I have seen many faces of Scientology and have written this book with the intention of presenting a relatively accurate picture of the movement.

I had two goals in mind in writing this book. First, I wanted to show how my personality changed as I progressed in Scientology (if one can call that progress). I also wanted to describe in detail how the middle management of the Church operates, as it was a fascinatingly bizarre experience.

I sincerely hope I have been able to provide some unique insight into the inner workings of the Church and the minds of its followers.

 

Chapter One

The Little Brown Church in the Vale[1]

 

A Book That Changed Everything

On an otherwise uneventful day in the summer of 1994, our beloved and slightly eccentric Hungarian grammar and literature teacher presented the class a book that he was clearly excited about. The word "Dianetika" in shining gold letters was emblazoned on its cover, which was dominated by a volcano – probably with the purpose of dominating its reader from the outset.

He loved to cover unusual topics (which were often completely unrelated to the beautiful Hungarian language), so this presentation was not an uncommon occurrence. In essence, he told us that the author of the book, L. Ron Hubbard was either a genius or a madman and that he had never read so many bold claims about the nature of man compressed into one single book.

Well, let's check this out, I said to myself. At that time (second year in high school) I was pretty heavily involved in a great invention called role-playing (it had just appeared in Hungary), and subsequently, my interest was sparked in the magical and the unknown. I was also reading a huge amount of sci-fi and fantasy books at that, and was particularly impressed by the Foundation series written by Isaac Asimov, as well as by the works of some fantasy authors. Interestingly, I did read some short stories from Hubbard too, but at that time I rated him "mediocre" on my official sci-fi author scoreboard. This hobby provided an interesting diversion from mathematics and computer technology, my main areas of interest.

So, I checked out Dianetics from the local library and read it. At first reading, the book seemed to be a lengthy essay on a shaky theory written by an overly confident and arrogant person who wanted to sound truly authentic and legitimate. I definitely had a good idea of what "overly confident and arrogant" is (being such a person myself– an excellent student attending one of the best high schools in my hometown, Pécs).

Hubbard wrote the following right on the first page: "You are beginning an adventure. Treat it as an adventure. And may you never be the same again". Let's just simply say that I did not suspect at the time that his wish would be so thoroughly fulfilled.

Apparently he had discovered the reason for all human misery and claimed to have a solution for that. In a nutshell, his great discovery was the following: all human suffering and illness is caused by a portion of the mind called "the reactive mind" (the subconscious one). This part takes control when one is affected by pain and/or unconsciousness, stores everything related to these experiences (all events as they happen with sight, sound etc), and takes each sentence uttered during such a period of pain and/or unconsciousness literally, which would function later as hypnotic commands. Hubbard coined a name for these stored subconscious experiences; he called them "engrams".

An example: a person is hit by a car and passes out. Someone from the crowd that has gathered around the scene says, "Look at his leg! He will never be able to walk again!" According to Hubbard, this would be registered by the reactive mind as a hypnotic command and the unfortunate fellow would probably live out his remaining days in a wheelchair.

Hubbard stated even wilder assumptions in his book. According to Dianetics, the recording of external stimuli begins in the womb, and the sentences uttered during marital fights would be recorded in a similar manner. For example, if a man hits his pregnant wife in a way that his unborn son becomes unconscious, and then says that he is out of luck with women, then his son, once born, would have serious problems finding a suitable female partner.

Luckily for mankind, Hubbard offered a solution for these problems, which unsurprisingly was also his invention, a therapy called "auditing". Despite his claims to the contrary, the method is rather similar to psychoanalysis: the therapist ("auditor") gets the patient to find these engrams and tell about them in detail over and over again, until their effect on the present is eradicated. Therapy sessions also address the engrams created before birth. When someone gets rid of all engrams, he becomes a so-called "Clear". According to Hubbard, Clears are completely rational, free of any and all "aberrations", which he defined as "any deviation or departure from normal thought or behavior."

The whole thing sounded very unrealistic at that time. Frankly, I found it hard to believe that a discovery of such magnitude would have gone unnoticed and was unknown to the general public. A week or so later I had already forgotten about Hubbard and his self-proclaimed science of the mind.

A year later, my best friend filled out a Scientology personality test and received an evaluation at the local Dianetics Center. After that, he was invited to a Dianetics workshop. I was not particularly happy about it and told him to avoid that place, stating that he should not become "a brainwashed Dianetics moron."

Despite my warnings, my friend attended the workshop. He was not too convinced by what he saw and experienced there, so he could not recommend it to me.

Overhearing our conversation, another friend urged me to take another look at the movement, as he was involved in similar self-help groups (José Silva's Mind Control and "The Forum" of Werner Erhard fame). He had also visited the Dianetics Center, but upon seeing the rather overweight local leader, he thought that it was definitely not a recipe for success.

I was not doing well at that time, so I was much more receptive to such suggestions. I was very disillusioned with the materialistic society around me and I was very concerned about the future of humanity. I felt something was very wrong with the world and no one seemed to care about the real issues. Even worse, pursuing spiritual fulfillment as opposed to amassing material wealth and living a "normal" life was considered ridiculous by most of the people I knew and interacted with. At that time, my future looked pretty bleak (I could not really picture myself living a completely "normal" life – completing my education, working for 40-50 years, followed by retirement and death). This was something I was trying to avoid, but I had no idea how. Also, it seemed that there was no real alternative to that kind of lifestyle that appealed to me. All in all, I was often depressed and unhappy.

Due to this bleak outlook, I gave it some more thought and decided to have a look at Dianetics. I asked for a personality test and filled it out. At that time I had a really high opinion of myself and expected a rather good result.  So, I made an appointment and went in to hear their evaluation of my test.

A red-haired woman in her thirties greeted me. She introduced herself as a priestess of the Church of Scientology, trained to deliver personality test evaluations. I thought, "Wow, apparently this bunch got even more bizarre since that book was written". I took a seat and looked across at her with a condescending smile.

I was told that I was an irresponsible, nervous, unstable and pathetic individual in urgent need of attention. She made sure that each statement hit home, and repeated them over and over when I expressed my doubts. She was adamant about the evaluation and gave me an unquestioning gaze each time I wanted to contradict her and explain myself. And she mentioned several times that Dianetics can help me to improve that condition. I was completely overwhelmed at the end of it and I felt totally devastated. My overconfidence was gone as if it never existed. I walked around in the town almost completely devoid of life. All my problems seemed to fall on me. Thinking it cannot get any worse and I could definitely use some help to address my deep-lying unhappiness, I decided to give Dianetics a chance.

A week later I found myself in the Dianetics workshop.

[1]A reference to an L. Ron Hubbard writing of 23 March 1985, where he condemns the kind of image where a Scientology Church is portrayed as a place "where people can get together, sing and are not too unhappy."
These are the final few pages of the book, there are 30o pages in between:
By the summer of 2007, my doubts concerning the Church became stronger and I started to look up Scientology on the Internet to find out some answers to the nagging questions that were never properly answered by the Church. I was increasingly annoyed by the unlimited greed of the Church. I was also at the end of the ridiculous 1500-hour amends, and I had come to feel that I was contributing a great deal to the Church while getting next to nothing in exchange.

Nevertheless, I was still not ready to face the truth. I convinced myself that the end goal was valuable enough to make all sacrifices worthwhile.

At around the same time, the package of the 18 books Hubbard wrote on Scientology and the accompanying lecture series were finally released in a brand new, thoroughly edited version (as explained earlier). All Scientologists absolutely HAD to buy the entire package for a whopping total "package price" of 3,000 USD. The pressure really ramped up to the level of complete insanity – even I was called almost every day by Sea Org members from all around the world. I heard from other Scientologists that they got calls on weekends and during the week after 10 PM. As an ex-Sea Org member, I was quite immune to such insane pressuring, but it was too much for me even.

Finally, I gave in to a "special offer", made by one of the Ethics Officers at the Flag Service Org.  I was able to buy the entire set for 1800 USD, and I was told that an "ethics particle" would cover the rest of the purchase as amends for some sort of crime he had committed. I reluctantly agreed and paid for the package, maxing out my credit card in the process. Needless to say, it took 2 months and numerous e-mails and phone calls to get the materials actually shipped to me.

I started to read the books, hoping that they would give me new-found confidence and stability to kickstart my second, hopefully more successful stint in Scientology. I could not really concentrate on the words of LRH as much as I had done earlier – the spiritual traumas I suffered kept coming to mind. It seemed that I had no choice but to enroll on a course to study them in a proper Scientology course room, to keep these incidents from interfering with the study of the materials.

In order to do that, I had to formally complete the ethics program, i.e. to prove that I had indeed completed 1500 hours of amends for the Church. I put together a submission, including an itemized list of all the volunteer work I had done for the Church, and sent it to the Continental Justice Chief.

He called me two weeks later (a few days before Christmas). He reprimanded me from deviating from my original plans for the amends (he was right in that regard). I told him that the situation had changed, but it did not matter as I done the required amount of hours anyway. I reiterated my desire to progress on the Bridge and study the Basics. He said he could not approve the request in its current form, but he had an idea for a fast amends project which could make up for my shortcomings.

He then gave the receiver to a "high-ranking executive", who explained the plan. I was supposed buy 10 complete Basics packages for around 25,000 USD and then resell these packages to Scientologists for the full 3000 USD price each. If I paid the money right there, then they would consider the 1500 hours of amends done. I told them that I had no money and I would like to concentrate on studying the Basics and going up the Bridge. This mysterious executive then became aggressive, and told me in a threatening manner that I had two options – the easy way and the hard way. I either paid the money and the whole thing would be over or I didn't, in which case I would then have to do the 1500 hours of amends again.

This was the last straw. I had enough of the insatiable greed of Scientology. My only regret at this point was that it took so long – 10 years of hard work as a virtual slave and throwing 50,000 USD out the window. All the bitterness that had accumulated over these long years came out in a big burst of anger – I screamed at the guy for using Mafia tactics and I told him I would not pay a fucking cent. My conscience was clear, I added, I did everything they asked and if they did not like the type of amends I did, they should get back to me in writing. I then hung up on him.

When I put down receiver, I knew it was over and there was no way back. I was no longer a member of the Church. I could not care less about their weird rules, their lust for money and planetary clearing for that matter.

I experienced a tremendous relief. I was free of the constant guilt that I was not disseminating Scientology and had not done enough to help the Church achieve its aims. After that I spent my free time browsing anti-Scientology pages on the Internet. I learned much more about the Church and Hubbard in two months than during the entire 10-year period I spent in the Sea Org. I was really frustrated and angry when I discovered the truth.

Nevertheless, I still thought that Scientology as a philosophy had valuable elements, which were worth salvaging from the corrupt and sinister Church of Scientology. I wanted reforms to take place, so for that reason, I started a blog called Scientology objectively (later on, I changed to it Scientology: Objectively and subjectively). The original idea was to start a dialogue with the general public, to get recognition for the valuable elements of the "tech" and to separate the philosophy from the Church in the minds of the people.

It turned out that neither the Church nor the general public wanted this. I sent an e-mail to all Scientologists under an alias, trying to find out how many people wanted or would back reforms and I included some rather sordid facts about David Miscavige. The responses were a mixture of sad and hilarious. Only three (!) people were interested in any reform, while a few more expressed some sort of agreement with my position, but most of the responses were threats or calling me an SP for even suggesting the need for reforms or telling me that my e-mail was forwarded to OSA and I should not write them again.

I also tried to convince Miklós to help in this project, but he refused and insisted that 100% standard admin tech should be used only, fully adhering to the instructions of LRH. I favored a different approach, so we could not come to an agreement.

Probably just to remind me of the good old times, Miklós ratted me out to OSA and told them that I was the source of the e-mail. Apparently, Lajos did not have the courage to confront such a massive SP, so he sent me a message through one of my Scientologist business associates that if I wanted to handle it then I should contact him. In my reply, I made clear to Lajos that I did not want to continue as a reformist, as the vast majority of Church members clearly did not want any changes. I had no intention of going in for an "interview" as I did not want to listen to the usual rant about me being the biggest SP in the world "but a large donation could change all that."

I continued blogging and I met a lot of people who had been harmed by the Church and its toxic disconnection policy. This made me revise my stance about the true value of Scientology and the tech and after a while, I gave up on this philosophy altogether. Meanwhile, I changed my business profile so I do not depend on Scientologists and started a completely new life.

There was one last thing I felt I had to do. I thought that I should contribute to making the real nature of the Church of Scientology well known to everyone. That's why this book was written.

Thank you for reading it.