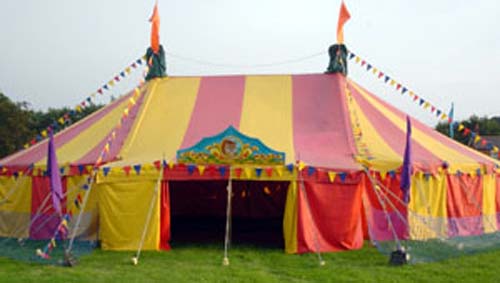 It is hardly a surprise that there is a lot of hype about the upcoming IAS "Big Top" circus event. There is hype for every event. And the next event is always  so much better than the last one.
But a few people have reported that there is talk of a "monumental announcement" similar to the announcement of "Golden Age Of Tech" for "our 4th dynamic programs."
Now, this could of course just be typical "call-in" patter and the "monumental announcement" will be a new DVD and booklet "exposing psych crimes" that is going to be mailed out to "every opinion leader on earth."
And I don't doubt there will be such a "monumental" "anti-psych" release.
But I suspect there is something else.
An eagle eyed Special Correspondent noticed a new page on scientology.org entitled "Voice For Humanity".
This appears to be a "reorganization" of the scientology "4th dynamic programs."
Up til now there have been 4 "social betterment" programs under ABLE (Association For Better Living and Education): Applied Scholastics, Narconon, Criminon and Way to Happiness Foundation.
Then there were assorted other "4th dynamic" programs like CCHR, Youth For Human Rights, Truth About Drugs etc that were under OSA. And the Volunteer Ministers Crusade as part of the "Flag Bureau."
Of course, some reorganization of ABLE is needed as Narconon is under siege and looks like it will go the way of EST.  I predict a "new" organization will show up like Landmark did in the wake of EST, and it will attempt to distance itself from the horrendous PR and liabilities of Narconon. But more on that for an upcoming post.
In the meantime, there is a new kid on the block, promising "Real Help Real Results" —  the VOICE FOR HUMANITY that promotes itself like this:
Drug abuse and criminality, intolerance and inhumanity, disasters both natural and man-made pervade and degrade every segment of society. So daunting are these issues that efforts to eliminate them are all too often overshadowed by efforts to merely contain the damage. In recognition of the vital necessity to stem the downward spiral, the Church of Scientology and its members sponsor secular education programs that effectively curb drug abuse, instill tolerance, raise awareness of human rights and uplift morality across whole populations.
The goal is at once bold and ambitious: to resolve broad planetary ills and arrest a creeping cultural decline, all while uplifting society by instilling commonly shared values. Based on decades of experience, the programs contribute to positive change for individuals, communities and indeed, whole nations. Whether through grassroots initiative or official implementation, these programs measurably improve conditions, hence demand grows exponentially.