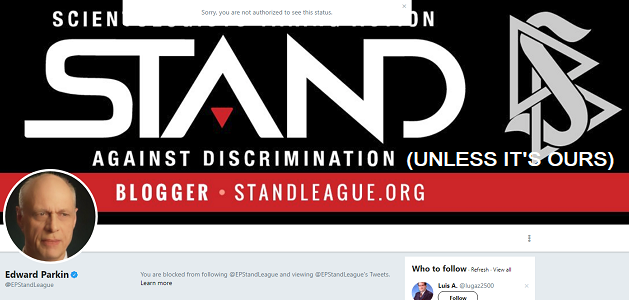 Another recent tweet from the genuises at STAND League led me to yet another of their brain-addled articles.
John Logothetis has apparently caught some sort of mental incapacity from riding in Rodger Clark's clown car of flawed logic…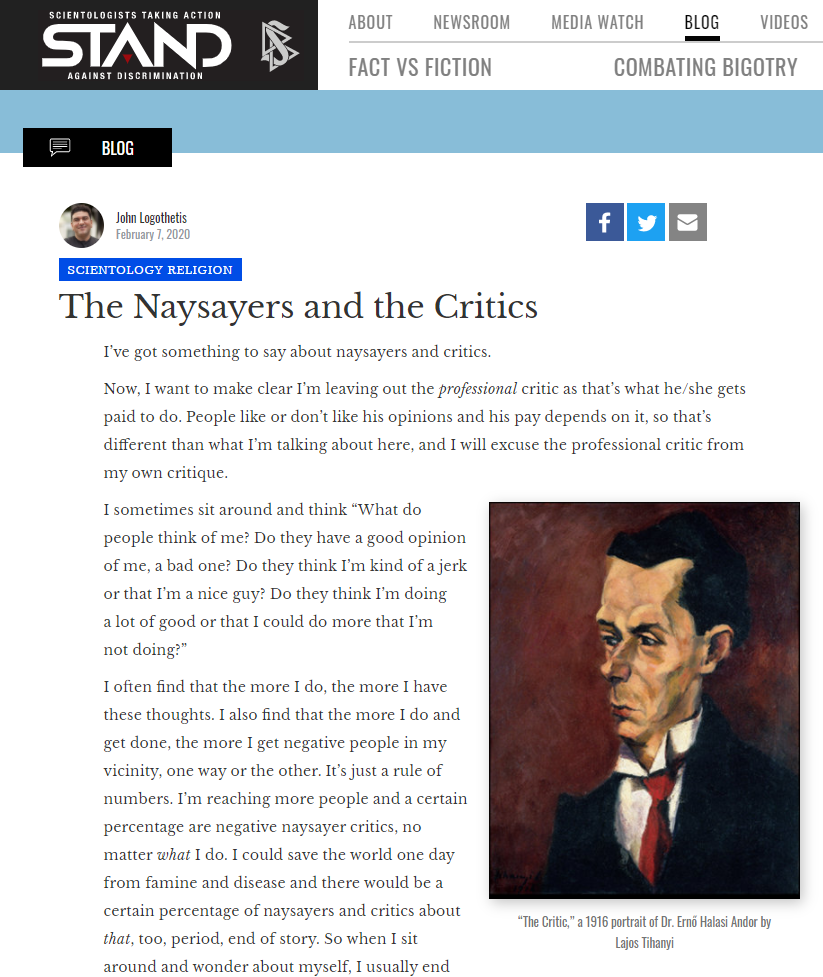 As a note, right at the outset, he excuses the "professional critic" who gets paid for their "opinions." Of course, he must know that this is scientology's repeated claim about me and Leah. That we are simply "paid critics" who have nothing better to do than make a buck off "scientology's good name."
But don't think he actually excuses me. It doesn't take long for him to launch into his attack.
But first, he's really so clueless as to talk about scientologists "happy as clams"? I guess he doesn't get out much, and certainly hasn't taken much time to study the "critics" when he uses the most common derogatory term for scientologists derived from Hubbard's bizarre History of Man ramblings.
Now, it's funny that, for over 20 years, I have gone to one Scientology church or another, many events and many other activities as a Scientologist. I don't think I can even count on one hand the number of unhappy parishioners I have met. I would say well over 99 percent were happy as clams, studying their courses, being an auditor, working at a church as a staff member etc.
This guy has never met an unhappy scientologist. After all, who would dare express their unhappiness INSIDE a scientology organization? Nobody is dumb enough to do that. It's a very expensie lesson that most only have to learn once.
But now, let's get into the "darker aspects" of getting a lot done, that Scientologists as a group cannot avoid due to just how much good they do in society. You see, we have our naysayers and our critics.
"Due to just how much good they do in society" — this guy is not merely a KoolAid drinker, he has a stand and is passing it out to anyone who will take it.
And the following points about these people are very interesting ones:
#1. They aren't Scientologists, meaning most of them have not read a book, done a course, received spiritual counseling or done anything at all in the Scientology religion. If they have (doubtful, but possible) they would simply go right into category #2…
Again, obviously that is NOT referring to me. I have rad EVERY book. Done the OEC. Audited through OT VII. Audited others on NOTs. Done KTL, LOC, DSEC and a hundred other courses. So, he cannot possibly be referring to me. Right?
#2. They are largely former Scientologists who committed crimes against the Church large enough to warrant them being kicked out of the Scientology religion. I can tell you that is not an easy task to accomplish with a group as forgiving and helpful as Scientologists.
I was not "kicked out" of the scientology "religion" — I escaped. I was then declared an enemy for talking to the press.
But, surprise, surprise. Who is the poster child for the "naysayers."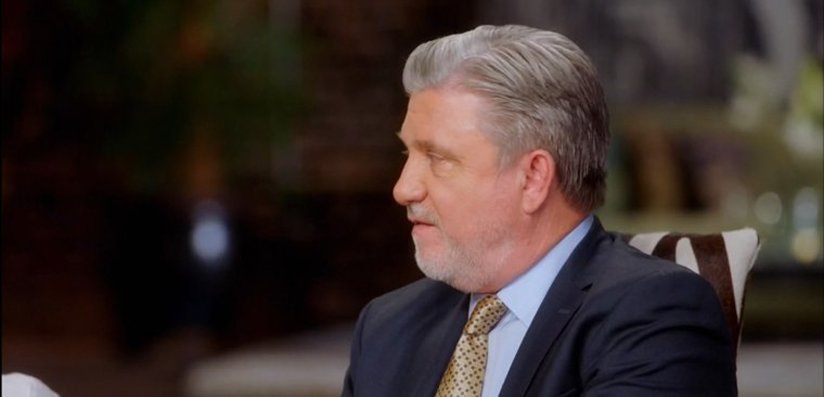 And he knows for a fact that I "attacked my ex-wife so brutally she had to undergo surgery and sustained permanent nerve damage." Now, THAT is classic hearsay. But that doesn't slow John down from launching into his opinion about hearsay:
How do you criticize something you know nothing about? But the critic will say, "Oh I heard so and so and so and so." Try that in a court of law and see where it gets you. NOWHERE. It's called "hearsay" and is not admissible as evidence or testimony in any way whatsoever.
The word "hearsay" comes from two words: "hear" and "say." And it means exactly that. You heard something, then said it. So these people are just a part of those #'s I was talking about in paragraph two (when I saved the world). It's that certain percentage that will be negative and not like you no matter WHAT you do, including saving the world. And that's not even a joke.
So, here is John, with some classic hearsay, talking about himself…
For point #2, I can tell you that to be totally kicked out of a Scientology church is hard to do. I'm almost laughing while writing this because I find it incomprehensible that some have managed to accomplish it—you would have to work hard at it.
Well, as I said John, I was not "kicked out" but right from the outset, your Founder kicked plenty of people out of scientology and declared them Fair Game and that they should be destroyed. Apparently it was not that hard. The vast majority of the "greatest staff in the history of scientology" (St Hill and WorldWide in the mid-60′) have been declared SP.
Scientology as a group is one of the most forgiving groups out there, without a doubt. Don't get me wrong, if you start causing real trouble, you won't be invited to be a member much longer. But this has to be extreme, and I can tell you that these "critics" did some pretty nasty stuff to the very church they were a part of. The Church pretty much had no choice but to tell them they were no longer welcome in our group. 
It's so funny how these guys just bleat the party line — "one of the most forgiving groups out there"?? Really?
And the "church" "pretty much had no choice but to tell them they were no longer welcome in our group" — you mean they claim this AFTER you manage to get away. When I left, I was not asked to leave, in fact John, I was being YOUR spokesperson…
Now these same people are out there criticizing Scientology? Laughable in the extreme.
It's only "laughable" to those who cannot confront the fact that there are ongoing abuses happening every day. Because you "don't see it" doesn't mean it doesn't exist.
And then, after making these brilliant points, he comes to the end and of course has to assert that scientology is doing SO much good for SO many people it's incalculable.
The fact is, Scientology reaches a whole lot of people worldwide. It does a whole lot of good for individuals, groups and communities wherever you find it. Just ask any REAL practitioner or parishioner of Scientology and you'll get REAL, educated opinions on the actual subject matter. Don't talk to the haters and the naysayers—about anything, for that matter. You are talking to a percentage of the population that would hate YOU if you caught their attention enough. And Scientology has caught the attention of a whole lot of people. And here's the deal: go fishing with a large net. When you scoop everything out, you'll get some fish, but you will always get your share of dirt and scum in that net. It's just a matter of math. Lots of fish and a little bit of dirt and scum and even some garbage here and there. We do a whole lot of good in society in Scientology and we unfortunately, like the fisherman, get our share of dirt and scum back. But be assured, we will continue to do lots and lots of good, as many of us have studied this exact phenomenon of "the haters" and know what to do about it, which means they cause no real concerns to us.
Oh yes, we will keep doing very well indeed, and help lots and lots of people.
Sorry haters! 
How about some facts to back up your claims? How many Clears and auditors have been made in the entire world in the last year? Total? Do you have any actual independent verification of these "good works" that are supposedly being done? If this is true, why can't you prove you provide a public benefit to the UK Charity Commission in order for them to grant you tax exempt status? This is one country where you actually have to prove your benefit to society and scientology has tried repeatedly and failed the test. How is that possible?
In the end, the only truth here is this, John. You are willing dupe who does what you are told to do despite all the evidence that smacks you in the face.