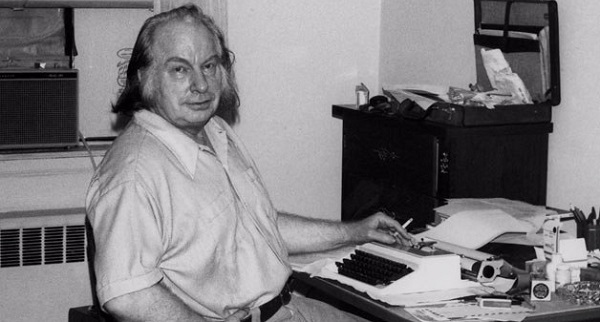 I wrote an earlier article: L. Ron Hubbard on Cancer
It is hard to fathom that this subject does not get more attention. It is a well-known fact in scientology that the answer to any condition or disease is to get a PTS handling and auditing to solve the problem. Unfortunately, because of this, many scientologists only resort to doctors when it is too late.
In order to stave off claims of practicing medicine without a license, Hubbard penned a few policies for PR purposes that say "we are not treating or healing diseases or illnesses," but those few statements are understood to be for the "wog world." The rest of what Hubbard said about this remains unchanged.
Here is a collection of quotes — not everything he ever said on the subject, but certainly enough to demonstrate that he sought to sell Dianetics and Scientology with promises that it would cure for cancer. All you need do is turn over your money and miracles of "the tech" would take it from there.
In Dianetics (May 1950):
Arthritis, dermatitis, allergies, asthma, some coronary difficulties, eye trouble, bursitis, ulcers, sinusitis, etc. form a very small section of the psycho-somatic catalogue. Bizarre aches and pains in various portions of the body are generally psycho-somatic. Migraine headaches are psycho-somatic and, with the others, are uniformly cured by dianetic therapy. (And the word cured is used in its fullest sense.)
The common cold comes about, usually, from an engram which suggests it and which is confirmed by actual mucus present in another engram. A number of germ diseases are predisposed and perpetuated by engrams. Tuberculosis is one.
…
At the present time dianetic research is scheduled to include cancer and diabetes. There are a number of reasons to suppose that these may be engramic in cause, particularly malignant cancer. This is remarked so that attention may be given to the possibility; no tests of any kind have been made on cancer or diabetic patients, and the thought is purely theory and is not to be taken as any kind of an avowal about a cancer cure. Those diseases which were catalogued above, however, have been thoroughly tested and have uniformly yielded to dianetic therapy.
…
The mechanisms involved vary slightly. All can be headed under "physical derangement caused by reduced body fluid flow."
Class 1 (b) of psycho-somatic ills, magnification of fluid flow, contains such things as high blood pressure, diarrhea, sinusitis, priapism (overactivity of the male sex glands), or any other physical condition resulting from a superabundance of fluid.
Class 2 (a) can cause such things as a withered arm, a foreshortened nose, underdeveloped genital organs or any other underdevelopment of a gland having to do with size (which cross-classes this with 1 [a]), hairlessness (which also like the rest can be part of the gene pattern and therefore inherent), and in short reduction in size of any part of the body.
Class 2 (b) causes such things as oversized hands, a lengthened nose, oversized ears, enlarged organs and other common physical malformations. (Cancer might possibly come under this heading as overhealing.)
April 7, 1972
I think California has laws that nobody can cure cancer. And they've just disobeyed that law in England because a doctor up there, who is a Dianetic Auditor, has just cured somebody of totally proven cancer. Has taken him over to the medical association and a big conference and so on, and displayed him complete with the X-rays and so forth. So, gee it's a good thing he didn't do that in California. We had an auditor, in 1950s, who was actually arrested for the fact of — proven conclusively, because he'd audited somebody and they had gotten well and it was against the law to cure that disease. He got off, there wasn't anything happened to him at all, somebody was just making a push on it locally. Pretty crazy, huh? Proved it conclusively. Against the law to heal it and he'd done it.
Lecture: EVOLUTION OF MAN ACCORDING TO THE FACSIMILE, Part II, 26 November 1951
Now, I would not feel any such security or certainty with sinus.  Although that's fairly easy to resolve in Dianetics, I just say you don't get a patterned package.  I mean it's not the same road to process.  Cancer, by the way, there was some discussion last night, I talked with Don.  Some possibility of cancer may lie along that line.  The individual in cancer you know, is probably, probably in conception or mitosis, as engrams.  The one he's in depends on the kind of cancer he's got.  Embryonic cancer is conception, no, mitosis, pardon me.  And malignant cancer is conception, merely because the fluids of the body at that time of generation are such-and-so and such-and-so, and they get into restimulation, then the embryonic cells can start swelling madly, or you start getting mitosis all over the place.  Well, fascinating business.  You see, you've noticed the birth wax on people's hands, occasionally when they're stuck in birth.  I can tell a person who's stuck in birth, snap, like that.  The amount of wax on his hands.
Well similarly, cancer introduces certain fluids into the system.  At the moment of conception there is a certain generation of nutritional growth balances, catalysts, growth catalysts.  And at mitosis you have another set of them to produce another effect, so that in either one of these cases you will get a type of cellular mal-or misgrowth.  The whole body then starts to produce these catalysts, and some germ cell left around starts to go wild.  That at least is a theory behind cancer.  Cancer is of little moment to it.  There aren't anywhere near the cancer patients in the United States as there are some others.  I say that it's of little moment us, because this is not a big goal.  A lot of good people go by the boards because of cancer.  But this is not a major point, and all I'm doing is bringing in the fact it's not a major answer.  All I'm doing is bringing in the fact that cancer may lie along this 1.5 band, and it would be interesting for you as auditors to see whether or not that holds true.  I know arthritis does.
Lecture: STRUCTURE/ FUNCTION: SELECTIVE VARIATION OF, 11 December 1952
You're gonna bust somebody's reality to glory with this sort of thing. You can already bust their.. if you just took one of these processes here, you could still bust their reality.
"Everybody knows that after a certain age, such and so couldn't possibly happen and the body couldn't heal about this and that." My God! We've turned off cancer and diabetes and leukemia and.. and so on. The.. actually auditors have hauled them off of death beds now for two and a half years and braced them up and put a couple of spikes through their hair to hold them up on the wall until a better process came along. But they are still alive!
Actually Dianetics and Scientology have probably saved several thousand lives – I don't know. I would say so because I kept.. I started keeping a case history on.. a long time ago, and it got too numerous and I couldn't keep it. Guys would just keep writing in. I wish I had it now, the.. the.. just what letters I had on the subject, and so forth, were once in existence. And they're not now.
Lecture: Rehabilitating Control of Memory, 3 December 1951
The whole point is why? I understand that there is an $18 billion research program going on at this present time which is going to investigate the enzymes in tobacco so as to stop cancer of the lungs. It is wonderful what people will spend money for. If you were sure that was the cause and you had $18 billion to spend, you wouldn't be spending it on investigating the enzymes; you would just say, "Well, that's probably the cause; let's just stop everybody from smoking." For $18 billion you could probably clear everybody in the United States of smoking without much trouble. Of course, it would disrupt commerce and the United States Treasury Department wouldn't like you.
It is highly doubtful if these enzymes have any effect whatsoever upon cancer.
We have worked on cancer a bit in Dianetics. We haven't specialized on it to any degree, but evidently cancer folds up rather rapidly. It is linked with a couple of very peculiar engrams clear down at the bottom of a bank. Evidently when you knock these things out (just at a guess: we haven't enough cases to really establish it), the fellow doesn't have them anymore; it goes away.
Lecture: THOUGHT AND PRECLEARS, 5 March 1952
That's right. And that's the way you can get glasses off. People are very interested in getting their glasses off by saying – if you put out a big rumor and said, "Glasses inevitably, 100 percent and all the time are the cause of cataracts. And anybody who wears glasses eventually gets cataracts.  And the rubbing of these things on either side of the nose produces cancer. Now, you've noticed those little red spots on this pinch, so forth here. That produces cancer because of the enzymes of cigarette smoke that gets under them," or something. And you would have everybody taking their glasses off, right now! (laughter)
Lecture: THE SCALE OF HAVINGNESS, 29 November 1954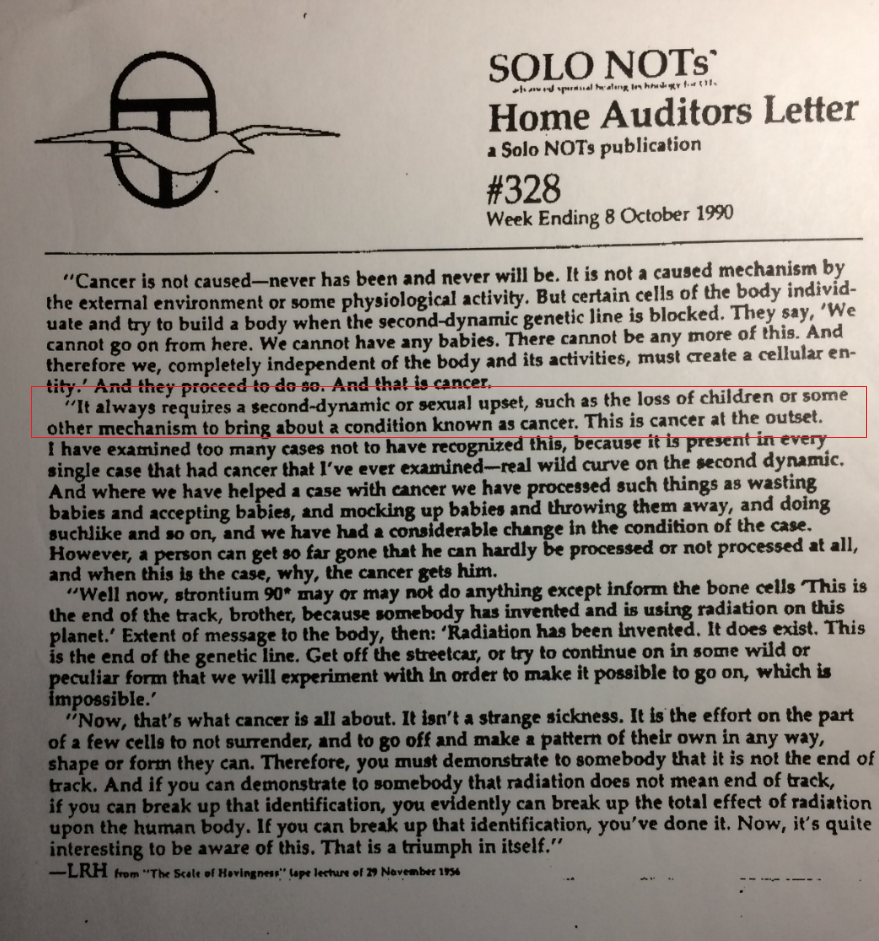 Now, some may say he was just "imparting" his research, and that this is not "current" scientology thinking.  But every scientologist knows this is not true: everything ever written or spoken by L. Ron Hubbard is true — this was published in 1990 as "fact" to Solo NOTs auditors. And that in itself is a rather remarkable thing, as it is NOT what Hubbard decreed in his NED for OTs writings (information which is confidential — only those who have studied NOTs are supposed to be aware of this) where he states cancer is a manifestation of Body Thetans (BTs).
Here are a couple of short excerpts about the NED for OTs Rundown steps to be followed on everyone:
The auditor now has the Pre-OT look at the body and in particular any somatic area or area of chronic somatics. [somatic means physical condition in scientology]
Phenomena You are Likely to Encounter on this step:
* BTs/clusters who are being broken legs, misformed arms, cancer, damaged brains, or other non-optimum body parts or conditions.
Cognitions or EPs Encountered on this step:
* Awareness that anything perceived as mass or somatic in the body is not the body, but comes from BTs/clusters.