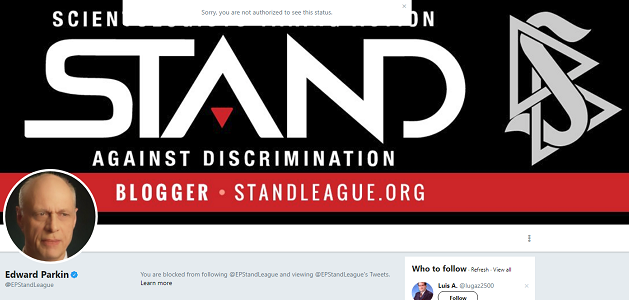 Another installment from the fertile, juvenile minds of the STAAD League.
One of their "bloggers" has a new take on Leah and me — we are "leeches."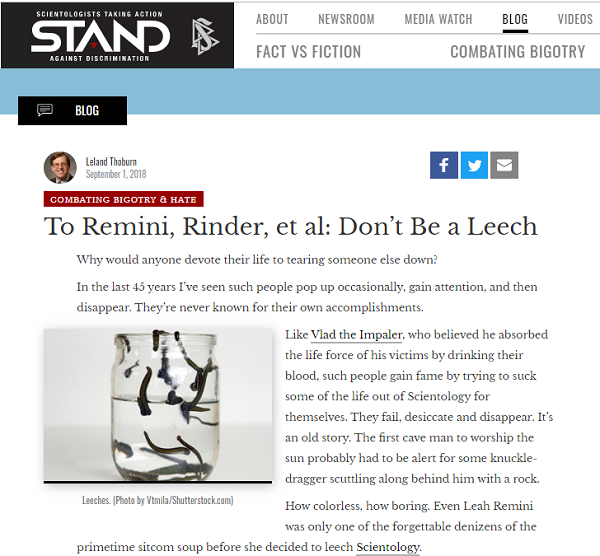 Here is how Leland Thoburn starts his rant: "Why would anyone devote their life to tearing someone else down?"
Well, funny you ask that Leland. I actually spent nearly 50 years of my life devoted to  building up scientology. I was virtually unpaid that entire time, and ended up with no money, no resume and no family when I left. So, unless this qualifies as devoting my life to tearing down the enemies of scientology, or perhaps "tearing down" psychiatry, you have started with a completely inaccurate statement.
As for my subsequent activities, I would not say my life is "devoted" to tearing down scientology, but it is certainly a large part of it. Why you ask?
Well, Leland, that's simple: scientology is actively harming and abusing people, destroying families and defrauding people out of their money. It needs to be stopped. I am in a position because of my experience and knowledge of the subject (which I would hazard exceeds yours many times over — I know you never met L. Ron Hubbard, have not worked directly for David Miscavige and probably were never even in the Sea Org…) I am in a somewhat unique position to bring those abuses to an end.
Would you ask Simon Wiesenthal why he devoted his life to tracking down Nazis?
Only if you were a Nazi.
Leland then goes on to liken us to "Vlad the Impaler, who believed he absorbed the life force of his victims by drinking their blood," (aptly describes most IAS Regges I have come across if you substitute money for blood) and "some knuckle-dragger scuttling along behind the first cave man to worship the sun with a rock." Leah Remini is a knuckle-dragger? I may qualify on this count, but certainly not Leah.
Ridiculous name-calling is a scientology specialty.
But then he says "How colorless, how boring." Seems pretty colorFUL to me.
And his big hit on Leah is that she was "only one of the forgettable denizens of the primetime sitcom soup" — coming from someone who is not known for doing ANYTHING by ANYONE, EVER this is pretty hypocritical. There are a very small number of people in history who have starred in a beloved, syndicated Sitcom. There are fewer of them on planet earth than even OT VIII's…
Leland then sails straight into outer space:
"Think of how many hours it took to launch a new religion like Scientology. Billions of man-hours."
Really, Leland? Billions of hours?
If you want to use that as the measure of its value then just think how many trillions of hours have been spent playing Fortnight… Must be much better than scientology eh?
Finally, here is Leland and his bio from the STAAD page. Obviously an authority on what others should do with their lives. After all, just check out his accomplishments. No doubt he attributes all he has achieved to his application of the tech…