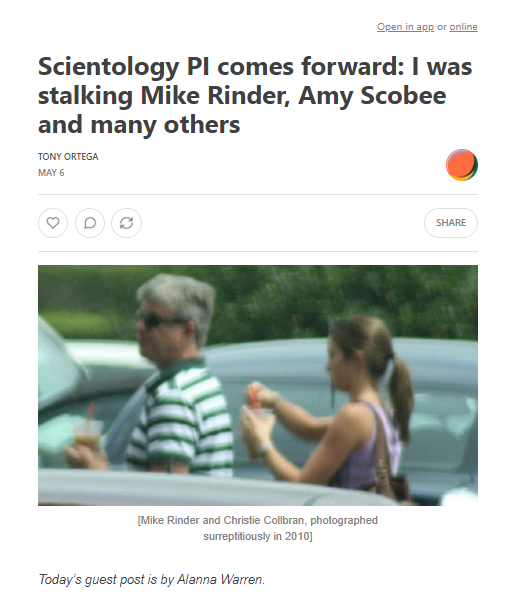 Tony Ortega posted this on his blog yesterday, and I am republishing it here today because it is direct information about me and scientology's Fair Game campaigns and I like to have a record of things like this on my blog.
See my earlier posts: The Story of a Scientology Spy  and Aftermath: Further Thoughts on PI's and Tony Ortega's coverage of scientology spy Cierra Westerman.
This is the piece, written by the 3rd woman to come forward who was recruited by the notorious Dwayne Powell out of the "PI School" near Orlando (and the third one he had a sexual relationship with)… Dwayne Powell is a real piece of work — you may recall he was one of the father and son team arrested stalking Ron Miscavige Snr with illegal weapons in the trunk their car. This is typical of the type of lowlife scientology hires to do their dirty work. Most people who care about their reputation don't want to have anything to do with scientology's spying/stalking/harassing.
Today's guest post is by Alanna Warren.
My name is Alanna Warren. In 2009 I started school at City College in Casselberry, Florida in the Private Investigation program, run under Michelle Morton. Several months after I started, Michelle approached me about an internship opportunity, and she had me go to Clearwater for an interview.
That is when I met Dwayne Powell and Terry Roffler. We met and had the interview at the restaurant Frenchy's Rockaway Grill. After the interview I was hired immediately. I was told no information except that it was a big corporate case.
I was made to sign a non-disclosure agreement stating that I would not talk about anything having to do with the case. If I did so then I was subject to be sued by them, $10,000 per contract violation. I was told that Terry Roffler was the one with the client and that Dwayne Powell was the lead investigator, and I was to work under Dwayne's supervision.
At first I was responsible for watching and following Amy Scobee and Mat Pesch. We had a motel room across from where they were living. We had a whole setup in the room, with cameras watching them. We had to watch them from the time they woke up until their lights went out.
One person would be in the room watching, while the other investigators were posted in different positions in their cars waiting for them to leave so we could follow them. We had a setup where we could watch them at their warehouse through a tiny hole in the woods that Dwayne said he personally made. I spent the first couple of days riding with Dwayne in his vehicle so he could show me the ropes.
When I first started following Amy and Matt, Dwayne said they were creatures of habit. They would leave their place at the same time every day to go to their warehouse. I was told they also liked going to either Sweet Tomatoes or Cracker Barrel for lunch. At one point we started making bets as to which restaurant they would eat at for lunch that day. At that time it was only me, another intern from City College, Dwayne, and Terry working the case. Dwayne and I would always go into the restaurants together to keep eyes on the subjects.
Dwayne and I became romantically involved shortly after I started working. At first I was hesitant because he was my boss and I was trying to start my life over with the career I had always wanted. However, he told me a story about how we had met years ago at the bar Cowboys in Orlando. The details that he told me no one would have known unless they were there that night. While we were seeing each other, we continued to follow Amy and Mat around for a few months.
Once Mike Rinder moved to Florida I was told to start following him. We referred to that part of the case as "Impulse," which was in regards to a company Mike was working for, Impulse Marketing Group. I was told that it was a fake telemarketing company that was scamming people.
Once I was moved to the Impulse case Dwayne's brother Devin joined the case along with two other private investigators Rick and Jon. We had 6 investigators total (or as we were called in the reports "Pros") following Mike, Christie Collbran, Haydn and Lucy James, and anyone else associated with them. Eventually three more investigators were added for a total of nine pros working the Impulse case.
Mike, Christie, Haydn, and Lucy were living in a house together off Riverview Drive in Tarpon Springs. We rented a place just a few houses down on the corner of the street. Devin and myself would take turns living at the house. We had a video camera and still camera set up looking through the side garage door towards their house. Either Devin or I would stay there all day and keep eyes on their house. The other investigators would be positioned in specific spots ready to follow when someone left. One time while positioned outside of the house at a park close by I was approached by Haydn. He knocked on my window and when I rolled it down he was very angry and said he knew I was working for the church and told me to stop watching and following them. I told him I had no idea what he was talking about, that I worked remotely and was just taking my lunch break. I had my lunch out and made it look like I had been watching a movie on my laptop. At that point my vehicle was considered "burned" and I had to go get a new rental vehicle. I still to this day don't know why they had me sit in such an exposed spot it was definitely not where I personally would have chosen.
We had GPS trackers on almost every single vehicle just in case we lost them in traffic. Since Mike was well aware that he was being followed we always had to keep a good distance from them to try and stay out of sight. If we were getting too close and had to back off, Dwayne would bring up the GPS trackers on one of his laptops so that we wouldn't lose them. I remember one time when Mike and Christie's GPS tracking device's battery died. We had followed them to the AMC West Shore 14 in Tampa, where they were going to see the movie Avatar. Dwayne and I went into the theater with them and sat several rows behind them. Halfway through the movie Dwayne left the theater. I continued to keep eyes on them so Dwayne could replace their GPS device with a new fully charged one. He texted me when he was done. Then I left the theater and went back to my car to wait for them to leave.
During my time working for the church we probably went through hundreds of rental cars. We would change them out frequently so that we wouldn't be "made." Dwayne would occasionally switch out license plates from the rental cars. Those were the license plates that they found on him when he got caught following David Miscavige's father Ron Miscavige in Wisconsin.
When Marty Rathbun and Monique came to town to visit Mike our whole focus shifted to them. The church thought he was there to speak out to news reporters about the church. We were waiting for them at the airport and started following them right away.
Other "subjects" that we followed and kept tabs on: Rebecca Backus, Laura Pinot-Lopez, Katrina James, Anthony Machalek, Tom Devocht, Alison Edwards, Chloe Edwards, Robert and Susan Almblad, Mareka James, Victor and Sofie Lefebvre, and John Brousseau.
It wasn't until later that I found out from a fellow intern that we were actually working for Scientology and following these people that had left the church to make sure they did not speak to any news reporters about what actually was going on within Scientology. At that point I had a huge problem with what I was being asked to do.
Also during that time I ended up getting pregnant with Dwayne's child. Dwayne told me that once Terry found out I would be pulled from the case because I would be a liability. Dwayne manipulated me and forced me into having an abortion, which he paid for. After being forced to have the abortion on January 4, 2010, I found myself in a horrible state of mind. I couldn't believe I had let him do that and for what? To keep following around all these innocent people just trying to live their lives?
All I wanted was to be a PI and help people. Instead I had become someone who was hurting people. So, I ended up quitting the case. Dwayne had me work a couple of domestic cases but eventually I stopped doing PI work all together.
For a long time I have stayed silent in fear of repercussions. Every time I told Dwayne I was going to speak out after quitting I was told not to because I would be sued. I was also told that Terry and a former PI co-worker by the name of Jon were following me. Dwayne even sent me a picture of my vehicle parked at my friend's apartment to prove they were following me. I am no longer scared of the church and want to speak out about what I know.
— Alanna Warren