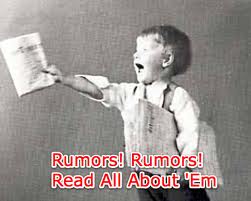 Sure seems strange to me that someone so actively promotes that they circulate rumors as far and wide as possible! 
And seems like they have to correct their "rumors" after each round…. 
Here is the latest:
From: Mike Smith <smith880@aol.com>

To: smith880@aol.com
Subject: June 14 Latest Juicey Rumors (#3) – and clarification of earlier
wrong data (on OT VII EP)-LRH Ref.

Hi Everyone,

Another round of great rumors, but first clarification of earlier error re:
OT VII:

OT VII:
There are apparently edits in a new version of the Grade Chart, which I am
told is now posted in LA Org, in the hands of at least some of the FSO staff
and supposedly on the way out to Class V Orgs. The right hand column of the
Auditing Grade Chart remains "Ability Gained", and it is in this column that
I have been told the new wording for OT VII ability gained is stated:
Able to begin the actual OT levels.

Here is the data I got from a Flag staff:

Dear Mike, If you read the attached quote and you look at the Grade Chart
you will see it doesn't say "EP" on the Grade Chart but it says "Ability
Gained".
Ml, Ondrei Ronhaar, FSO Div 6

"Anyone who is Clear but not OT III is to get through OT III immediately so
he can receive this special rundown. After OT III, one does New OT IV (the
OT Drug Rundown), then New OT V, Audited NOTs, followed by New OT VI (Solo
NOTs Auditor Course) and New OT VII (Solo NOTs Auditing). The EP of the
full special NED Rundown for OTs is CAUSE OVER LIFE.

LRH HCO B12 SEPTEMBER 1978R URGENT – IMPORTANT DIANETICS FORBIDDEN ON
CLEARS AND OTs

MORE TRAINING RUMORS:

Most of these rumors are from people who attended Flag graduation last
night.

Graduation is too big for the auditorium – the lobby, mezzanine, ballroom
and several other rooms are completely packed. And with over 170 graduates
on stage at once, (mostly Outer Org trainees on Golden Age of Tech Phase 2 –
GAT 2 study), the stage had to be reinforced in order to support all of them
at once.

A video was shown of students studying on GAT2 materials, but the materials
were blurred to make them unreadable. Rumor is that when COB arrived at
Flag, he arrived with many 10s of tons of materials. All LRH writings now
would make a stack higher than the Empire State Building. (And I thought my
bookshelves and garage were packed! LOL!).

There are over 800 Outer Org Trainees at Flag now. 170 of them are now
complete on the new Student Hat which takes an average of about 50 hours.
The Student Hat Lectures are not being done in 1/15 the previous time. One
sup with 10 years experience, and a great reputation in his local area, said
that "the New Student Hat changed his life". There are new "tools" or
"aids" that speed things up. Speculation: the new dictionary? other?

There are over 170 graduates of the new Metering Course, which takes an
average of about 70 hours. The speed-up is in part due to a new tool or
tools or aid or aids which give the student total certainty on operating an
e-meter, with no disagreements about a read or if it was instant.

Superpower:
Scientology "Axiom 1: Life is basically a Static.
DEFINITION: A Life Static has no mass, no motion, no wavelength, no
location in space or in tome. It has the ability to postulate and
perceive." LRH

My next briefing to you on Superpower will cover how the 12 Superpower
Rundowns, step by step, in logical sequence, restore one's ability to
postulate and perceive.

Getting yourself ready for Superpower!:

Would you like to get your pc folders reviewed to see what auditing you will
need to compete any incomplete actions and be set-up for Superpower? We can
provide this information to you through our lines to Flag. In this way you
can begin planning what you will do and when.

ML,
Mike
Mike & Val Smith, FSMs, WISE Consultants, OT Ambassadors
PO Box 24216
San Jose CA 95154-4216
408 269 6999 office/home
408 499 1153 cell
smith880@aol.com
"Expect Miracles"
He seems to have omitted the latest boondoggle that at least some OT VII completions are being told — that they have to do their L's before OT VIII!!!!  And the "Ability Gained" of OT VII is able to begin the actual OT levels??? You must have to wear waders to get through the bs that is spread around the "AO" these days. "New Grade Chart in LA Org" but nowhere else? Ability Gained is not the EP and the ability gained is then contradicted by the first reg that sees the person "ready for the actual OT level" (there is ONLY ONE).
Couple of other notes:
With 800 trainees at Flag, it is clear that THIS is the only thing happening in the RCS world right now….
Also clear that as the Flag auditorium seats about 800 people there aren't too many public attending graduation.
"The Student Hat lectures are not being done in 1/15th the previous time" — is this a freudian slip? Probably they meant to say "now" not "not." And if that IS what they wanted to say, I wonder if it means the State of the Art Sooper Dooper "Dissemination Center" has developed a 15x speed CD player that allows students to listen to lectures in 1/15th the time!! And they listen to this and just buy it. Critical thinking is not a strong suit of Mr. and Mrs. Smith… I know a 6 year old that would have stopped at that statement and gone "What? That makes NO sense." 
And then, the next email is all about the Freewinds???  It's "all happening at Flag" and you gotta be there, but absolutely the greatest thing is the Freewinds??? 
| From: Mike Smith <smith880@aol.com>
| To: smith880@aol.com
| Subject: A trip to the Freewinds…at Los Gatos Org! This Saturday

Hi everyone!

Going to the Freewinds is the biggest Key-out in Scientology, in my humble
opinion. The Freewinds coming to us is the 2nd best thing, and I just
wanted to share one win which one of our guys in Clearwater shared with us
last week.

They went to this same Freewinds seminar in Clearwater and got enlightened
on the contents and expected result of one of the on-board week-long
seminars. In that enlightenment, the realized a big long-term ruin which
they really wanted to get fixed which would be addressed with the tech of
the on-board seminar. But then later in the seminar, Emanuel Motl, the
main speaker, gave an LRH reference and drilled how to apply it, and that
handled the ruin!!! The were raving about the win.

The Freewinds guys probably wouldn't like me telling you that win (as they
would like everyone to go to the Freewinds), but I have to tell you, Emanuel
is that kind of speaker – one of the most inspiring in Scientology, and
along with Mick Davis, also that level of speaker, who delivers a large part
of the on-board seminars.

This local seminar is from 1 to 9:15 PM, but it is actually a series of
seminars, so any part of that time you can come, you'll get great tech and
great wins.

See the promo below and please email me back with a yes or no so food can be
planned for. Or call the numbers below directly.

ML,
Mike
Mike & Val Smith, FSMs, WISE Consultants, OT Ambassadors
PO Box 24216
San Jose CA 95154-4216
408 269 6999 office/home
408 499 1153 cell
smith880@aol.com
"Expect Miracles"
And here is the promo piece for that Freewinds seminar:
I guess they haven't postulated a spell checker into their life to help them deal with this PowerfulL LRH tech….
And to get this amazing information from the "top seminarist" will only cost you $30 (unless you "buy now" and then its worth $20). Or if you just show up they will let you in as they can't deliver a seminar on postulates if their postulates for people to show up somehow don't work out….