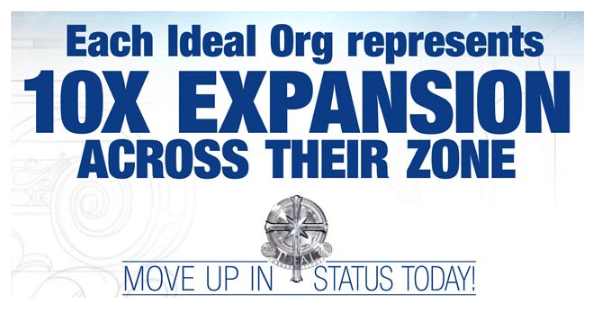 The Kansas City and Columbus "ideal orgs" are supposed to open over the next 2 weekends.
This is no surprise — Miscavige probably stayed in the UK and is flying directly to Kansas City for the opening, which is why it is one week after the IAS. It is also timed so he could get a double whammy -announce it at the IAS and then show the ribbon yanking as main topics To prove massive international expansion at the New Years Event. He could not have an entire year with NO "ideal orgs." Back in the good old days he had them at each event throughout the year.
Remember the hullabaloo about "doing it all simultaneously"? That was never meant to be an indication that all ORGS would be done at once. It was an admonition to get all the ELEMENTS done simultaneously. Fundraising. Staff recruitment. Staff Training. Files.
Often these orgs would fundraise for YEARS because that was what was demanded of them. Then they would find they had the money ready for the building but no org. CF was backlogged. There were no staff. They didn't have tech and executive trained personnel. So, the new battle cry became "Give is your money, join staff and devote time to preparing the org files."
But they are a LONG way from achieving this objective. Remember the recent post about Chicago needing 268 staff to be ideal? This is apparently the requirement for all "ideal orgs" though none come close to attaining it. Chicago won't have 268 staff when it opens (or ever).
Hell, Columbus is still trying to round up their first 100 — and they are opening a week from today.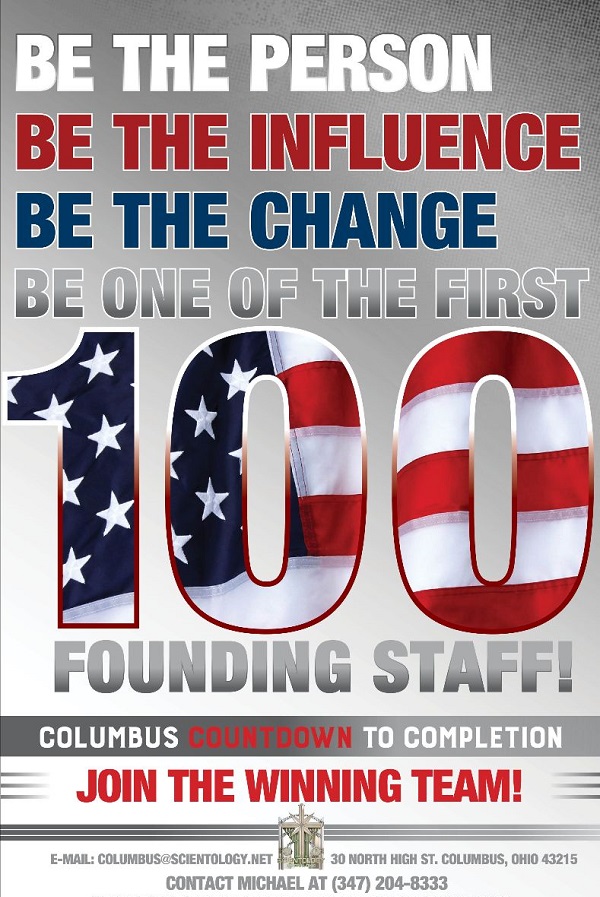 As has been said many times before. The "ideal org" scam is an internal PR campaign to convince scientologists everything is hunky-dory.
They accept that these are "new" orgs. For the most part they can no longer convince the external public of this. There has been no "NEW" scientology org on earth since Harlem and Inglewood.  There are LESS scientology orgs today than there were in the 1990's.
And none of the new buildings they've dedicated have anything close to a full complement of staff. They round some up with initial promises of how wonderful things will be when they "go ideal" but reality sets in quickly and those who were conned into joining leave. They even subsidize housing and bring staff in from out of state or even outside the country… You simply need swing by any of these recently opened "ideal orgs" to see just HOW ideal they are. Detroit. Orlando. Salt Lake City. Atlanta. They are back to the struggling shoestring operations they always have been. Scientologists, the supposed masters of "confront" do NOT want to look at these orgs. They would rather buy the fantasy that are sold at the events.
And just as a final capper. Let's not forget that this is all based on the enormous lie that this is what L. Ron Hubbard said they should be doing "building Ideal Orgs". But if any of these blind mice actually READ what Hubbard said (now hard to find because they can no longer buy the books that contain the policies he wrote) they would find this policy. Just to highlight the insanity, you will see the ONLY references to the premises highlighted in yellow. And nothing about "information displays" to replace people. Or putting CF into new folders.