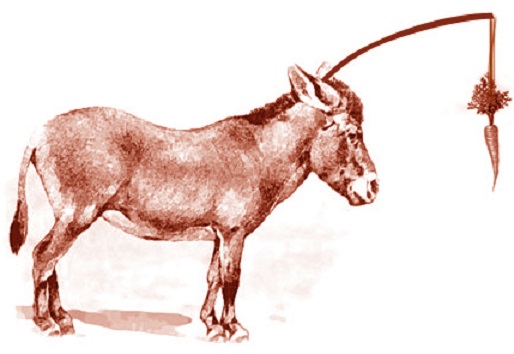 Remember when the prerequisite for OT IX and X was that you had to be a Class VI auditor and all specialist auditor training courses?  And thus the OT VIII's were all being hammered to get on auditor training…. Could not do that these days, as there is no Briefing Course.
Of course, like most of what happens in the church of scientology today — this is a moving goalpost.
The prereqs are whatever thing Miscavige is pushing as his latest fad.
After Class VI the "prerequisites" became that they had to do the Basics to be allowed onto OT IX and X. And then the Congresses and ACCs were added when they came out.
The message is always the same "we are preparing for the release of New OT IX and X, so you need to do _____ now."
Here is the latest email.
And note, if you did the Purif before November 2013, you have to do it again to "be prepared" for the non-existant "New OT IX and X" (wonder what happened to the "old" OT IX and X?). And the "Survival Rundown" and "new" Student Hat.
These things are actually prerequisites for BOTTOM OF THE BRIDGE auditing and training. This carrot of New OT IX and X as way of tricking "OT VIIIs" into buying and doing the latest gimmick is pretty old and moldy now. But it's "worked before" so they just keep hammering the same drum.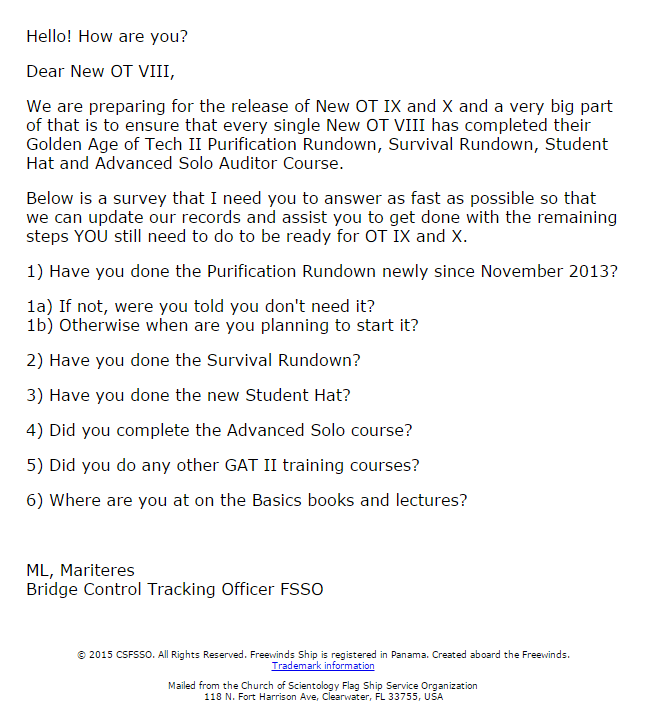 Now, to give a VERY stark example of the lies that are fed to the faithful to keep them on the hook, take a look at this from 1993.
Yes, more than 20 YEARS AGO.
And yes, more than 20 years ago, Miscavige was promising that "New OT IX and X were closer than you thought." Right.  If you had asked those people whether that meant "more than 20 years" they would have laughed at you. And then read the rest of the utter bs that is dished up in this 1993 newsletter and marvel at the level of the lies that are told, and also at how they can keep telling the same lies over and over and apparently there are still people who don't notice.
They are so blinded by the bs and the NEED to believe this is true that they can literally be told ANYTHING and they will buy it.
These "OT VIII's" have been hearing these lies for more than 20 years. And these are people that supposedly have cured their amnesia on the whole track? Apparently they have also been GIVEN amnesia on their most recent past….
Frankly, if these people have reached the pinnacle of the bridge and thus by scientology's own claims are in the best spiritual condition, the smartest, brightest (remember, every auditing level, including the Purif supposedly raises your IQ) and most aware beings that scientology can turn out, they are a pretty poor advertisement for the efficacy of scientology.
After 20 years of being told the same lies over and over — proven to be lies because what is said is "going to happen" NEVER HAPPENS — even someone with the LOWEST IQ and LOWEST AWARENESS would figure out they are being led down the garden path….