Fast Eddie Parkin put out a beauty of a brown-noser tweet a few days ago. Even by Eddie's low standards, this one was exceptional.
His 60,000+ "followers" managed to put together 4 "likes" and 8 of the 10 comments were, to put it kindly, not complimentary of the COB.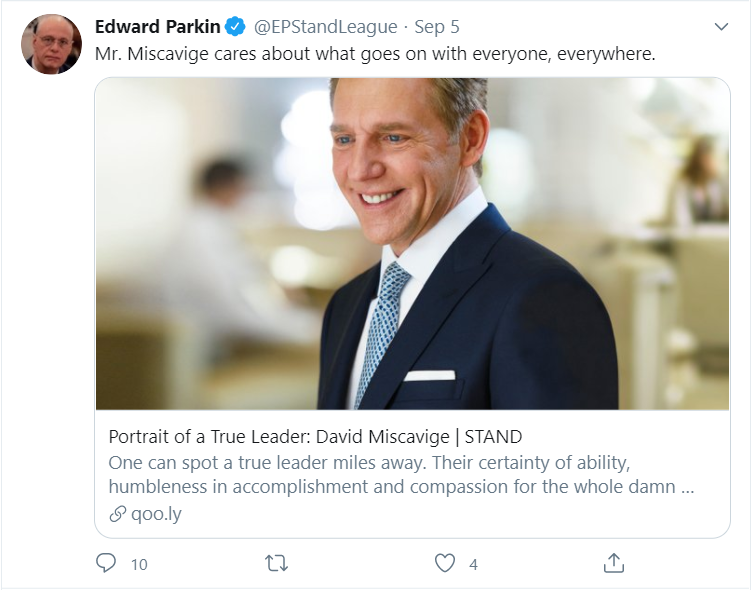 Then I clicked on the article. OMFG. It runs the gamut of obsequiousness that would be embarrassing for anyone other than a dyed-in-the-wool sociopath.
I am not going to rehash it here, I will simply excerpt the fawning descriptions of the great man by one Joel Anderson (someone who may have shaken hands with Dear Leader at an event, but actually knows NOTHING about him). The North Korean press agency would have a hard time cramming as many descriptions of their Dear Leader into a dozen or so short paragraphs:
leaders are born, not made
possess the tenacity and character to do so compassionately and effectively
bettering the lives of one and all
their pay is not in dollars, it's in the help they give and watching that help blossom into the happiness of others
certainty of ability, humbleness in accomplishment and compassion for the whole damn world and every person in it 
can be trusted with your very life
it doesn't matter if you're a millionaire or a bum, you're treated the same by a true leader and walk away feeling like a king.
rolls up his sleeves and fights in the trenches right alongside you if he has to
he doesn't care about the dangers and does what he must in spite of them to safeguard and advance his group's goals and purposes and those of every individual in it.
he is a crusader, not a martyr
I have had the good fortune of knowing many great leaders in many professions and industries, but one stands out above all others: David Miscavige.
Mr. Hubbard trusted David Miscavige
nothing short of miraculous
cares about what goes on with everyone, everywhere
always fought for the freedoms of all
works to restore honesty, integrity and responsibility across humanity
not only is he a true leader, he is also sincere, friendly and full of heart
a true leader and a true friend.
And scientology rejects the label "cult."
This is a classic criteria of a cult. This is not an article about David Miscavige, it is a suck-up for revered, perfect, super-human leader of his flock of devoted worshippers.