The insanity of this is hard to comprehend.
Here is an "OT VIII" proudly announcing the miracles of running in circles. For the SECOND time!
If the theory of the grade chart is true, one advances step by step from the bottom to the top, each successive step building on the one before. You are NOT allowed to even see the OT materials until you have attained the steps below, and the same goes for each successive OT level after that. OT VIII is confidential until after you have completed OT VII, been declared eligible and paid for OT VIII.
The so-called "Cause Resurgence Rundown" which was announced by Hubbard as being based on "whole track recall" was originally used to "straighten out" (punish) David Mayo and subsequently Sea Org members at the Int Base. Miscavige dispatched many who displeased him to the "Running Track" to "run around a pole" until they were contrite and "cured" of their "evil intentions and false purposes, " Some did this every day for weeks or even months. Others would be sent there (like me) for a day or a few days until Miscavige needed us for something or thought we were enjoying being out of the hot seat too much.
The Running Track at Gold was outside, and the "pole" was a palm tree. This is what it looked like: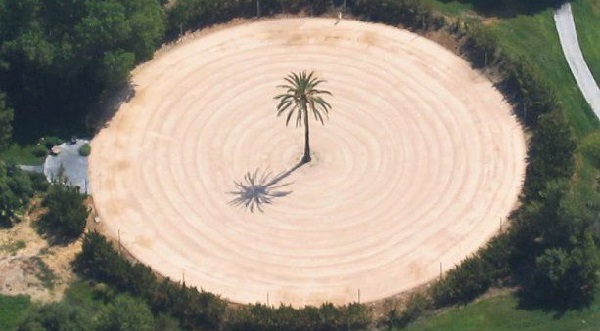 It was bulldozed over after stories about it ran in the St Petersburg Times.
It's worth noting once again that the ENTIRE "Cause Resurgence Rundown" consists of running in circles. Ideally it would NOT be done in a body according to L. Ron Hubbard — the physical exercise forms no part of this "rundown." Which is why I have made a firm decision that if I ever decide to do it again I will opt for either driving a golf cart around in circles or take a seat on a carousel.
This "rundown" needs no auditor. No Emeter. No "commands." No "comm cycle." No "auditor plus pc is greater than the pc's bank" — all of the things promoted to be what makes scientology superior to all other practices, and the very things that guarantee it works 100% of the time. Somehow simply running in circles trumps all that stuff? Even OT VIII?
And the expected result from this is just temporary?
And still people for over $5000 for the experience? Proof of the old adage "there's a sucker born every minute."