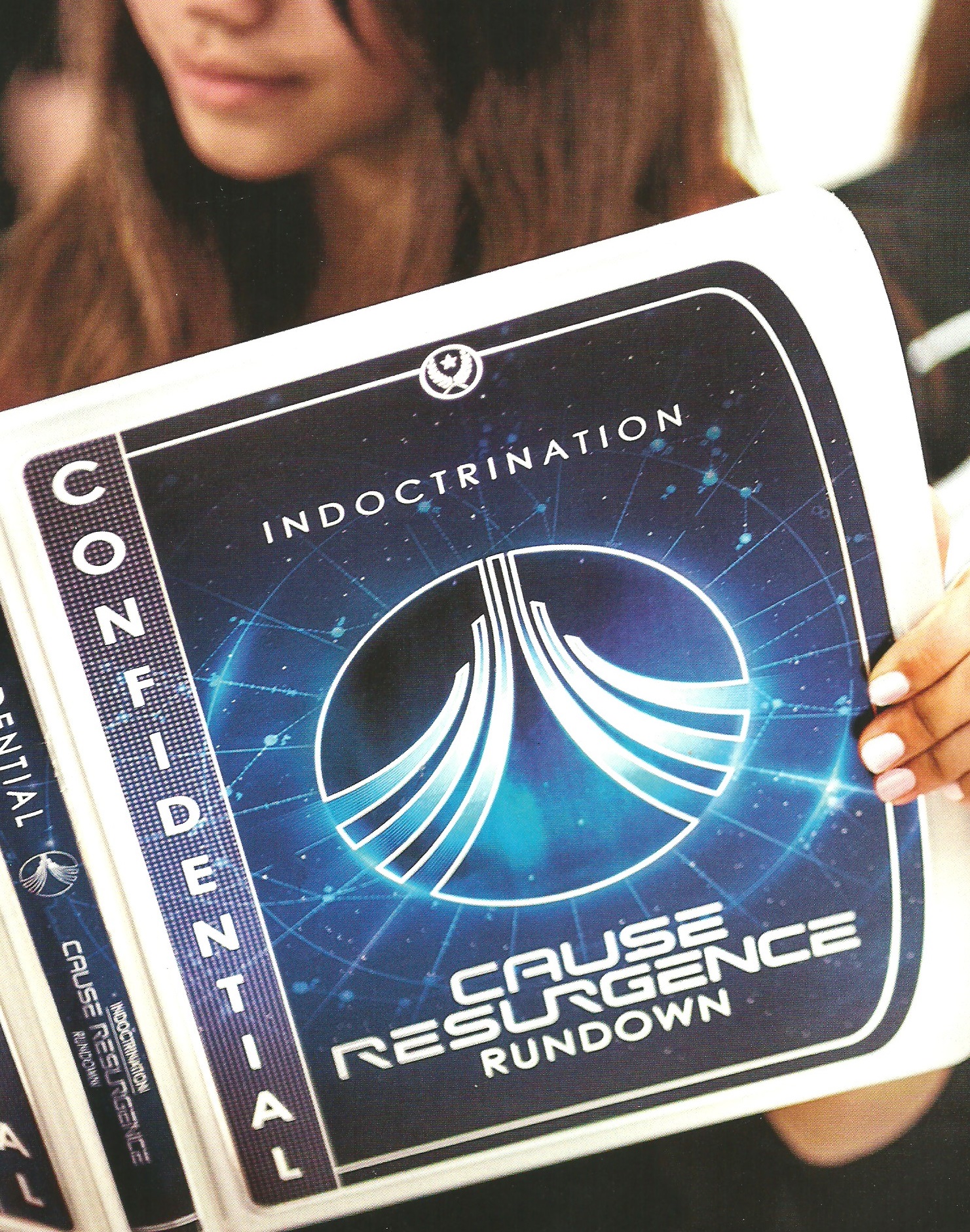 They are going all out to hype the Running Program in the latest edition of Source mag.
It begins with the full page shot of the "Indoctrination" pack – conspicuously labeled "CONFIDENTIAL."
First, if they converted the "LRH advice" into an "HCOB" then this huge binder contains 3 pages. There is only one document that describes the Running Program. It was handed out in a file folder to those of us who were assigning to "running around the pole" full time back in the days when there was still a running track at the Gold base.  This "pack" is a single issue. I am sure it has ballooned with glossaries, indexes and pages off descriptions about running shoes and how to wash your shorts and t-shirts.
And all of the added dreck is about as confidential as the original "tech" of the "rundown."
It consists of statement by L. Ron Hubbard that he discovered this as a "whole track process" of a "thetan" picking an object in space and circling it "until he regained his sanity". Never explained is how a thetan operates in the physical universe without any body and why a thetan (not a part of the physical universe) would find this beneficial and not just a dizzying experience. But LRH said it, so it has to be true.
And somehow that "whole track process" is translated into running around a beam of light (used to be a palm tree, before that an oak tree) because a thetan in a body is the same as a thetan "floating" in space or something.
Whatever the theory and the reality of any of this, the fact remains it is about as confidential as the recipes on a cereal box.
And the hype just builds from there.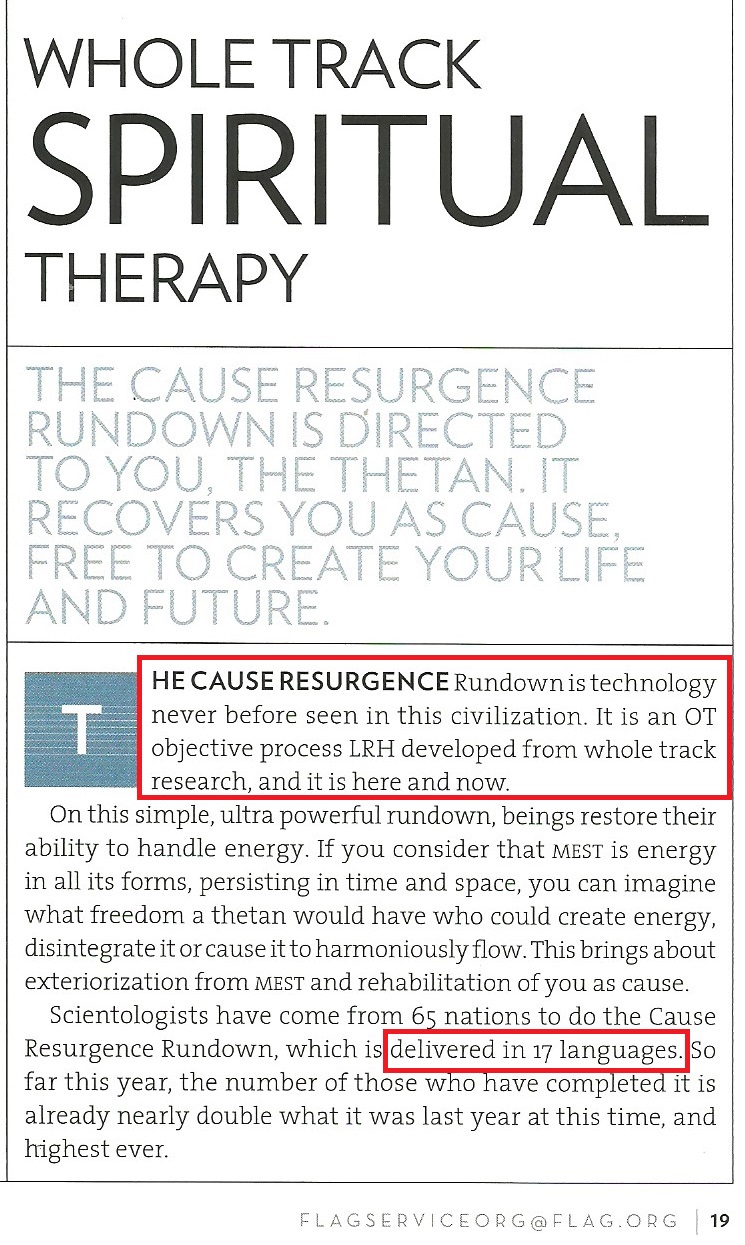 Running in a circle has become a "technology" because there is someone there to tell you to "keep running"? And it's not just a technology, it is a technology "never before seen in this civilization."  Wonder what they define as civilization here? 21st century US? Recorded history of mankind? This planet? Who knows, but no matter the answer, it's nonsense.
And "delivered in 17 languages" is just bizarre. Meaning they had someone translate the 3 pages and learn the words "Keep Running" in 17 languages?
And then they roll into the "success stories" and they go on for pages. I include one of those pages to give a flavor of the hype.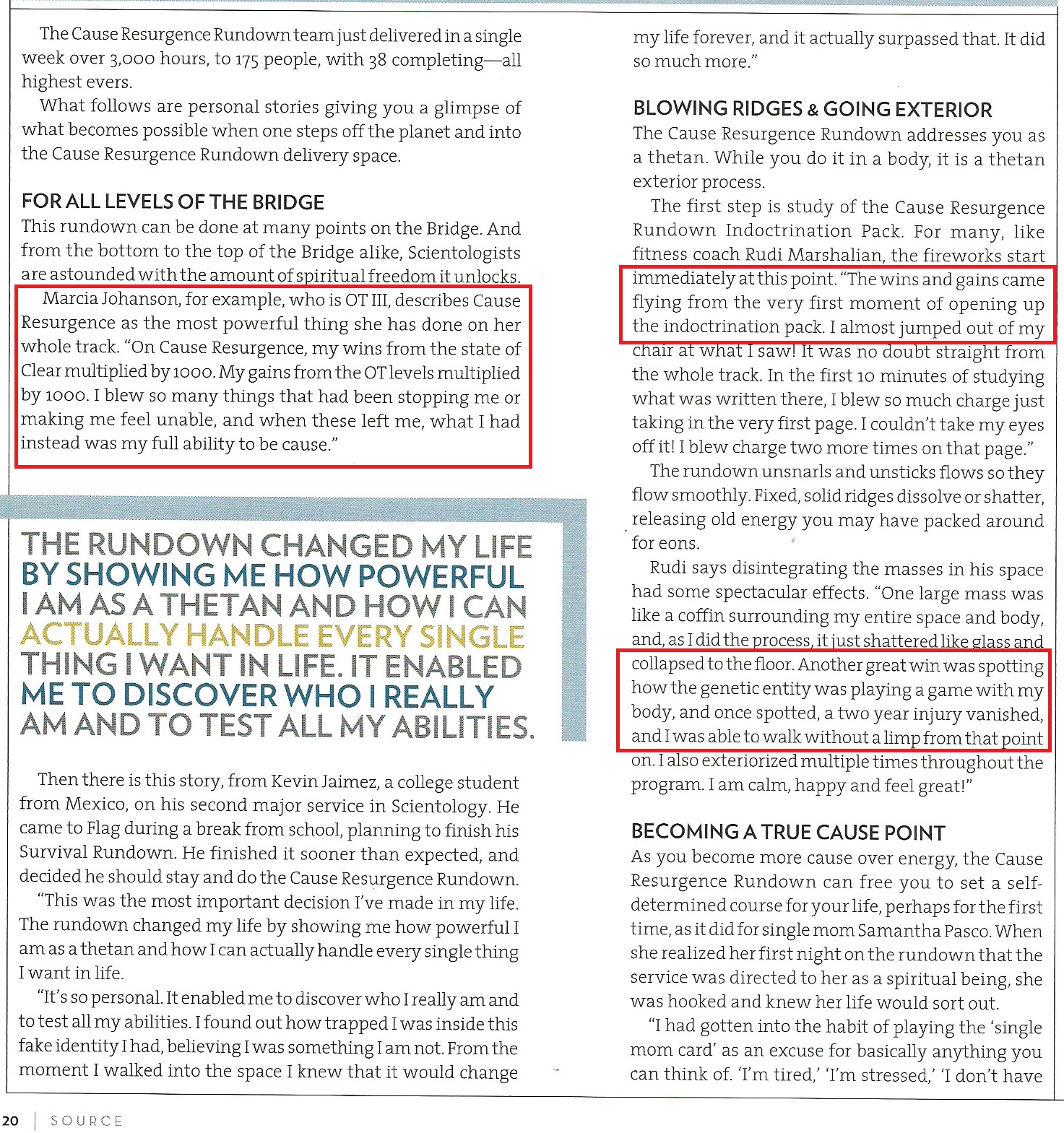 Marcia Johanson takes the cake I think. In a single sentence she disses Clear and OT 1 -3. The "wins" from running around a pole exceeded Clear and OT III by 1000 times. Wow.
Rudi Marshalian went into a euphoric state just reading the materials.  Wow. I guess he doesn't realize it's called an "Objective" process. He probably doesn't even know what that means. And he spotted the "genetic entity" was making him limp. This guy needs to come back to earth.
And then "The Numbers" — meaningless dross intended to look impressive. But it does stress that you can be regged for this over and over and over. It is unlimited in its income making potential.

If this "rundown" is so powerful it can "pull a person out of anything" one has to wonder why it is not available everywhere?  They don't want this powerful whole track process to be had by everyone?