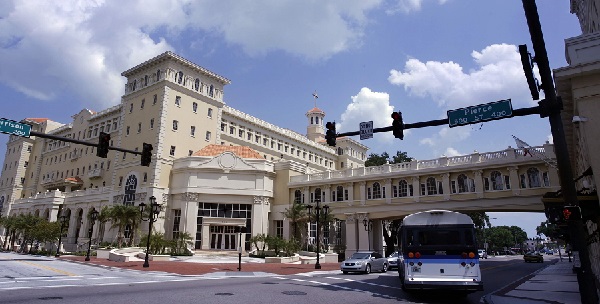 Here is a perfect example of why scientologists cannot be trusted in positions where they are supposed to act in the public interest.
Paris Morfopolous is the poster child of a fundamentalist scientologist. He has been a scientology business owner that has relied on scientologists' patronage in downtown Clearwater for decades. He is the head of Clearwater's Downtown Development Board. Tony Ortega's article describing Morfopolous' rant against Mark Bunker at the most recent DDB meeting tells the most recent story of his dedication to following the dictates of L. Ron Hubbard.
With the recent election (the only people eligible to vote for membership on this board are those who own land in a proscribed area of downtown Clearwater dominated by scientology and scientologists), Mr. Marfopolous now shares the board with 3 other scientologists — forming a majority. This is a first in Clearwater, and almost certainly in the world (if anyone knows of any other elected board dominated by scientology I would be curious to hear).
The latest tempest in a teacup began when one of the other scientologists on the board (Ray Cassano) claimed that you can be a scientologist and a christian and that most scientologists are christian. This is a PR line scientology tries to run to make themselves seem "normal." I discussed this in an earlier post: Can Scientologists be Christians or Jews Too?
Simply, this "I am a scientologist and a christian" is a lie.
Scientology relies on the fact that the casual observer does not understand what they are about or how they go about their business. Unfortunately for the scientologists on the DDB, Mark Bunker does understand and he called Cassano out.
I also did an earlier post about why scientologists lie: Why Do Scientologists Lie?
And there is a third very relevant posting to this subject which describes what transpired next: Dealing with Critics of Scientology — the L. Ron Hubbard Playbook.
What is described in this posting is exactly what rolled out. Calling out a scientologist in public is seen as an act of war. It must not go unpunished or unresponded to.
So, Mr. Morfopolous took the time, going outside the agenda and the normal protocols of such meetings, to read a prepared statement about Mark Bunker. It seems that because he was running the meeting, he could do whatever he wanted. The statement is typical scientology "Dead Agent" propaganda, most likely prepared for him by OSA. He compared Mark Bunker calling out Cassano's lies to Hitler persecuting the Jews. This is a favorite ploy of scientology — to claim victimhood and accuse anyone calling them out as being "bigots" and haters and quickly following the law of Godwin.  Paris even claimed "I did not seek him out" — though he did get himself elected to a public board and allowed what he knew to be a lie to be told by one of his other board members and now claims victim status when the lie is exposed. And he did in fact seek him out to call Mark Bunker a pedophile on the street 20 years ago.  He labelled Bunker a "professional bigot" who "follows children"… This is all very predictable scientology tactics. You can find endless websites with the same sort of diatribes about me, Leah and anyone else who has ever spoken out about scientology's lies and abuses. Paris even lumped the Tampa Bay Times in as part of the "hate campaign" against all scientologists. Remember, this is a response to Bunker exposing the lie stated by Ray Cassano in the earlier meeting.
Paris asked what would happen if this you substituted Jews for scientologists in his effort to equate this act of brazen persecution with the Holocaust.  A more relevant question would be: What if a random citizen had taken their 3 minutes for public comment and complained that the Mayor had lied about something? And even proved that he HAD lied. You can bet they would have been thanked for their comments and moved on to the next commenter.  It would not be turned into a huge deal.
But scientologists cannot do that.
They lie. If someone calls them on their lie, they HAVE to attack. It is what L. Ron Hubbard dictates.
Whether their action is good for the city of the citizens of Clearwater has no bearing on the matter. It is what Hubbard says to do — so it is what scientologists do.
No protocol, rules or even laws constrain scientologists when it comes to following what Hubbard says. The interests of scientology will ALWAYS come first.
Scientologists absolutely believe what is good for scientology is good for everyone, whether the non-scientologists know it or not. Scientologists know they are superior beings (because Hubbard told them so) and they alone understand what is good for people — even if those people don't yet see it themselves.
No scientologist can ever put the interests of the city, or the citizens before the interest of scientology. It is precisely for this reason that they cannot be good elected representatives.
And it is precisely for this reason why the City of Clearwater needs Mark Bunker on the city council. Someone who knows scientology's moves and motives. Someone who recognizes their lies and understands their policies.
Go to his website Markbunker.com, let's get him elected.