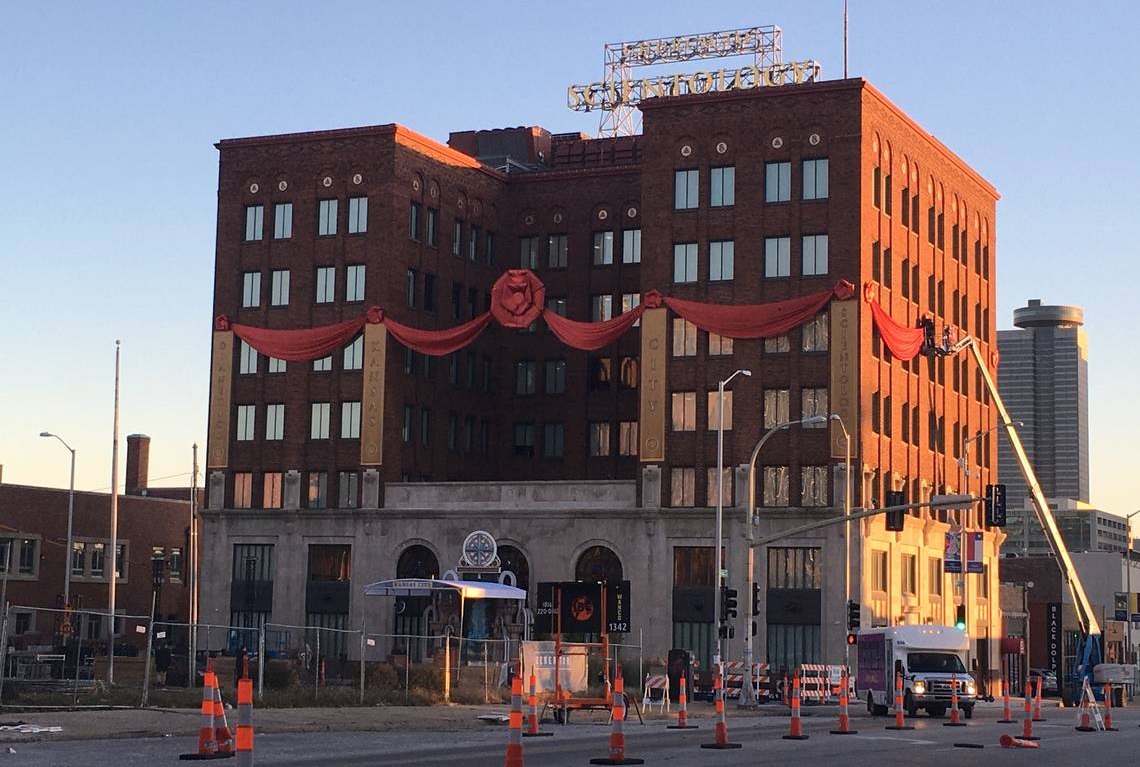 It seems the media is becoming more aware of the truth about scientology.
This recent article in the Kansas City Star is not the sort of "goodwill" and "PR area control" scientology was hoping to garner from opening their new "ideal org" and launching into a PR offensive for the holiday season.
The title of the article alone is enough to send shivers down COB's spine: Kansas City's Church of Scientology opens a Winter Wonderland: Is this some ploy?
Ploy you ask? Ploy?
You can read the full article at the link above. I have a few thoughts about it.
Following the evocative headline, it really gets off on the wrong foot from scientology's perspective:
The Church of Scientology has invited the public to its outdoor Winter Wonderland across from its new location at 18th Street and Grand Boulevard. 
L. Ron Hubbard, the late science fiction writer and founder of the controversial and often maligned Church of Scientology, told his followers in 1968, "There was no Christ."
And it descends into SP-dom from there. Committing the media equivalent of a High Crime, the author cites to the dreaded "critics":
Scientology's critics (they are many and outspoken) claim this and other such Winter Wonderlands around the country are a public relations ploy to draw in followers and "normalize" a church long alleged to manipulate its adherents. Yet one church spokeswoman said it's simply an event to celebrate the season, celebrate their opening and to make their greater presence known.
Somehow, Kansas City has a spokesperson who actually engaged with the media? This will probably be her first and last appearance:
"First of all, I don't know where the information about disavowing Christ came from," said Bennette Seaman, public relations spokeswoman for the Church of Scientology of Kansas City. "Scientology is a multi-religion. You can participate in any religion and still be a Scientologist. I happen to be a Baptist, so I believe in God."
Ouch, even I could feel the pain of that footbullet. "I happen to be a Baptist, so I believe in God." And if you weren't a Baptist, but just a scientologist, presumably you wouldn't believe in God? And what are you doing being the spokesperson for scientology if you are a Baptist? There are no scientologists around to speak?
As for the "I don't know where the information about disavowing Christ came from" — a very fast google search will help you out. Actually, you can jut read on in the article.
Seaman, with five children and six grandchildren, said she's been a Scientologist since she was 19.
Oh dear, they then commit the second High Crime of journalism and mention Leah Remini and Going Clear:
Leah Remini, who played Kevin James' wife on the TV Show "The King of Queens" and was a Scientologist for 35 years, now uses air quotes in calling Scientology a religion and, in her book "Troublemaker: Surviving Hollywood and Scientology," has declared it a "cult" that does bad in the belief it is doing good.
In 2015, HBO released the documentary "Going Clear: Scientology and the Prison of Belief," which catalogs what it presents as Scientology's long history of deception, manipulation and even intimidation of followers who challenge the church.
Seaman has a wonderful response to that: "Most of the controversy comes from people who just don't like the church."
Not exactly the definitive Dead Agent there Benette. Perhaps people don't like scientology because it defrauds and abuses them? "Most of the criticism of the KKK comes from people who just don't like them." Handled the hell out of that one….
Oh dear, journalistic High Crime #3. Citing to an expert that scientology has not paid:
"Scientology has no relationship with Christianity, other than using various Christian ministers as ways to legitimize the organization," said Stephen Kent, a professor of sociology at the University of Alberta, who has long studied and written about Scientology. "Theologically, there is no connection. In fact, one can find passages in Hubbard's writings that deny the reality of Jesus."
Oh shit, he is running the table. Now he mentions Tony Ortega:
There are also recordings. On his Scientology-critical website, The Underground Bunker, journalist Tony Ortega has posted audio of a 1968 recording of Hubbard aboard one of the Scientology ships, part of what it called Sea Org.
And it gets worse still, now bringing up the dreaded Xenu.
In the recording, Hubbard presents an origin story. He speaks of an intergalactic leader named Xenu or Xemu that existed some 75 million years ago. There had been a civil war. He brought the corpses of individuals down to Earth, then known as Teegeeach, cast their bodies into a volcano, which was ignited with hydrogen bombs. (The cover of Hubbard's book "Dianetics" features a volcano.)
After the explosion, the individuals' thetans, released from the bodies, would eventually be implanted with memories and take refuge, either individually or in clusters, inside of human beings. One of the memories, which Hubbard called R6, contained the concept of Christianity.
"Somebody, somewhere, on this planet, back around 600 B.C., found some pieces of R6," Hubbard says on the recording. "I don't know how they found it, either by watching mad men or something. But since that time, they have used it, and it became what is known as Christianity: the man on the cross.
"There was no Christ. But the man on the cross is shown as every man, so, of course, each person seeing a crucified man has an immediate feeling of sympathy for this man. So you get many PCs who say they are Christ."
But never fear, the Baptist spokeswoman will deal with this:
Seaman insisted the story of Xenu has not been part of her Scientology experience. In books and documentaries, former Scientologists have said it is only revealed to people who have reached the church's highest auditing levels.
"I have never studied anything like that," Seaman said of Xenu. She also said that some recordings of Hubbard are not considered valid by the church.
"All I know is that there were a lot of materials put out a long time ago that were not official things of the church," she said. "The church has been going through a huge evolution of cleaning that stuff up. Meaning, ensuring that all the materials from Scientology are true and from the founder. They've gone through recordings and books, and anything that was written, to make sure that it is all there as he (Hubbard) intended it."
Ah yes, Xenu is "old material"… (But I have to give her some sort of pass here, she is forbidden to acknowledge Xenu publicly — I did the same thing when I was a spokesperson). But then again, being a Baptist, she probably hasn't read OT III. Actually, most scientologists in places like Kansas City haven't read OT III.
Then she ponders the imponderable:
She said she doesn't see why the church is so controversial.
"It's hard for me to understand," she said. "'We have so many programs that are good for the community. We have a huge, truth-about-drugs program. Happiness: There is a moral code for society that any religion can utilize. They are just things that are good for society. That all we want to do is help."
And her question then gets answered for her with information and quotes from Tony Ortega and Stephen Kent about front groups and the fact that while they are opening new buildings, the membership is shrinking.
Of course church lady says it's just the opposite. But not very convincingly.
The final nail in the coffin of the massive expansion is the sad description of what the grand opening of Winter Wonderland entailed:
But when the event launched on Saturday, about 60 people gathered in the bitter cold to watch Santa and Mrs. Claus switch on the lights of a miniature North Pole village, with signs on candy-cane posts for the Cocoa Cabin and Santa's Stables, for pony rides, crafts with Mrs. Claus, a food truck and photos with Elsa of Disney's "Frozen."
60 people? Now that's flourishing and prospering.