Scientology is taking to the airwaves (sort of) tonight. It's interesting times.
They put out a press release that resulted in this story in THR:
This story highlights just a few of their problems.
They have nobody willing to talk to the media, and apparently these days, nobody willing to respond in any way. Not the recipe for success in this field.
Every story that mentions scientology tv is going to mention Going Clear and The Aftermath — that favor will not be returned. Scientology TV is  a novelty that will be forgotten fast.
A quick scan of the comments on this story exemplifies the derision and contempt the general public has for scientology.
The so-called "deep bench" of celebrities is going to be another Achilles heel — "why aren't they appearing in any of the programming"? It's the ONLY thing the public might tune in for — to see Tom Cruise or John Travolta make idiots of themselves. And if all they can muster is Bodhi Elfman, Kirstie Alley and Jim Meskiman it's going to highlight even more that the influence of scientology is in free-fall declline
What the story doesn't highlight, but is nevertheless true is one horrible fact for scientology. The ratings for TV shows and networks can be tracked. This is the death sentence for scientology PR. They hide behind their OWN bullshit statistics that nobody else has access to and those are what they feed to their bubble-dwellers. Their true impact on the world is now going to be out in the open.
I suspect anyone who has been unfortunate enough to take a tour of a scientology FART Div 6 will have seen everything there is to see on the new Scientology TV channel. And certainly nothing you cannot find on scientology.org already.  The grand promises of "reaching the billions" are Fool's Gold. They are already "reaching the billions" on their website and that makes no impact on their slide into oblivion.
Ask yourself how often YOU tune in to Mormon TV or Joe Osteen's station?
But,  as with everything in scientology, they are enlisting the bubble-dwellers to try to puff up their numbers: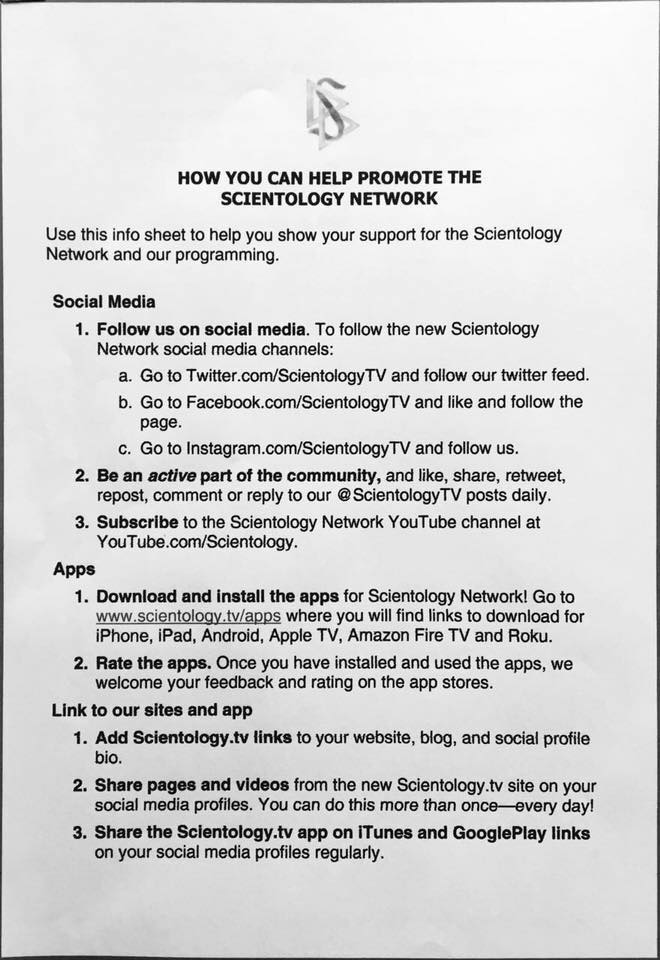 Well, I WAS curious, so I went to their Twitter page.
Oh dear, already blocked before they got started.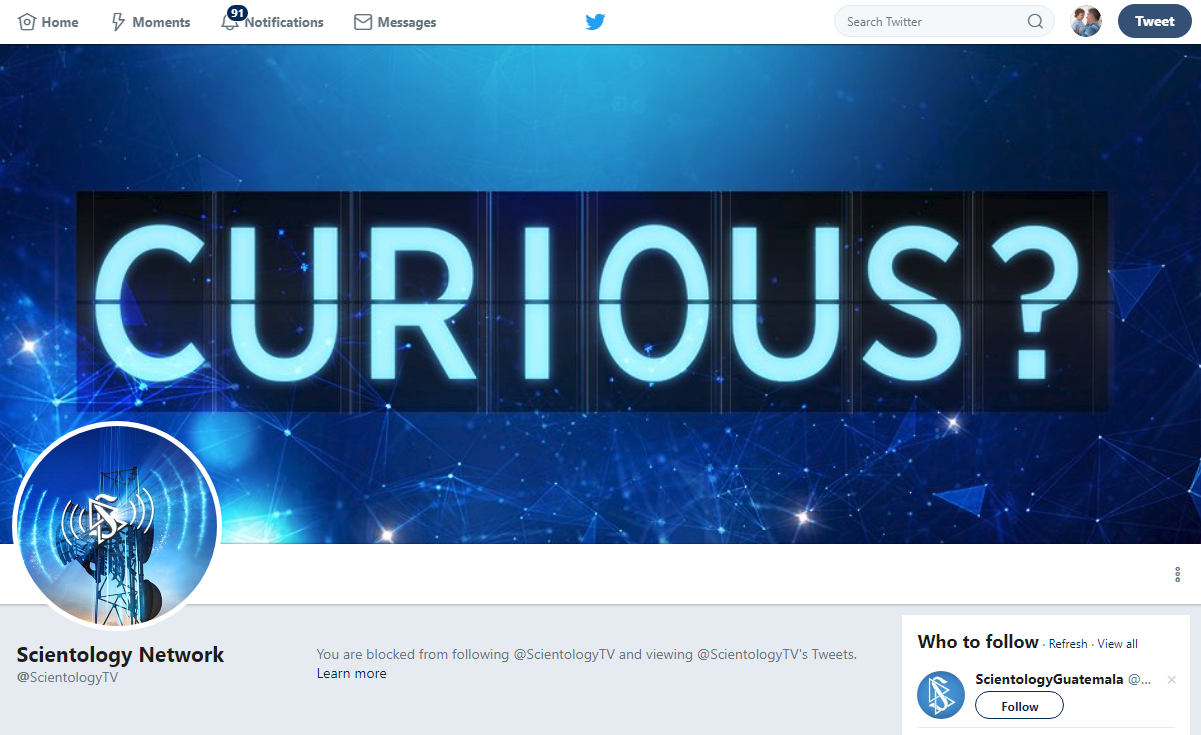 Wonder how many others they have blocked before even launching?
These are the "masters of communication"?
More TV News
Tony Ortega noted this morning that there is a Vanity Fair Confidential episode about Shelly Miscavige airing tonight at 8pm on the ID network (exactly the same time scientology TV is launching).
The Underground Bunker story has a pretty detailed history of the Shelly saga, but it omits one interesting element that I detailed in a blog post Shelly Miscavige Guarded by Armed PI's in Feb 2014. It's a fascinating glimpse into the secret world of scientology.
I bet there are more people tonight watching the Shelly Miscavige episode on the ID Network than there are watching whatever the 8pm programming is on scientology TV.
Final Thought
Thank you to all who came out to support downtown Clearwater on Saturday night. So many wonderful people. So much support. It truly was an amazing experience.
Thanks also to the Aftermath contributors who were able to attend: Christie, Aaron Smith-Levin, Mary and David Kahn, Marc and Claire Headley, Nathan Rich, Tara Reile and Len Zinberg.  What an incredible bunch of people bonded together by a shared experience and desire to make things better.