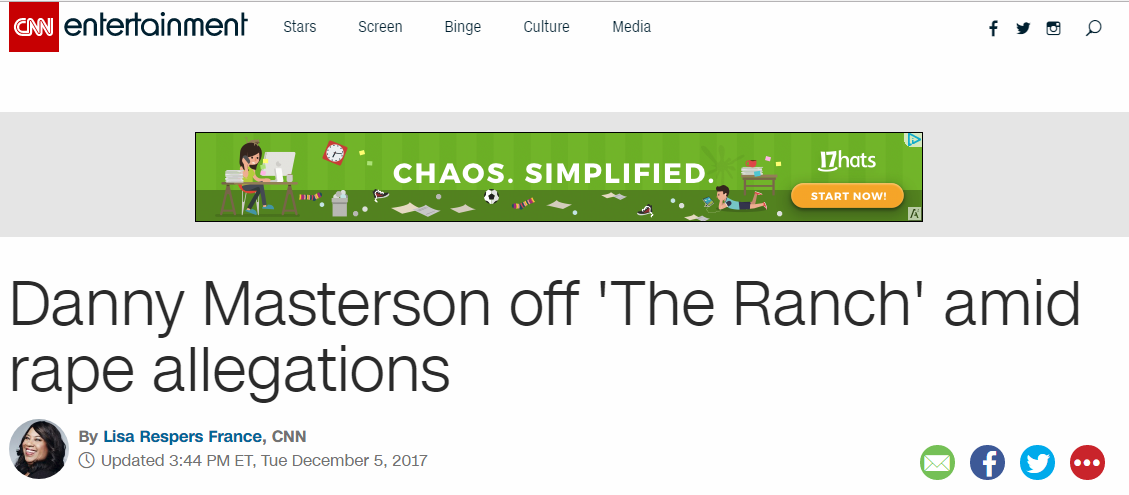 CNN picked up on the Danny Masterson story.
It includes a denial from "DJ Donkey Punch" and a shout out to Tony Ortega: "News of the allegations date back to March when journalist and former Village Voice editor Tony Ortega wrote on his site, "The Underground Bunker," that Masterson was being investigated by the Los Angeles Police Department" and to Leah: "actress Leah Remini and her A&E show "Leah Remini: Scientology and the Aftermath" helped bring the accusations to light when one of the alleged victims shared her story with Remini."
But most interesting is a statement from scientology:
"The Church adamantly denies the implication the Church would ignore the criminal behavior of certain members, especially at the expense of alleged victims," the statement said. "What is being stated is utterly untrue. This has nothing to do with religion. This story is being manipulated to push a bigoted agenda. The Church follows all laws and cooperates with law enforcement. Any statement or implication to the contrary is false."
This statement shouts from the rooftops that scientology is scared they are being targeted for being complicit in a cover up of the crimes. I would say this is a very valid concern. What they do not say is Masterson is innocent or come to his defense in any way. They are ONLY defending themselves. They are in cover-your-ass mode.  Remember, they DO know the truth.
If I was Masterson I would be reading this as scientology cutting the rope to his sinking dinghy in shark-infested waters and trying to sail away over the horizon.
And then the bold statement (lie) that scientology "follows all laws and cooperates with law enforcement" is another telltale.
IF scientology was REALLY cooperating, they would have provided ALL WITNESSES to law enforcement. This includes the Ethics Officers, Chaplain, auditors and C/Ses that dealt with Masterson, the witnesses and the victims at the time they were reported to them. Not ship them off to other states or ensure they were "unavailable." This is a tactic scientology has used for decades. Witnesses to events are magically "somewhere else" when their testimony is needed. Somewhere outside the reach of law enforcement. Even overseas "on tour" or "assigned to a special project." When the IRS was hammering on scientology a bunch of executives were sent to Denmark to operate…
Scientology would also have provided ALL the written records they have — Knowledge Reports, Ethics Reports, session worksheets, C/S instructions and everything else. This is contemporaneous evidence of what really went down. And anyone who knows the first thing about scientology knows they keep written (and in some cases audio and video) records of everything. Every interview. Every session. Every write up. They are ALL kept.
You can be certain they have not turned any of this over to law enforcement. This sort of information is only extracted from scientology with a crowbar, cattle prod, a team of lawyers and a protracted and expensive legal battle (see the fight scientology put up all the way to the US Supreme Court to prevent the documents about Laura Dieckman from being turned over TO LAURA DIECKMAN). Also see how the Lisa McPherson case was handled, fighting tooth and nail to prevent documents being turned over.
UNLESS those witnesses and documents exonerate scientology.  Then they appear like magic without even being asked for. Usually accompanied by dozens of "affidavits" asserting "there is nothing to see here."
THIS is the real standard operating procedure of scientology. Obfuscate and fight law enforcement every step of the way when it appears there might be ANY negative fallout for scientology.
L. Ron Hubbard made VERY clear that Law Enforcement and Courts ("Wog Justice") are NOT to be trusted in any way. Here is just a small sampling of his rants on the subject.
HCO Manual of Justice:
If you are being investigated sit tight, don't cooperate….
Never spook if investigated. And don't cooperate. Sit tight. Be silent. Make the investigator talk. Gradually put him in session if you can. Put him in birth…
If you don't scare or cringe, the menace fades away.
HCOPL 15 Feb 1966 Attacks on Scientology (additional)
Don't ever tamely submit to an investigation of us. Make it rough, rough on attackers all the way.
You can get "reasonable about it" and lose. Sure we break no laws. Sure we have nothing to hide. BUT attackers are simply an anti-Scientology propaganda agency so far as we are concerned. They have proven they want no facts and will only lie no matter what they discover. So BANISH all ideas that any fair hearing is intended and start our attack with their first breath. Never wait. Never talk about us – only them. Use their blood, sex, crime to get headlines. Don't use us.
HCOPL 15 Aug 1960 Department of Government Affairs
In the face of danger from Govts or courts there are only two errors one can make: (a) do nothing and (b) defend. The right things to do with any threat are to (1) Find out if we want to play the offered game or not, (2) If not, to derail the offered game with a feint or attack upon the most vulnerable point which can be disclosed in the enemy ranks, (3) Make enough threat or clamor to cause the enemy to quail, (4) Don't try to get any money out of it, (5) Make every attack by us also sell Scientology and (6) Win. If attacked on some vulnerable point by anyone or anything or any organization, always find or manufacture enough threat against them to cause them to sue for peace. Peace is bought with an exchange of advantage, so make the advantage and then settle. Don't ever defend. Always attack. Don't ever do nothing. Unexpected attacks in the rear of the enemy's front ranks work best.
HCOPL 7 Dec 1969 The Ethics Officer, His Character
…Or any other silly idea borrowed from a wog world where the police make things about as safe as a snake pit full of assorted reptiles.
The TECH fact is the data we have about SPs. There are very few of these in proportion to decent people. That one fact is something this society's police don't know. According to extant social tech ALL people are basically bad and are only made "good" through punishment. So everyone everywhere has to be threatened. That's extant wog tech. It doesn't work. The crime rate soars so obviously the know-how isn't to be found out "there". People are all animals, "they" say and must be herded. Well that's the "modern social scientist's" nutty idea. Society does not know that all they'd have to do is round up their few SPs and they'd have no crime. Instead whenever they arrest criminals they prove to these that society is brutal and crime justified and just let them loose again. They don't straighten SPs up because the "social scientist", the psychologist and psychiatrist are at this writing at least mainly SPs themselves and haven't any tech but the club.
HCOPL 27 March 1965 The Justice of Scientology Its Use And Purpose Being a Scientologist
There is no just civil law left, really. It is that lawless and disorderly condition in the society about us which makes it hard for us to work.
…If we have a superior law code and legal system which gives real justice to people we will swiftly flow easily over the society and everybody will win. Where we fail to apply our own administration, technology and justice procedures to the society around us (let alone Scientology) we will fail.
Don't react to Scientology Justice as though it were "wog" law. In society's "courts" one is given the works and truth has little bearing on the findings. A mean judge or clever attorney and small legal errors decide a lot of their cases. Wog courts are like throwing dice. There is huge cost and publicity and punishment galore even for the innocent. 
Clearly, L. Ron Hubbard had little respect for law enforcement, "wog" law or "wog" courts.
And this is the GOVERNING POLICY of scientology.
They are putting up a smokescreen with an "acceptable truth" because there are other writings by Hubbard that say "follow the law." But from decades of overseeing the handling of interactions with law enforcement, there is no question that when it comes to scientology cooperating, it ONLY happens when scientology sees something beneficial for them. A potential scandal with a life-long scientology celebrity scares Miscavige silly. And thus they have been "sitting tight" and saying nothing. But it seems they are now seeing the writing on the wall and trying to distance themselves from what they know to be true: they have NOT cooperated and provided the information they have and now they are worried they are going to be implicated.
I can imagine the sleepless nights they are having, worried that someone "flips" on them to save their own skin and discloses what they know from inside the organization.
That sort of scandal could set a landslide in motion…