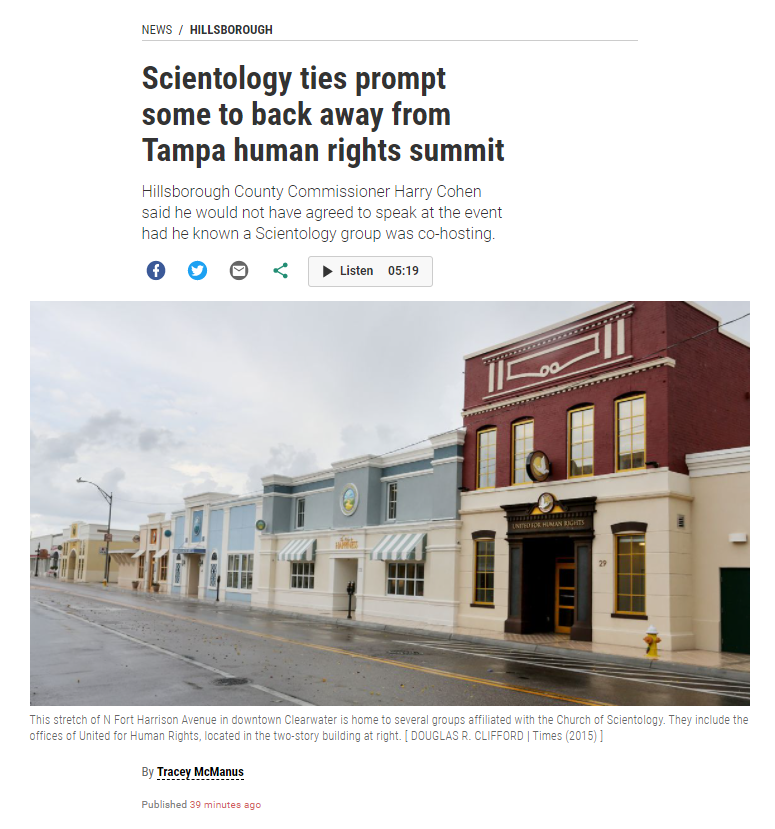 Following up on this piece, Scientology Human Rights — An Oxymoron, Tampa Bay Times intrepid scientology reporter Tracey McManus managed to speak to a number of the people concerned as covered in the story above.
It turns out that Hillsborough County Commissioner Harry Cohen was unaware of any scientology connection. Turns out people who read this blog contacted his office and he then found out about the link.
"This isn't what I thought it was," Cohen said on Tuesday, confirming he dropped out of the event. "Scientology and a human rights summit, I don't know they are compatible with one another."
Cohen's office was alerted to United for Human Rights' connection to Scientology by an email on July 15 with a link to a blog written by Mike Rinder, who spent 25 years as a senior Scientology executive before defecting in 2007.
It turns out the Children's Board of Hillsborough had no involvement in the event other than renting out a space. They too discovered the problem and Tracey reports:
Children's Board executive director Kelley Parris was unaware that a Scientology group was co-hosting until a citizen called her on Friday.
"I was extremely disturbed when I found out who they were and I think it is very deceptive not to have revealed that," Parris said.
Children's Board attorney David Adams confirmed Parris called him on Friday to ask if they could cancel the summit's reservation because of Scientology's involvement. Adams explained that, as a public entity, the Children's Board cannot discriminate based on viewpoint.
"The building is a public forum and we have an obligation, if we're going to open it up, we have to let everyone have access," Adams said.
Thank you to those who took the time to contact the people who had been duped into participating in this event.  It made a difference. And in the future, there will be even less chance of a repeat with other officials and well-meaning individuals being suckered into scientology's PR stunts.