Scientology takes great pains to present itself to the world as a champion of human rights. Their tag line is "Making Human Rights A Global Reality."
Look at their website – the Universal Declaration of Human Rights (UDHR) is prominently featured.  And their efforts to "ensure the human rights of everyone" are mentioned extensively. Same in Freedom magazine (when it is published — seems to have dried up of late). Videos showing their wondrous human rights programs are routinely shown at Miscavige's Nuremberg Rally events.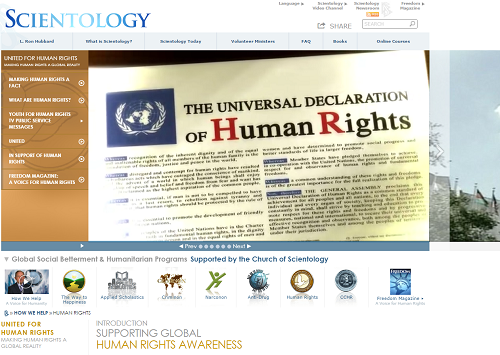 Here is the Freedom magazine home page: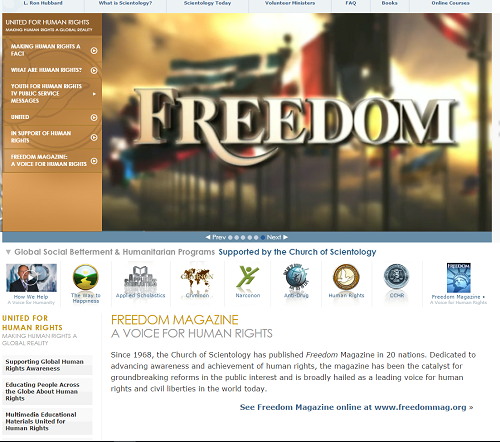 Scientology has a very prominent front group called "Youth For Human Rights" — the head of which was awarded the IAS Freedom Medal. They use children (mostly of scientologists) to give an air of purity and innocence, most of them are completely unaware of the real truth about scientology's abusive practices.
Scientology even bestows the title "humanitarian" (and silver, gold, platinum humanitarian) on the big donators to their ideal org fundraising boondoggle.
They have gone so far as to produce videos for each of the 30 Articles of the UDHR — you can find all of these on their scientology.org website too as well as other "Human Rights" DVDs and PSAs and infomration materials.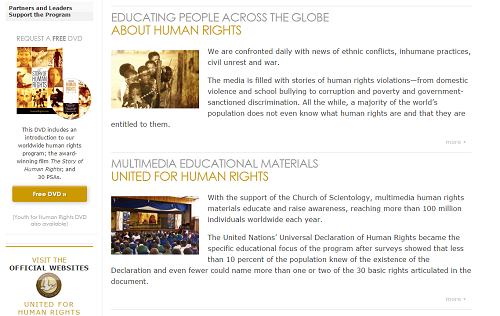 This is one of two cornerstones of scientology's efforts to gain credibility and acceptance — the other being its anti-drug efforts (though this prong has taken it in the shorts of late with the mess that is Narconon, but they soldier on with their Say No To Drugs campaign).
But, as with most things in the world of scientology PR, their claims about their wondrous human rights campaigns don't stand up to even the most cursory scrutiny.
Exhibit One — following is the full text of the Universal Declaration of Human Rights that they proclaim to stand so strongly in favor of.
I have highlighted certain sections in red. To even the most casual observer of scientology, it is pretty apparent why. But for the sake of anyone who knows little about the subject, I have written a short explanation in blue under each one that gives a little context as to why scientology should not hold itself out as the paragon of "making human rights a global reality."
UNIVERSAL DECLARATION OF HUMAN RIGHTS
OFFICIAL DOCUMENT
Article 1.
All human beings are born free and equal in dignity and rights. They are endowed with reason and conscience and should act towards one another in a spirit of brotherhood.
Article 2.
Everyone is entitled to all the rights and freedoms set forth in this Declaration, without distinction of any kind, such as race, colour, sex, language, religion, political or other opinion, national or social origin, property, birth or other status.
Furthermore, no distinction shall be made on the basis of the political, jurisdictional or international status of the country or territory to which a person belongs, whether it be independent, trust, non-self-governing or under any other limitation of sovereignty.
This is not true in scientology. If you depart scientology in an unauthorized fashion (as they determine it) or you criticize scientology, you are declared a "Suppressive Person" and no longer have any rights in the eyes of scientologists. You are an "anti-scientologist" which is a special status of non-believer. You are "fair game" and anything done to you is excused because no real harm can be done to an SP, because anything bad that may befall an SP is considered a necessary step to try to get the SP to "see the light" and "return to the fold." All scientologists are forced to disconnect from anyone who is declared "SP" or suffer the consequences of being declared SP themselves. This routinely results in families being torn apart, people losing their livelihoods and lifelong friends suddenly ceasing any and all communication. None of the human rights described in this document are things that SP's are entitled to.
Article 3.
Everyone has the right to life, liberty and security of person.
Article 4.
No one shall be held in slavery or servitude; slavery and the slave trade shall be prohibited in all their forms.
Staff members in scientology work very long hours with little or no pay. Yes, this is "voluntary" — though the means of enforcing their servitude is described above. Scientology staff are threatened with SP declare and "Fair Game" should they depart before completing their "contract" (either 2.5 or 5 years in length). For members of the Sea Organization it is far more draconian. They sign a billion year "contract"and live and work in church premises — they have no access to their passports, communication to the outside world is controlled and so are their movements.
Article 5.
No one shall be subjected to torture or to cruel, inhuman or degrading treatment or punishment.
Cruel, inhuman and degrading treatment is routine in scientology. From sleep deprivation, which is the norm for Sea Org members, to being forced to clean garbage dumpsters and toilets with toothbrushes to being held confined in a guarded, locked office space 24/7 for months on end, and from being thrown fully clothed into a lake in the middle of winter to physical beatings, scientology (especially at its highest levels) takes pride in how "tough" they are and how much they can "stand." Of course, the alternative to "taking it" is to be declared SP (or in some locations, being physically prevented from leaving) and the consequences inherent in that.
Article 6.
Everyone has the right to recognition everywhere as a person before the law.
Article 7.
All are equal before the law and are entitled without any discrimination to equal protection of the law. All are entitled to equal protection against any discrimination in violation of this Declaration and against any incitement to such discrimination.
Unless, as above, you are declared an SP. And are thus fair game.
Or, you are a member of a profession that is generally categorized as "suppressive" — psychiatrists, drug company employees, FBI agents, members of the CIA or military intelligence, the IRS, or similar agencies in other countries. All these people are NOT entitled to "equal protection against any discrimination."
Article 8.
Everyone has the right to an effective remedy by the competent national tribunals for acts violating the fundamental rights granted him by the constitution or by law.
Unless you are a former scientologist engaged in a dispute with a church of scientology. In that case, they have required that you sign a document foregoing your right to an independent judicial proceeding, instead you must submit your dispute to "scientology justice procedures."  As a matter of doctrine, scientologists believe the "wog" (non-scientology) Justice System is not to be trusted and is arbitrary and unfair (to scientology). The church of scientology does NOT believe there are any such things as "competent national tribunals" (unless they file a complaint as a plaintiff to remedy some perceived wrong).
Article 9.
No one shall be subjected to arbitrary arrest, detention or exile.
There are numerous reports of people being held against their will at scientology's international base in Hemet California. Similarly, there are reports of people being prevented from leaving or being tracked down and strong-armed into returning. There are also numerous examples of Sea Org members in disfavor being sent to remote countries to "serve" without their spouses. This is routine in scientology as a means of controlling dissenters.
Article 10.
Everyone is entitled in full equality to a fair and public hearing by an independent and impartial tribunal, in the determination of his rights and obligations and of any criminal charge against him.
See Article 8 above.
Article 11.
Everyone charged with a penal offence has the right to be presumed innocent until proved guilty according to law in a public trial at which he has had all the guarantees necessary for his defence.
No one shall be held guilty of any penal offence on account of any act or omission which did not constitute a penal offence, under national or international law, at the time when it was committed. Nor shall a heavier penalty be imposed than the one that was applicable at the time the penal offence was committed.
Article 12.
No one shall be subjected to arbitrary interference with his privacy, family, home or correspondence, nor to attacks upon his honour and reputation. Everyone has the right to the protection of the law against such interference or attacks.
Scientology makes a habit of attacking the honor and reputation of people it dislikes. One only has to look at the Freedom magazine website to see the smear articles and videos about those scientology believes are its enemies. From me and others who have left and spoken out to respected film-makers and journalists, scientology is notorious for its attempts to intimidate and smear critics, media, psychiatrists and anyone else it finds distasteful. Even to the extent of sending hired thugs to sit outside someone's home 24/7 for months on end and shout abuse at them when they ventured outside (see Rathbun and The Squirrel Busters e.g.) Or setting up video camera surveillance on people's homes (see video of birdhouse surveillance camera outside my home). Hacking into their emails (see prosecution of Eric Saldarriaga in US District Court in NY). Sending false and derogatory letters to employers. In the Sea Org, all incoming and outgoing correspondence is read by "Security Guards."
Article 13.
Everyone has the right to freedom of movement

and residence within the borders of each State.
Everyone has the right to leave any country, including his own, and to return to his country.
Sea Org members surrender their passport to church officials.  And Sea Org members generally may not travel from church premises without permission. 
Article 14.
Everyone has the right to seek and to enjoy in other countries asylum from persecution.
This right may not be invoked in the case of prosecutions genuinely arising from nonpolitical crimes or from acts contrary to the purposes and principles of the United Nations.
Article 15.
Everyone has the right to a nationality.
No one shall be arbitrarily deprived of his nationality nor denied the right to change his nationality.
Article 16.
Men and women of full age, without any limitation due to race, nationality or religion, have the right to marry and to found a family

. They are entitled to equal rights as to marriage, during marriage and at its dissolution.
Marriage shall be entered into only with the free and full consent of the intending spouses.
The family is the natural and fundamental group unit of society and is entitled to protection by society and the State.
Unless you are in the Sea Org. Children are forbidden and women who become pregnant are encouraged to have abortions. At scientology's international base at various times there have been "bans" on marriages, it being deemed "inappropriate due to current circumstances" — these bans have lasted for years until outside attention and exposure has forced the policy to be relaxed. The reason for not allowing marriages was to prevent women getting pregnant.
Article 17.
Everyone has the right to own property alone as well as in association with others.

No one shall be arbitrarily deprived of his property.
In the Sea Org one forfeits his rights to his own property. If you own a vehicle, your keys may be confiscated if you displease someone in authority. If you own a TV set, it will be confiscated. 
Article 18.
Everyone has the right to freedom of thought, conscience and religion; this right includes freedom to change his religion or belief, and freedom, either alone or in community with others and in public or private, to manifest his religion or belief in teaching, practice, worship and observance.
Unless you change your belief in scientology. In which case you can be declared SP and deprived of any rights.
Article 19.
Everyone has the right to freedom of opinion and expression; this right includes freedom to hold opinions without interference and to seek, receive and impart information and ideas through any media and regardless of frontiers.
Unless you express opinions that scientology does not like. Then you are deprived of all human rights. It is a "High Crime" in official scientology doctrine to speak to the media about scientology without "authorization" from the church.
Article 20.
Everyone has the right to freedom of peaceful assembly and association.

No one may be compelled to belong to an association.
Scientology would argue that people involved in scientology are free to choose to participate in the practices or to leave.
It is a position that makes some sense on its face, as long as you ignore the facts that:
The abuses are not disclosed up front, people become involved in scientology without knowing what they are getting themselves into
People are kept in line by use of "SP Declares" and "Fair Game" — as time goes on, their ability to exercise "free choice" is diminished as they become entangled in scientology and thus the result of being declared SP takes on greater and greater consequences.
But this argument would perhaps be unresolvable.
But what is not is this: if you are going to hold yourself out as champions of the UDHR, you should not be guilty of violating so many of its Articles. You cannot have your cake and eat it too by claiming you have the RIGHT to abuse people because it happens as part of the practice of your religion, and then out of the other side of your mouth proclaim you are "making human rights a global reality." That is newspeak every bit as Orwellian as "War is Peace."