It would seem the Office of Special Affairs has been weathering a shitstorm from the COB recently: "What are you useless cocksuckers doing about Tony Ortega, he gets a bigger audience than I do and I am paying millions for ads, click-farms and even a 24 hour a day TV network."  He also kicked their butts in the Masterson case subpoena and has been disseminating the activities in that courtroom far and wide and they are not going well for for Masterson or scientology. And there is no sign he is slowing down or going away any time soon…
In response, OSA rolled out a new "campaign" — a "noisy investigation" of Tony Ortega. It's right out of the L. Ron Hubbard Playbook.
"Now get this as a technical fact. Not a hopeful idea. Every time we have investigated the background of a critic of scientology we have found crimes for which that person or group could be imprisoned under existing law. We do not find critics of Scientology who do not have criminal pasts. Over and over we prove this."
"When we need somebody haunted we investigate."
" When we investigate we do so noisily always. And usually mere investigation damps out the trouble even when we discover no really pertinent facts.
"It's almost funny. We sometimes learn nothing useful and yet because people heard we were investigating their consciences sent them into headlong flight or sudden collapse. There's power in the question alone!
"…investigate the writer, not the magazine, and get any criminal or Communist background the man has." 
In the storied scientology tradition of "doing what Ron says,"  they kicked it off on 21 July by announcing they were conducting an investigation into his "enablers."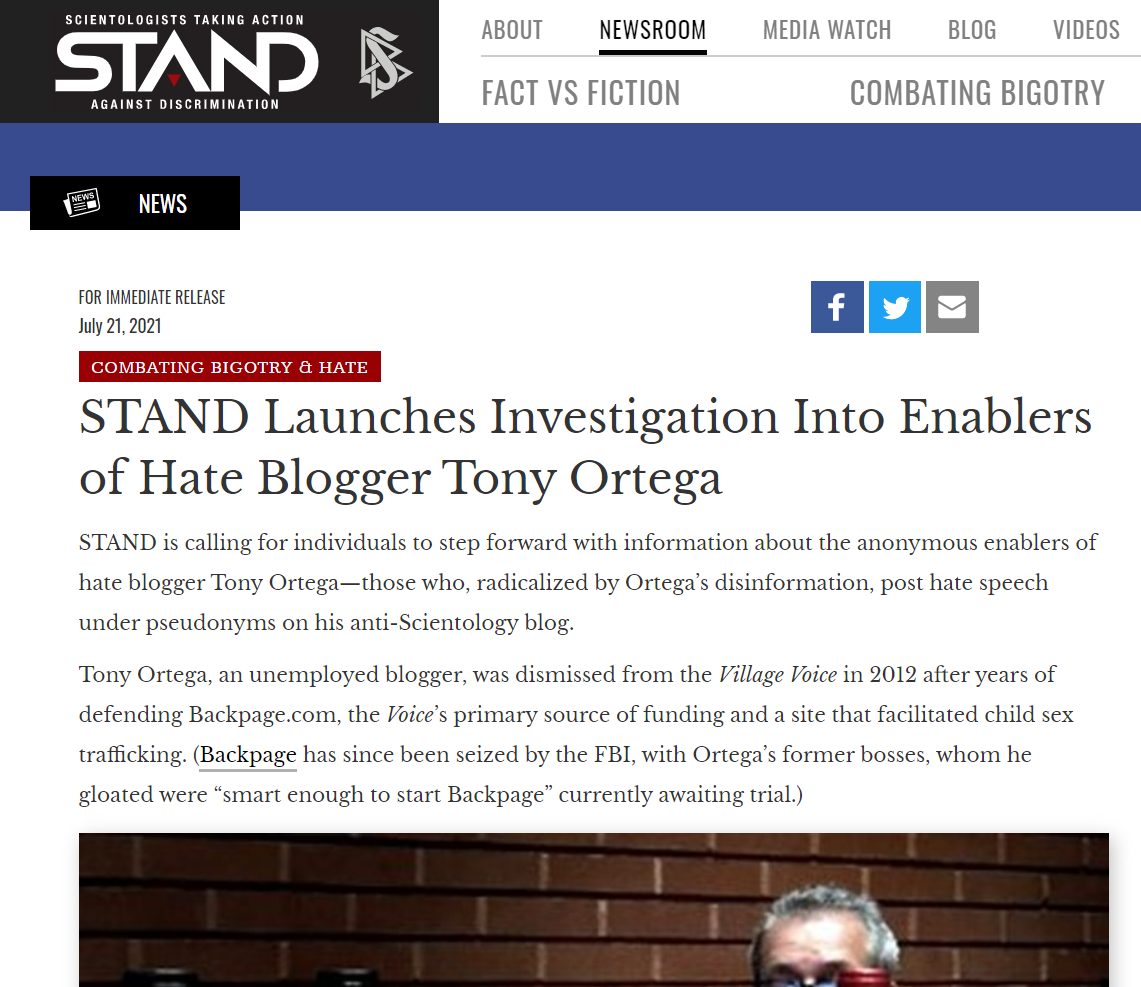 This technique is an old standby scientology has used for many years.  Announce an "investigation" which is then followed by supposed information from anonymous sources then used to smear the target. Scientology avoids the liability of printing falsehoods by attributing the lies to "sources" knowing they will never be required to reveal them. There are no actual sources.
Here  is the first one a few days later.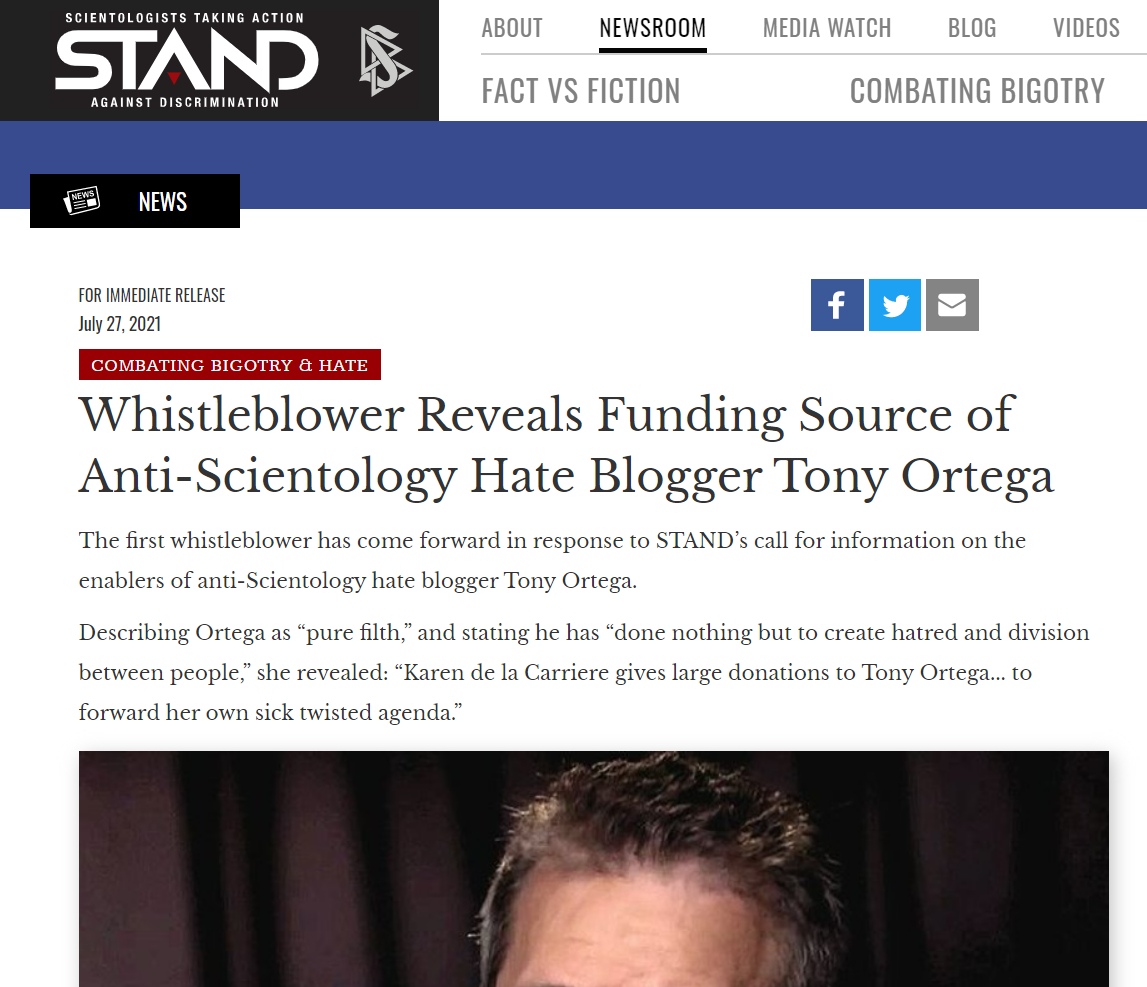 Of course, though long on adjectives and hype, it is short on facts, but more importantly, anything worth even noting. Whether it is true that Karen gave money to Tony, so what if she did? There is nothing wrong with this. And especially coming from scientology who collect millions from people which is used to do their dirty work… But they turn this into a "scandal" and use it to insert all sors of other falew information into the equation.
Next up another old trick they use. Scientology often digs up information on people through nefarious means. This is called CDC or "Covert Data Collection." This is commonly taking people's garbage, sending in plants or using PIs to get finance, phone or email data (remember Tony Ortega was hacked by a PI working for scientology). The problem with doing this is they cannot use the information without it becoming clear what they are doing. The solution is to sleaze out the data using "anonymous sources"…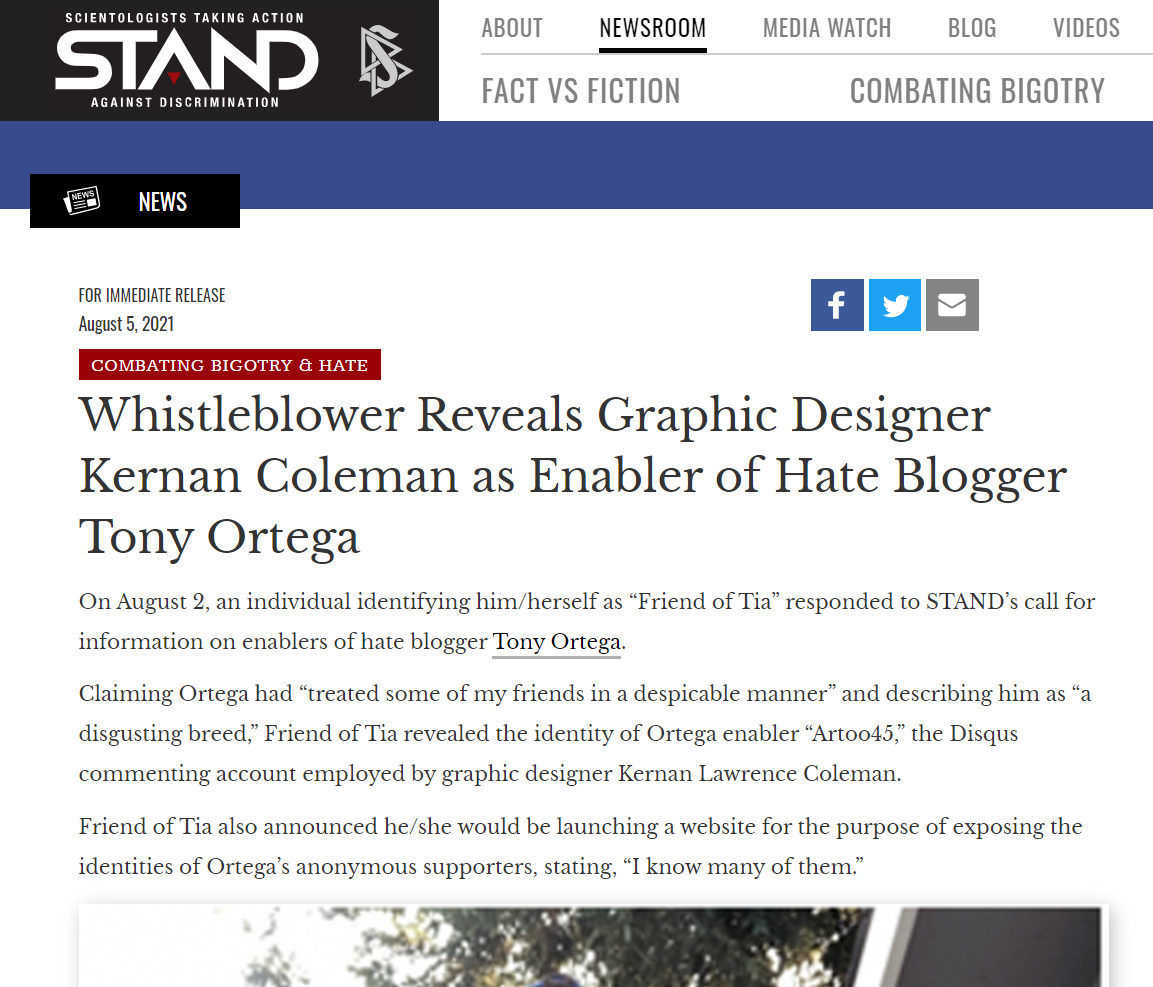 I have no idea if the information is true. I don't know if Kernan Coleman actually is Artoo45 or even cares that they are saying this.  Neither do scientology. They are simply trying to make it seem dangerous to read Tony's blog or comment.  The same thing with their next "breaking news"…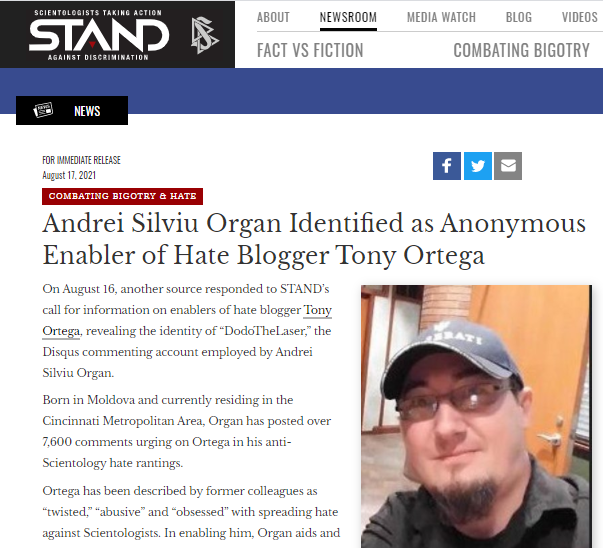 I doubt Andrei cares.
This is simply an effort to intimidate Tony Ortega — to "cost him his job" and "Ruin him utterly if possible" (See L. Ron Hubbard Playbook above).
They saved their lamest for their stable of failed "writers" to rail against Tony with fabricated stories about him being a sordid criminal and bigot and even worse: a failed writer and a failed blogger. They use these puppets for the same reason of avoiding liability.
The sheer volume of these blogs is proof that Tony Ortega is a huge concern for the powers that be.
Their desperate pitch falls apart with one simple question: If Tony is such a failure, why are you (and scientology) bothering to spend any time trying to smear him?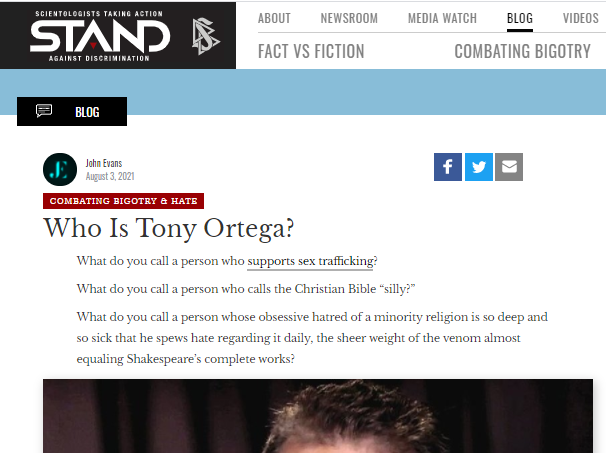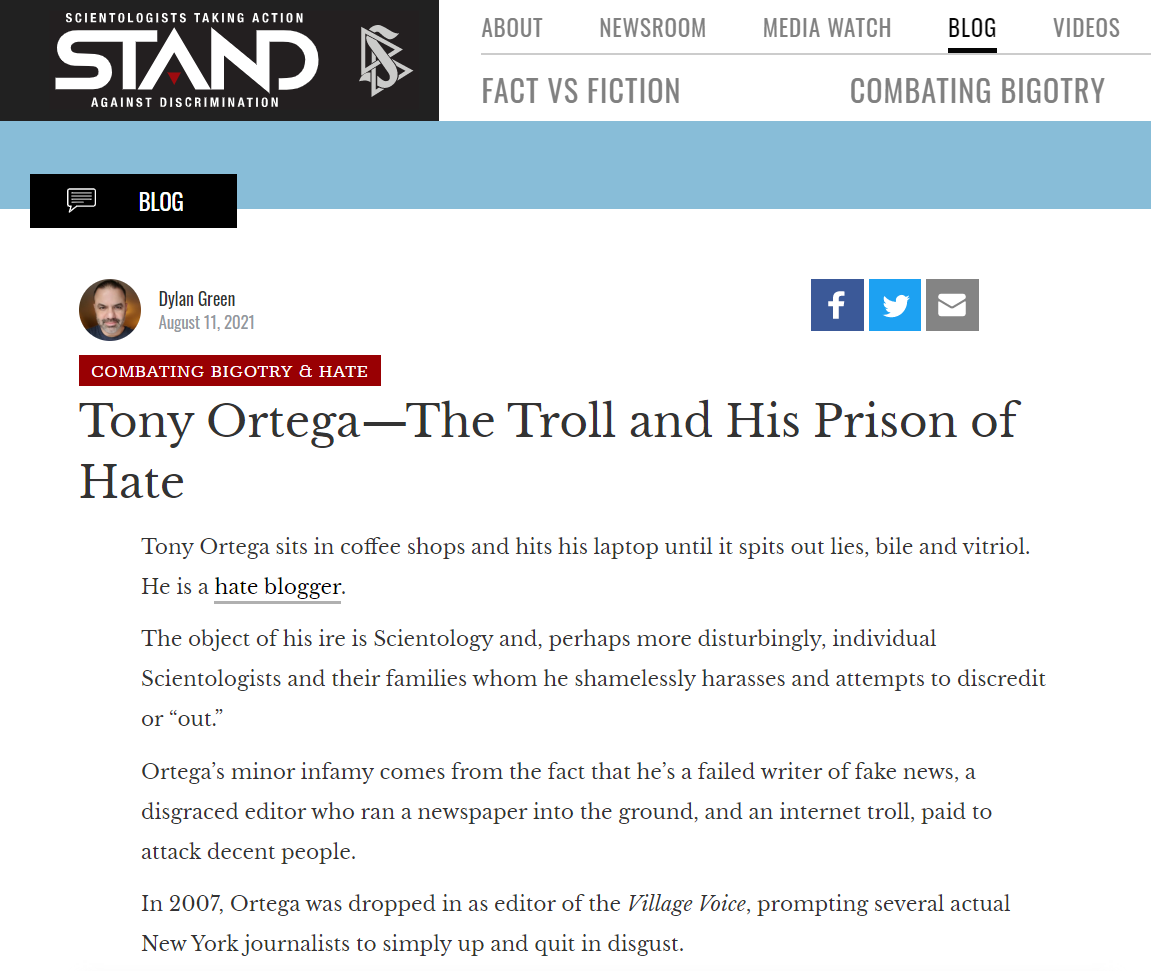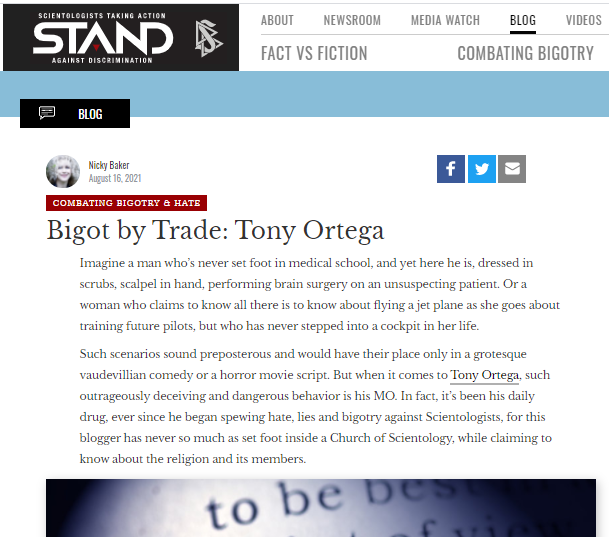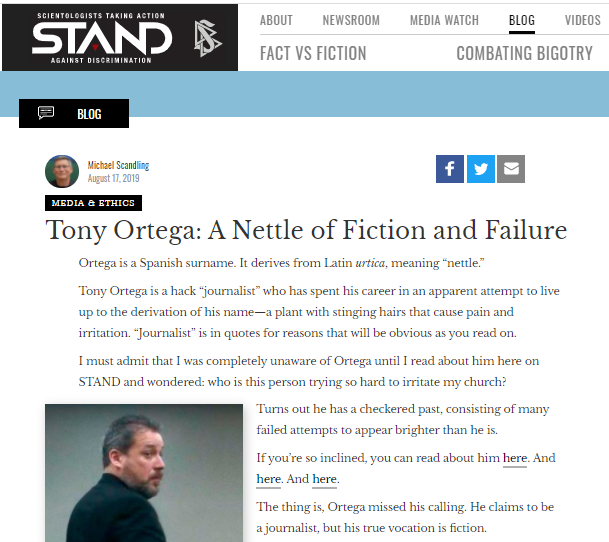 This is a pretty lame stuff.  But in the minds of the OSA minions they are complying with "Source" and can point to it and say "Look, we got him good this time." They all want to believe this is "effective" and if they just keep doing what Ron says, eventually the magic will happen and Tony Ortega will be "Shuddered into silence."
The delusion is great in scientology…