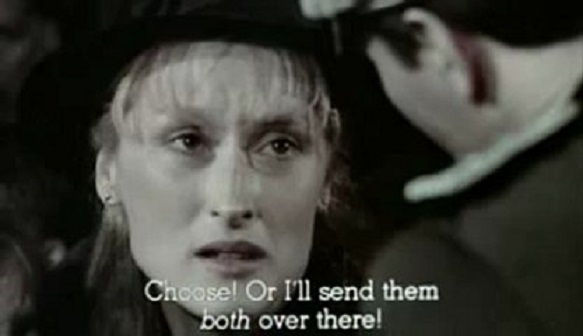 Scientology has launched their usual ad hominem attacks on Alex Gibney and Going Clear.
Every person interviewed or associated with the film is subject to the scientology smear campaign. Even now including attempting to "dead agent" Alex Gibney by claiming his deceased father was some sort of "CIA Propagandist" and thus "the apple didn't fall far from the tree." This sort of insanity makes them the object of universal derision.
A couple of days ago they fired what they thought was another in the apparently unending stream of shots across HBO's bow.  Like those that have preceded them, it turns out it was simply another footbullet. It seems they have a short memory when it comes to what THEY have said and the documents that prove it. They think that because they can pretend to their clubbed seals that such documents don't exist that they don't exist in the real world.  It's amusing to watch them proclaim that documents exposing their lies are conveniently "lost" or "never existed" — yet they are happy to dig out O/W write ups from pc folders that are 20 years old to "prove" anyone who disagrees with them is a degenerate criminal. It seems the only things that never get lost in scientology are documents about their self appointed enemies.
Sometimes though, they get caught with their pants around their ankles.
Here is an excerpt from the newest addition to the Freedom website designed to "dead agent" Going Clear.  It is from an 18 February letter written by David Miscavige (under his pen name Karin Pouw) to Sheila Nevins, head of HBO Documentary Films:
Or in the case of Sara Goldberg, a liar who her own daughter was willing to tell you is the one who broke up her own family—not the Church—by siding with her drug-addicted son over her daughter. The Church had nothing to do with Sara Goldberg's breakup of her family and friendships. This is a textbook case of someone who now blames others rather than accept responsibility for her own actions. 
The cruelty and insanity of these people will soon become apparent to all the world.
While complaining in the same letter about "disclosing information about her [Sara's] granddaughter 'without her permission'," in virtually the next sentence they gratuitously publicly label her son "drug-addicted"? Typical.
But here is what REALLY happened, contrary to the church's indignant whining lie that they "had nothing to do with Sara Goldberg's breakup of her family."
Being a good, compliant scientologist, Sara had petitioned the IJC to remain in contact with BOTH her children.
She was told by Mike Ellis, who the church (inaccurately) describes as the highest authority on matters of ethics and justice in scientology, that she could NOT remain in touch with her son as it was a violation of HCOB 10 SEPT 83 PTSNESS AND DISCONNECTION.
You can see his whole letter here — it was published in the Tampa Bay Times when they wrote this story a year ago.
I guess Mike Ellis thinks that if he kicks someone in the teeth and orders them to split up their family that all is OK if he signs it "Much Love."
This article was aptly titled "Sara's Choice" by Joe Childs of the Times as it didn't matter WHICH way Sara chose — she either lost her son or her daughter because of the rules of the church, not her own choosing. Remain connected to her son and she would be declared and her daughter would be forced to disconnect from her (or have to disconnect from her husband) or choose to stick with the church and abandon her "drug-addicted" son.
Scientology's response is as blatantly arrogant, uncaring and vicious as the Commandant of Auschwitz proclaiming Sophie had a choice between her son and daughter. But then to add insult to injury, protesting that he had nothing to do with "breaking up her family" and it was her choice to send her daughter to the ovens and save her son accusing Sophie of "blaming others" rather than "accepting responsibility for her own actions." Disgusting.
Happily, millions will see the HBO film and be able to make up their own minds where their sympathies lie. I doubt there was a single person on earth who watched Sophie's Choice and felt the Nazis had done nothing wrong. I suspect the odds are about the same once people have seen Going Clear as to who they will side with.
I hope their scorn and disdain rains down upon the head of David Miscavige and his cronies in a never ending and ever increasing deluge.
It is what he is so rightly afraid of.
This film is going to rip back the carefully constructed curtain he and his minions hide behind. And the arrogant, disdainful, vicious responses that have spewed forth accusing everyone involved in the film of heinous crimes, bigotry, hatred, lying, whoring themselves and virtually anything else you can think of, will serve only to confirm everything that is exposed in Alex Gibney's movie.
In some ways, I hope they keep it up. Every time they open their mouths they are increasing the audience and adding to the proof of the veracity of this film.