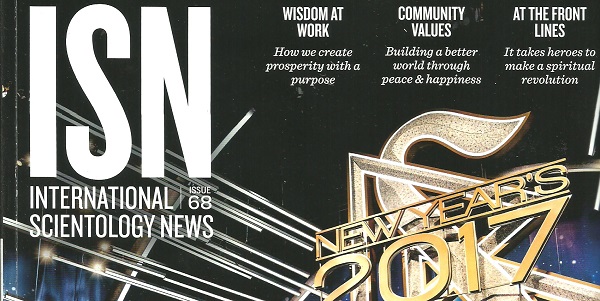 Finally had a few minutes to peruse the latest International Scientology News recounting the epic, milestone New Years event.
As usual, it is filled with hype, smoke, mirrors and lies.
Just a few of the most glaring: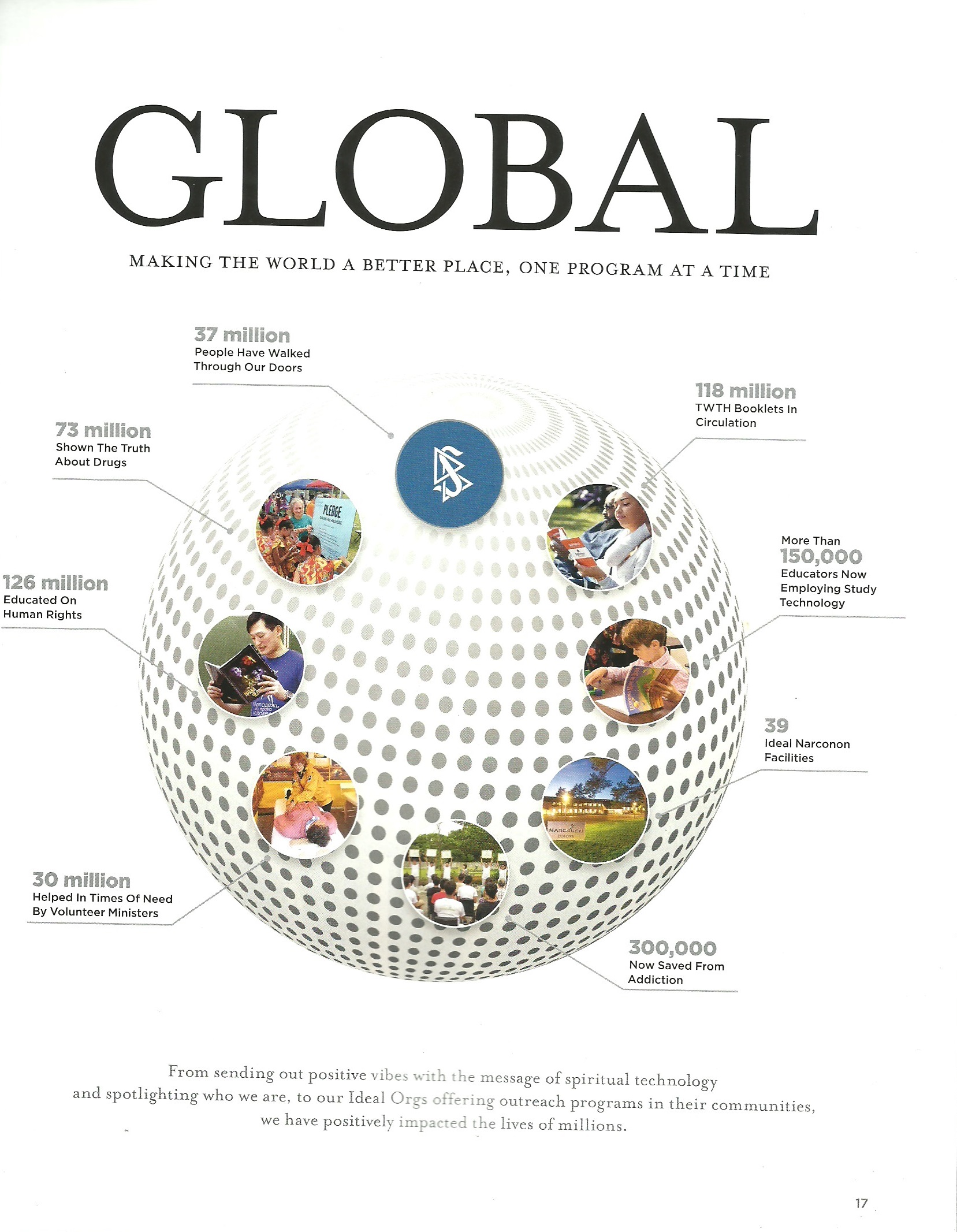 This page is the "overview" of the magnificent accomplishments of 2016:
37 million "walked through our doors"?
That is a ridiculous number. But let's take it at face value.
Scientology claims "more than" 10,000 scientology "orgs, missions and associated groups" — this means 3700 people each per YEAR. Or 10 per day.
An average of 10 people per day darken their doorway? Hardly anything to get excited about. Not when they claim 12 million scientologists? You mean those 12 million are each passing through the door 3 times in a year?
150,000 educators using study tech? This is a number plucked out of the sky. They could not find 1% of this number who would actually answer the question "Are you using L. Ron Hubbard's study tech."  Actual EDUCATORS? They may not be able to find 150. Not even in the same ballpark. They are counting every person in history who has ever attended a lecture on the subject or been handed a booklet on "study tech."
39 ideal Narconon facilities? Not true. They have a TOTAL of 39 Narconon facilities around the world, most of them very NOT ideal. And what is most interesting, in the What Is Scientology book published in 1998 they listed 45 Narconon facilities!
300,000 now saved from addiction — that same WIS book from 1998 says "more than a quarter million drug-free lives…" Guess they haven't gotten very far in the last 19 years?
"From sending out positive vibes… we have positively impacted the lives of millions." Hahahaha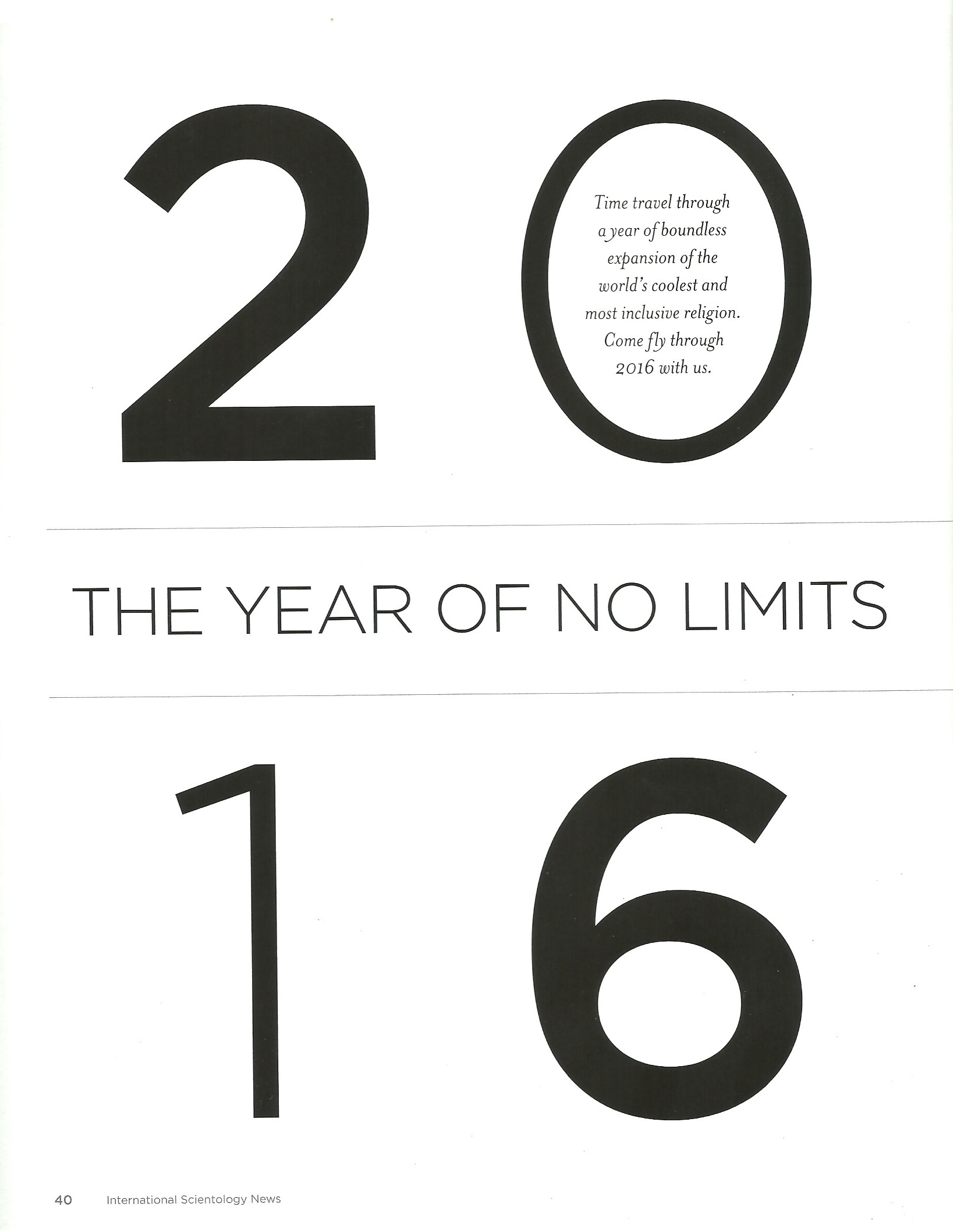 The biggest and most important thing in scientology -"the world's coolest and most inclusive religion"- the ONLY thing that will make planetary clearing a reality (according to Miscavige) is the "ideal org" program.
So — let's review what they accomplished on that this year – "time travel through a year of boundless expansion" or perhaps this is the "infinity packed into 12 months." With an enormous amount of smoke and fluff, this is what they covered in their "story" that follows this double page spread above:
April — Atlanta ribbon yanked
July — Budapest ribbon yanked
July — Harlem ribbon yanked
November — San Diego ribbon yanked.
This signifies "boundless expansion"? 4 ideal buildings? You are a downstat Dave.
And not a SINGLE NEW CHURCH OF SCIENTOLOGY OPENED ANYWHERE ON EARTH.
They still have 85 or so NON "ideal org" buildings.
At 4 per year, they will be done with this program in 21 YEARS. Then they can start working on getting them to SH Size (though none of those opened in the last decade have achieved that since becoming "ideal"). It looks like around 2050 they can start clearing the planet.
Woohoo.
And here is some of the "detail" on this astonishing expansion:
So, let's take a look at some of these numbers. And again, though they are massively inflated, for the purposes of this exercise we will just take them at face value:
100 million books and lectures into public hands. Obviously a lie. This actually represents the total number of books and lectures ever SOLD. And that includes the books and lectures sold by the Pubs Orgs to orgs and missions. This of course includes the books and lectures that have been shipped to libraries around the world and have ended up in the dumpster. It also includes the unopened boxes sitting in people's garages. And it counts one for each LECTURE in a series.
You can easily test this — go to a bookstore or library and see how many scientology books and lectures are available. Then compare to someone who HAS had 100 million books sold into public hands — according to Wikipedia these authors have sold 100 million copies: Ian Fleming, James Michener, Tom Clancy, Wilbur Smith, Anne Rice. See how many of THEIR books are on the shelves. A simple test of the veracity of this claim.
A new Clear every 90 minutes. Being generous and counting this as 16 per day (ie one every 90 mins 24 hours a day — but this is almost CERTAINLY counted as a 12 hour day because that is when the orgs are open) this means 5840 per year. To clear the CURRENT population of earth would take 1.4 MILLION YEARS. Now THAT'S Planetary Clearing at correct orders of magnitude!
An OT completion every 30 minutes. They count one for EACH "comp" – meaning OT 1 theory and OT 1 auditing are TWO levels. In total there are 14 "OT Levels" that each count as a "completion" (OT 6 counts as Part A and Part B). If the Clears were actually moving on to do their OT levels, there would be 14 times more OT Completions than Clears. Or an OT level completion every 6.4 minutes. Means 4 out of every 5 "Clears" are NOT progressing onto their OT Levels.
A training completion every 60 seconds. Yes, and this counts "extension courses," introductory courses, seminars etc. etc.
A brand new auditor is made every 20 minutes. Which means it takes 20 "training completions" for any auditing course to be completed. They are really cranking out those auditors! And you realize it takes about 9 "auditor training completions" to make a Class IV auditor?
There are MANY more lies and misrepresentations in this magazine. As you can see, I just took some of the pages with numbers graphics. Not even addressing any of the insane shermanspeak word salad that packs an infinity of over-the-top hype into every 60 word sentence.
The saddest part is that scientologists accept these "alternative facts" as truth. And they know they will never find any of this amazing good news reported in the regular press because they are all merchants of chaos dead set on destroying "man's only hope." Of course, the church is the most ethical group on this or any other planet, so they would never lie about anything. Scientology; the prison of belief.