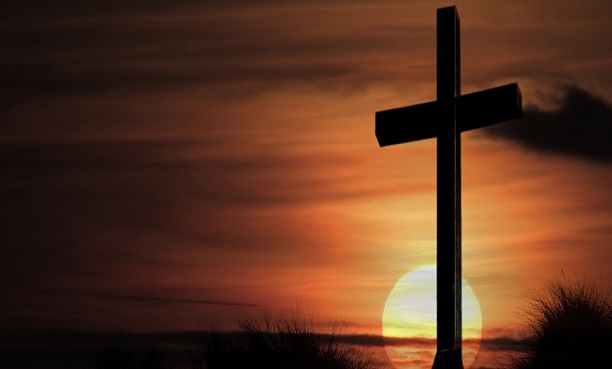 In the face of the enormous interest and critical acclaim for Alex Gibney's Going Clear documentary, Scientology is in panic mode. So, they do what they have always done in times of disaster:  fall back on trying to gain sympathy by claiming to be the object of bigotry and religious persecution.
In typical arrogant Miscavige style, he refused to cooperate in making the film, not agreeing to an interview and making sure nobody else under his spell did either. It was a strategy he has used plenty of times in the past. And once the reporting is done, the whining begins: "they only looked at one side of the story," "they ignored all our information."  It's the "victim of the media" card. But that tactic seems to be losing traction. People have caught on to the game and realize scientology tries to manipulate the media far more than it manipulates them. Not many fall into that category, but scientology has managed to scratch and claw its way into such an unenviable position.
Neither do people find the scientology "dead agent" smears convincing. In fact, they are more often than not seen today as proof that the central contentions of the "critics" and media (and this new movie will be the ultimate in this regard) are born out by the the church responses.
So, what do they do next?  What they ALWAYS do when things spiraled into true catastrophe mode.
Pull out the "religious persecution card."
So, it's no surprise to see a new edition of Freedom magazine exclusively devoted to "Religion: Why You Should Care."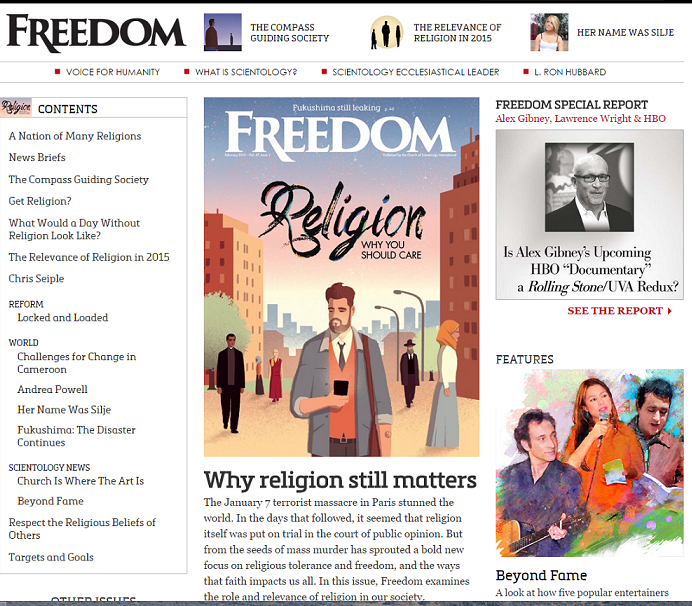 The pervasive message is that all religions are "attacked" (so, of course you are supposed to understand why scientology is "attacked") and that all religions do good for society, and scientology is one of them, ergo we too do good.
It is truly the weakest defense scientology has to the scathing criticisms it faces, as most people do NOT consider it a religion. And the film will only reinforce that view. Personally, I happen to think scientology, as a subject, is as much a religion as any other belief system (and it IS a belief system), but that isn't the point of this posting.
One of the Freedom articles is especially instructive for two reasons:
First, it seeks to position scientology as being a benefit to the world by including it in generalized statements of how religions benefit society. It's the "boys are smarter than girls, I am a boy, therefore I am smarter than all girls" rationale. Unfortunately, if you know the subject, it brings into stark contrast the second point.
HOW dishonest scientology can be. The implication that a day without scientology would be a day without the benefits provided by "religions" (really "churches") is ridiculous, arrogant and hypocritical as you will see below.
Following is their article with my comments interspersed in red.
What would a day without religion look like?
We have all heard the statistics about how an increasing number of Americans profess no specific religious affiliation, even if they may still identify as spiritual.
Given this reality, it's instructive to ponder what it might look like were there to be a day without religion in the United States—if a temporary blip in the universe suddenly resulted in religion somehow not existing for a 24-hour period. Would it even be all that noticeable?
Answer: Yes.
Here are the ways that being suddenly religion-less for a single day would matter in our lives:
Very Young Children Would Be a Lot Less Secure and Cared For:
Somewhere between 15 and 20 percent of babies and toddlers are in childcare or preschool in a church, synagogue or other place of worship. Without religion, those kids would go uncared-for that day. Or mom or dad would have to stay home from work.
Show me a scientology pre-school program in ANY church (other than possibly for people ON services) and I will watch every David Miscavige international event back to back strapped to a chair with a feeding tube. My son goes to a Catholic Church Day Care facility/preschool, virtually every church has one. If anyone could get past the security guards at the front door of the Ft Harrison to inquire about their child care program they would be laughed out of the lobby.
We Would Be Less Likely to Take Adequate Care of Ourselves:
Surveys reveal that those who regularly attend religious services are considerably more inclined to get preventive medical care in advance of becoming ill. In other words, those who nurture their spirit tend to do the same with their physical being.
This is the exact opposite with scientologists. They believe all physical conditions have mental causes. Thus, their inclination is to "get auditing" or "find their PTS item" until LONG after they should have gotten preventive medical care.
We Would Experience a serious Economic Impact:
Some 19 percent of higher education institutions in the United States bear a religious (Presbyterian, Roman Catholic, Jesuit, Methodist and so on) affiliation—including such schools as Boston College, DePauw University, Southern Methodist University and the University of Notre Dame. Were faith itself to disappear for even a single day, the results could be economically catastrophic. These campuses enroll more than 2 million students, employ upward of 600,000 faculty and staff, and have operating budgets of more than $35 billion. Translated, even 24 hours without religious colleges and universities would have a staggering impact on America's bottom line.
Not a single institute of higher learning anywhere in the world is "affiliated" with scientology, and certainly none receives ANY money from scientology. In fact, scientology frowns upon college education because L. Ron Hubbard said it was a waste of time.
Indeed, We Would Probably Be a Lot Less Well:
We know that the routine of attending services and hanging out with our friends during faith-based activities drives a state of well-being that lowers blood pressure, slows the advance of heart disease, and in general leaves us feeling healthier than if we spent the same time plastered on a couch watching television.
Well, IF that happened in scientology organizations this could be true. Instead, people experience constant high pressure sales techniques. Being in a scientology organization is an extremely stressful experience unless you have virtually unlimited funds.
We Would Encounter Diminished Hospital Access:
Some 20 percent of hospital beds in America are found at medical facilities with a religious affiliation. That would be an awful lot of people beset by illness lacking any means of finding acute care.
Not a single hospital bed anywhere is "affiliated with" or "funded by" scientology.
We Would Exercise Considerably Less Compassion:
All of the faith-based charities that raise money for the homeless, for famine relief, for families on the brink, for children at risk, and so many other humanitarian and philanthropic works would grind to a halt for 24 very difficult hours should religion disappear. That would mean no help whatsoever for many people in need and vast holes in the social safety net.
Scientology provides no "social safety net" for anyone. The best they can come up with is some small "disaster relief" effort with just enough people in gaudy t-shirts to capture some close up video shots of them handing out WTH booklets or giving "assists" to be used for more fundraising.
We Would Lack the Comfort Tools to Soothe Those in Spiritual Need:
When approaching those who have endured a traumatic experience or event, no reassuring spiritual counseling could be offered to lend support and solace in a deeper, more divine way. We might instead be limited to tendering the bereft such platitudes as, "Hopefully things will improve for you soon. Good luck. We will wish the best for you" sans any sacred context.
Maybe. One of the more intangible benefit of this list is perhaps something scientology provides to its internal public. It requires someone to "minister" which scientology does in return for payment, so perhaps not so much after all….
We Would Be a Lot Lonelier and More Melancholy:
Surveys show that spiritually committed people are twice as likely to say they are very happy. Being part of a regular group such as those found at churches and temples leaves human beings happier, social creatures that we are. We crave contact and deep connection. Without religion that one day, we would be more isolated and quite likely would be miserable.
Again, they conflate religion with church and "groups." Not the same thing. And I am sure scientologists would say they are "very happy." They will be minimally sent to Ethics and Qual and most likely sec checked if they don't. But deep down inside, the vast majority have learned to steer clear of any organized meeting of scientologists as they ONLY gather in order to try and squeeze more money out of those who are stupid enough to show up. This is the not the stuff of happiness. Getting together with other scientologists in the church is stressful.
We Would Feel a Lot Worse About Ourselves Personally—and More Anxious, Too:
If surveys have taught us nothing else, they reveal that the sense of belonging to a larger culture itself builds confidence and self-esteem (of 69 studies, 42 found significantly higher levels of self-esteem among individuals who were more religious). Having a religious social affiliation can also soothe feelings of anxiety, as we tend to rely on our faith to more effectively deal with crises and setbacks in our lives.
Really? Whatever. I don't find this to be true, but perhaps others do. I would generally agree that scientologists have a high level of self-esteem. I think it is a byproduct of every fundamentalist belief system. How can you not have a high opinion of yourself when you believe you know the answers to everything?
We Would Find Millions of People Going Hungry:
Some 64 percent of agencies providing food aid to individuals and families are faith-based or housed in a religious organization. Without religion, that sustenance might well not get distributed at all for an entire day.
Not applicable to scientology. There is no scientology "food aid to individuals" program. In fact, if scientology didn't exist, probably a lot of money that people currently give to scientology that is spent on buildings, lawyers and private investigators would find its way to other charities that DO provide aid to those in need.
Community Volunteering Would be Cut in Half:
Faith-based institutions engage 45 million volunteers, nearly half of the total of American volunteers. And 70 percent of volunteers who serve through faith-based organizations continue serving from one year to the next.
Scientology volunteers are for the most part only volunteering for the benefit of scientology. Not for people in need or to serve the community. But even more interesting, David Miscavige routinely crows about "Scientology being the largest private relief force on earth" but this says faith based institutions "engage 45 million volunteers" JUST in the US. If scientology can muster 2,000 it would be a shock. His claim is just laughably absurd. Like a flea claiming to be bigger than the elephant it is standing next to.
We Would Have No clergy to Conduct Services or to Consult on Personal Matters or Issues of Faith:
If there's no religion, there is no clergy, leaving an enormous faith gap. In practical terms, this would mean that people beset by probing questions are left on their own without uplifting assistance from a person of spiritual authority.
This is true. Though as above, in the case of scientology, if you cannot pay for it with a "requested donation" don't hold your breath waiting for "uplifting assistance from a person of spiritual authority."
—-
This article perfectly highlights WHY the Church of scientology should not be mistaken for a charitable religious organization. Though it calls itself such, it bears little or no resemblance to what people believe a church is and does. This is what they WANT people to think of them. They hope that people will equate them with "good in society."
It is fascinating that in their OWN publication they have identified the benefits that churches provide to society. And by doing so have opened the door to demonstrating why scientology does not fit that categorization. And this in turn is the fundamental question of religious tax exemption.
The underlying principle of tax exemption for religious organizations is that they provide a benefit to the public at large, so it is self-defeating to tax them in order to fund the government which is also supposed to provide benefits to its citizens. In fact, in many areas outside the United States the test for exemption is called a "Public Benefit Test." It is one of the reasons the church has such difficulty gaining exempt status in the UK for example, as they have to try and meet the "public benefit test" and narconon and applied scholastics and a few VMs don't hack it. The regulations of the IRS are not quite so clear, but the principle is the same. Freedom magazine has just provided the road map as to why churches of scientology should NOT be tax exempt.
PS: To pre-empt any commenters who think there is an inconsistency in my statements — a religion and a religious tax exempt organization are not the same thing.
PPS: Is Freedom mag trying to look like the New Yorker now in an effort to gain credibility?