Scientology is the only organization claiming to be a religion that has it's own "intelligence"/dirty tricks branch.
It is unique in that the "doctrine" of scientology (ie the written and spoke words of L. Ron Hubbard) contain directives for scientology to engage in intelligence activities, including gathering information, spying, executing operations to intimidate and ultimately destroy people and even framing them. You can read many of Hubbard's "scriptures" in my earlier post here: Dealing with Critics of Scientology: The L. Ron Hubbard Playbook
Scientology engages in psychological warfare as described in Stefani Hutchison's recent excellent post on her blog: Scientology's Psychological Warfare Doctrine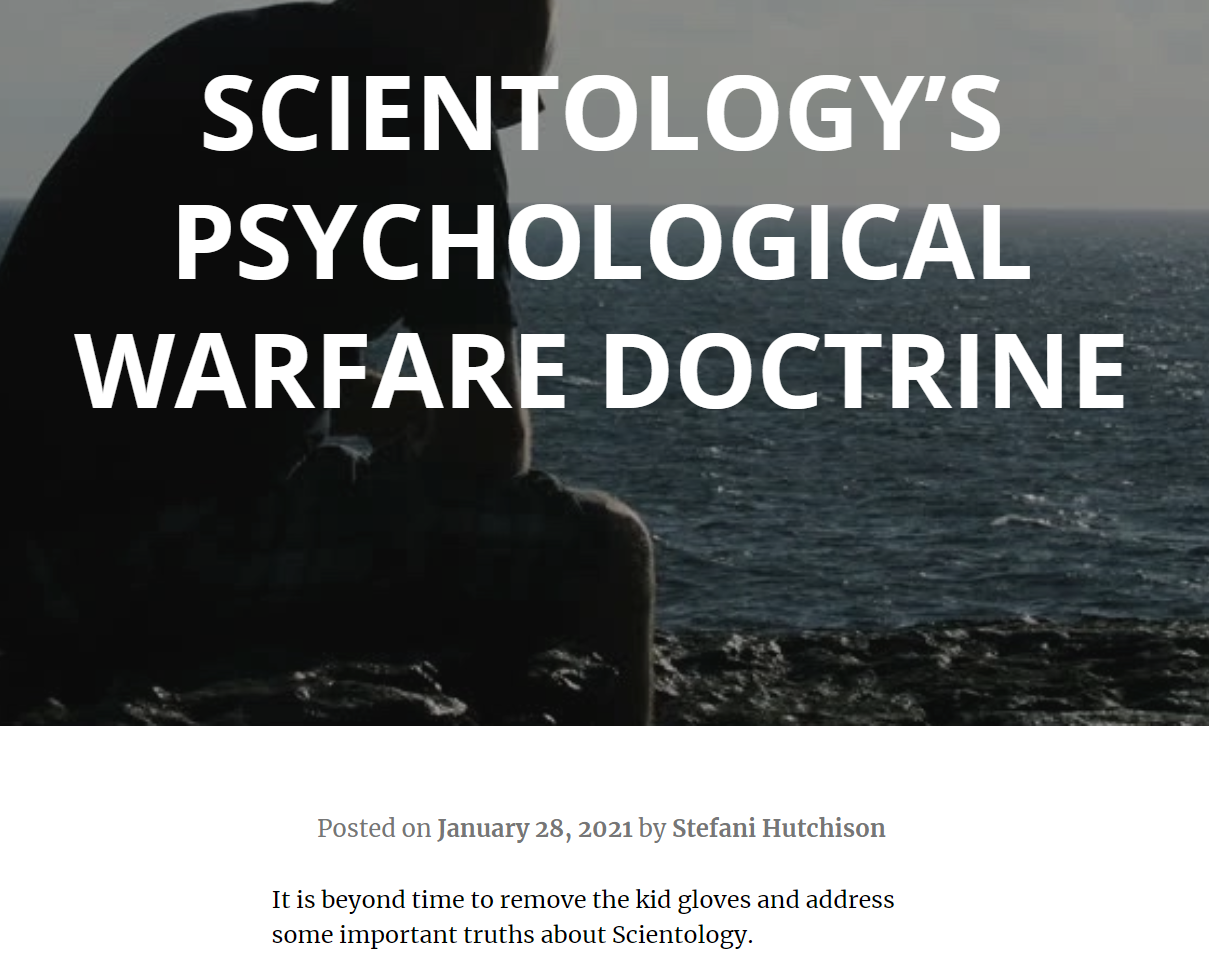 You should read Stefani's post. It contains a lot of definitions/references and Stefani is, as usual, very clear in laying out the premise and conclusion. She is entirely correct in labeling the activities of scientology as psychological warfare. But I want to take it one step further.
Scientology is engaged in psychological terrorism.
This is how the term is defined by Merriam-Webster:
the systematic use of terror especially as a means of coercion.
And here is how they define terror:
a state of intense or overwhelming fear
someone or something that inspires fear
This is precisely what scientology does with those it targets. It takes actions designed to bring about fear. That the target must do what scientology wants or… lose their jobs, lose their family and friends, be smeared, be watched and followed, have loved ones threatened etc etc. They want to get inside people's heads and make them worry about what is going to happen to them.
The stated aim of Hubbard is to muzzle anyone critical of scientology. To destroy them utterly of course, if possible. Of course, someone can always agree to cease their "attacks" or even help scientology do its dirty work. The attacks will cease. This is by definition terrorism.
Typically terrorism is used to describe political action. Scientology terrorism is in pursuit of "religious" aims — their conviction (rationalization) that they are saving mankind and the lives destroyed on the way are a small price to pay for such an enormous accomplishment.  Of course, this overlooks the fact that they are NOT "clearing the planet" or "saving man." In fact, it would not be unfair to conclude that scientology has destroyed more lives than it has saved, even if you count everyone scientology CLAIMS is a "saved human." The trail of destruction of scientology is well charted. There is no massive "good" outweighing the harm caused.
So, I believe anyone can rightfully label scientology as a psychological terrorist organization.
Spread the news and let's get this label stuck on scientology.
In the immortal words of L. Ron Hubbard in his policy letter "The Positioning Era":
"People only remember, they say, by relating one thing to another,
"A position is where you put a product in somebody's life or mind and in relation to other products."
I could not think of a better positioning for scientology than with terrorism. Everyone has an instant image they associate with the word. And that IS how they should think about scientology.