This comes from another of the entirely inappropriately titled scientology internet fronts, the "Truth Newsroom".
This thing, with no names or identities associated, not even the word scientology – is clearly an OSA operation.
They send out a constant stream of material taken from former Sea Org members' files.
They put one out from one of my confessions that I felt bad about lying as if this was some sort of proof that I was lying today — it made no sense as I said this when I was still the International Spokesperson for scientology and I continued to be that. But the point is not whether it was effective, but the fact that they used this information at all.
And here is another even more blatant one from the files they kept on Jefferson Hawkins.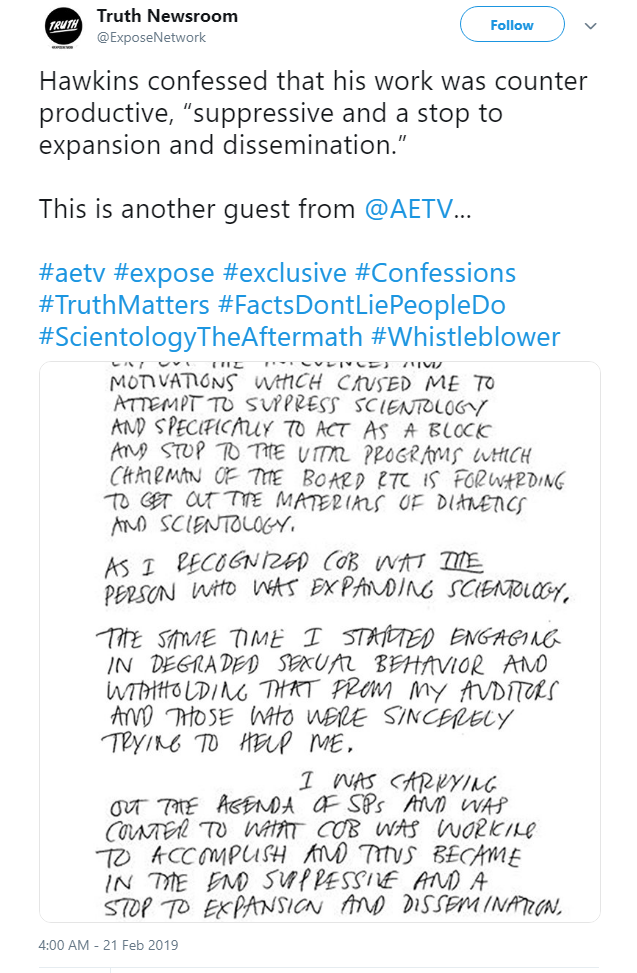 The issue is not the content of these confessions. It is the fact they are disclosed in an effort to smear/intimidate/harass those who once believed this information was given in a religious setting and would remain so.
For anyone who does not know, scientology keeps files on everything and everyone. This is a wonderful tool for them, but also a massive liability. More on that in a minute.
When it suits their purpose, scientology uses the information they accumulate from people's confessions with no concern for the sanctity of the information that might have been disclosed. Preclear and ethics files are "culled" to find "buttons" and "damaging admissions" (though they don't seem to realize that the disclosure of such things make THEM look bad, not the former members).
But as soon as someone wants copies of the files (or even to have them destroyed) — whether an individual, a civil litigant or even law enforcement, suddenly they are the holiest of cows that may never be touched by the hands of man. They are suddenly and vigorously asserted to be "priest-penitent privileged material" and to turn them over would be the most heinous crime against their "fundamental and sacred religious beliefs." Of course, in this sort of context, when I bring this up, scientology has a whole different story. There are all sorts of caveats based on the names and significance they give to this information. Some they designate "confessional" which is started with a statement "I am not auditing you", some is designated "Ethics reports", some are "non-actionable" some are "actionable." The word salad is typical scientology subterfuge. When it suits them (as in the information would disclose crimes or prove claims made against them) it is inviolate "priest-penitent" material and when they think it might help them they have a bunch of terms they use to justify why it's OK and NOT a violation of priest-penitent privilege to be disclosing it. Really, they don't give a damn — if it's going to help them and destroy an enemy, its all good.
The Laura DeCrescenzo civil case was a perfect example. She asked for her pc and ethics folders to be produced in her civil case because they contained evidence that supported the claims she made about enforced abortions and being suicidal among other things. Scientology fought like banshees to avoid turning ANYTHING over (because it was so damaging) and tried to hide behind their "religious rights". They took it all the way to the US Supreme Court (and ultimately lost).
Scientology is SO concerned about the need to control these folders they make every person who participates in scientology sign an agreement that the person has absolutely no right to their files, that they are owned by the church and remain church property in perpetuity. I am not sure anyone has ever challenged this in court (I don't think Laura had signed such a document in the Sea Org but maybe she did). The truth is (as all the Courts that reviewed it in Laura's case agreed) that in scientology there are a LOT of people who have access to the information you provide them, tens if not hundreds. It's not truly confidential in any definition of the word. Scientology could not convince anyone that when 250 different people had access to Laura's files that the information was being held as confidential. Scientology of course screamed "discrimination" because they are "new" and that the law was designed for the Catholic church, but no court agreed.
But, scientology loudly pronounces that it always keeps the information confidential — here is the FAQ page from scientology.org responding to this very question: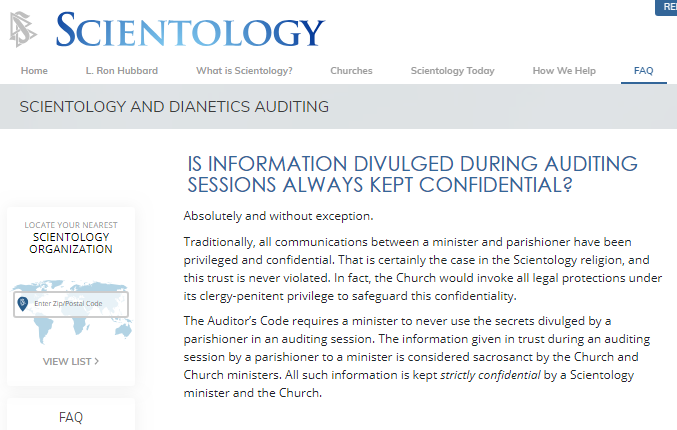 Another of the self-serving lies scientology foists off on the public and asserts to those signing up to participate…
It's only afterwards you discover this was never in fact true. But they keep on saying it.